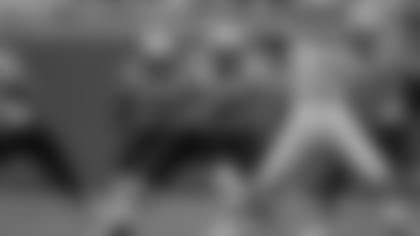 Does the O-line need an upgrade? The game against the Lions was painfully like watching the losses to the jets, ravens and giants in the postseason. Do other teams have the Pats figured out?*
*Mike P.
I think the offensive line needs to get healthy more than it needs an upgrade. Matt Light made his preseason debut but only played a few series in Detroit. Dan Connolly got hurt early and his backup, Ryan Wendell, is hurt and didn't play. That left Rich Ohrnberger, a player battling for his NFL life, lining up opposite Ndamukong Suh. The results were predictably ugly. If everyone were healthy, that would have a solid starting five with rookie Nate Solder and Wendell as the top backups. That's a pretty good top seven with some intriguing players like Steve Maneri, Thomas Austin and hopefully soon, Marcus Cannon waiting in the wings. In terms of teams figuring the Patriots out, I think it's more about strong front fours generating heat than anything else. In my opinion, the Jets did it totally different with six, seven and at times even eight players dropping in coverage. That forced Tom Brady to hold the ball much longer than he likes to and that's what led to the sacks. Four of the five sacks in that game were the result of coverage, not overwhelming pressure. The Giants and Lions were more about protecting their poor secondaries with strong front-four pass rushes. Either way the Patriots need to be more consistent handling it.
Paul Perillo
Am I the only one that's happy we got whooped by the Lions? All week I've been telling my friends that there's already too much inflated hype around us based on two PRESEASON games and that unless we find out our weakness now, its going be a rough regular season. Am I the only one who feels this way? Also, do you think Bill Belichick would purposely prepare the team "poorly" in order to make a statement?
Kyle Witkowski
In a word, yes. My guess is you are the only one who's happy about it. Why would Belichick intentionally prepare his team "poorly" and put his players at risk? Think about that statement for a second. How would you feel if Brady was seriously injured on one of the many hits he took against the Lions and then you found out it was due to the coach intentionally not preparing? I'd want a new coach to tell you the truth. There's no way that happened and there's even less of chance Belichick is happy about the events of last week. Now, is it the end of the world? No, just like the Tampa game didn't signal the end of the season with the Patriots as Super Bowl champs, despite some people wanting to crown them (sorry, Denny Green) after the Bucs game. You are correct about the preseason - it's a time to get ready for the season and figure out how you're going to play and who's going to be doing it. I'm sure Belichick is using it as a teaching opportunity and sometimes losing makes it easier to convey a negative message and correct mistakes. But to say he's happy about such a disappointing performance is taking it way too far. No need to panic about a game that took place in August but there are some concerns to be sure.
Paul Perillo
Hey guys, given the depth that the Pats have on the D-line do you see them trading any of these guys versus potentially cutting them? If so who do you think the Pats would trade and what do you think we could get in return? Seems like there is always a team in need of D-line help.
Mike Anderson
I think there is a chance that some of the excess defensive linemen could be candidates for a trade. With all of the additions Belichick made the group seems to be broken into two groups - veterans with versatility and unproven youngsters. There won't be room for all of them (I see 10 defensive linemen sticking at this point) and perhaps Belichick will look to deal one or two of the young guys in an effort to recoup some late-round draft picks. Currently the Patriots have no fifth-, sixth- or seventh-round picks and dealing a player like Darryl Richard could be a way to get one back. The veterans, although possibly still possessing some value, may be beyond the stage where they could offer much in a trade. But it will be an interesting area to watch as the cuts process unfolds.
Paul Perillo
With all the hype concerning Rex Ryan and the Jets being the team to beat the AFC East, do you buy into the idea that BB built this team just to take on N.Y.? I don't feel that the Jets are the team to beat, and am more concerned with Pittsburgh, San Diego and Baltimore.
Evan Axenroth
I don't believe coaches build their teams to specifically take on just one opponent. Obviously the Jets are a key rival and divisional opponent, and by nature you need to be aware of how they're constituted and how to go about trying to beat them. But to construct a roster and style of play that is conducive just to go against the Jets would be quite short-sighted, and it would run counter to the meticulous manner in which Belichick builds his team for the long haul. The Jets are certainly one of the AFC contenders and I agree with your views about the other three as well. But those three teams play in very different styles, so building your club to play against only the Steelers, Ravens and Chargers would be quite difficult. I expect all four of those teams to create some noise in the AFC, along with the Patriots of course.
Paul Perillo
Do you think with the injury troubles the Giants are having at DB, the Patriots could put together a deal with one of their DBs and draft picks for either Osi Umenyiora or Mattias Kiwanuka? Also, can you put together what you think would be the most likely move if it were to happen?
Dane Glisack
Andy Hart wrote a terrific post on our PFW Blog last week speculating about this very topic. The Giants have lost several defensive backs and the Patriots are likely going to cut at least one cornerback with some NFL experience. But if you're looking to deal a Patriots defensive back and hoping to get Osi or Kiwanuka (I don't see him getting dealt after they just re-signed him) in exchange then your package better include Devin McCourty. What's that? Not interested in dealing McCourty?? He's the Patriots best corner?? Well, why would the Giants want to deal Osi for Darius Butler - the guy I assume you meant in proposing a deal? I doubt you'd want to give New York a first-round pick to sweeten the pot, so you can forget about getting either of those guys in return unless you're willing to actually give something up. Butler could get a mid-to-late-round pick in return and that's a deal that would seem o make sense for both teams.
Paul Perillo
I think that there is no way the Pats are going to carry more than four running backs on the roster so with BenJarvus Green-Ellis and Danny Woodhead as locks and Stevan Ridley playing great during preseason what do you see the Pats doing with that position?
Morgan G.
First, the Patriots have occasionally kept five running backs on their roster. In fact, they did so just last year to open the season. As of now I've yet to see Shane Vereen in the preseason so projecting a spot for him is difficult. He could wind up on injured reserve in what would amount to a red-shirt year if he's not quite ready. Ridley had also been hurt and missed the Lions game. But overall I've been impressed with his camp and preseason and he should be a lock with the top two. Sammy Morris would provide a short-yardage back and a versatile special teams presence. Kevin Faulk will likely open the year on PUP and provide insurance. The question is Vereen and his health. If he's able to contribute, then Morris could go and they stick with four. But based on what Vereen's shown to this point, I'd keep Morris for a bit.
Paul Perillo
What are the rules regarding placing a player on injured reserve? I notice that most regular players are put on IR when injured and they get paid for the whole year; but certain waiver pickups and low echelon free agents are simply waived when they get injured, like Bret Lockett and Christian Cox. Why the difference?
Hugh Maguire
Basically it comes down to a couple of factors - the time of year and the service time a player has. If an injury occurs during training camp and the player has fewer than four years of NFL service and therefore is not yet a vested veteran, the player must clear waivers before being placed on injured reserve. It's a rule designed to prevent teams from stashing healthy young players on IR without allowing them to join another team who might need his services right away. A veteran can be placed on IR at any time without having to clear waivers. Also, if it's during the season the player, regardless of service, no longer has to clear waivers if he's injured. Sometimes during camp when having a full roster is key for practice purposes, teams need to replace injured players . This happened last year in Denver when Josh Barrett was injured and the Broncos couldn't afford to wait to the final cutdown date to place him on IR and did so near the end of preseason. The Patriots claimed him off waivers and immediately placed him on IR at the start of the season.
Paul Perillo
All other team captains in the NFL wear a patch with a "C" on their jerseys. I have two questions, why don't the Patriots captains wear that patch? Also, what do the little stars under the "C" patch signify? I'm not even sure who the captains are anymore - could you fill me in. Thanks and keep up the great work!
Jeff McCarroll
We've asked Belichick about this in the past and haven't really gotten a semblance of an answer. Basically he's said they don't wear the patch because they don't want to. He went on to say that football survived for decades without the captains wearing patches and got along just fine. It's obviously not a requirement but most teams adhere to it. The stars under the "C" represent the number of years that particular player has been a captain. I'm not sure but I believe the most stars a player wears is four. The Patriots haven't selected their captains for this year as of yet but I'd expect Tom Brady, Vince Wilfork and Jerod Mayo to be three of them.
Paul Perillo
How important do you feel Patrick Chung is this season? Do you think he will step up to be the "quarterback" of this secondary?
Patrick Murphy
I believe Chung is the most important figure in the Patriots secondary, especially now with James Sanders gone. He needs to be the glue at safety like Sanders was for years. He has the ability to be a versatile playmaker and contributes both against the run and pass. He's clearly stronger in the former but he'll need to improve in coverage in order to take the next step. Brandon Meriweather is what he is at this point - an inconsistent player prone to mistakes and missed tackles. Chung needs to show he can stay healthy and stay productive for a full season. Last year he made tremendous strides in that regard but now he'll need to do more.
Paul Perillo
With the roster cut downs approaching I am a little confused. As the practice squad personnel are basically free agents if a team wanted to protect a player why can't they simply put them on PUP or IR with an actual or perceived injury?
Bob Huberman
In order for a player to be place on PUP he can't practice throughout training camp. Once he takes part in one practice, he's no longer eligible for PUP. As for IR, there are examples all over the league of players with less-than-debilitating injuries winding up there. But it doesn't make a lot of sense for teams to do that since they are not allowed to practice. Teams don't lose many players they wish to sign back to the practice squad. It happens occasionally, but not often. To put such a player on IR and lose his services for the whole season makes little sense. If there's a legitimate injury that would prevent the individual from playing for a period of time, then I could see it happening. But for a perfectly healthy player that you'd like to develop on the practice squad it would be counterproductive.
Paul Perillo
Given that the kickoff has been moved to the 35 what do you think of a strategy of trying to kick to the goal line, forcing a return, with guys staring 5 yards closer it seems like you could get the other team to have to start inside the 20, especially if the kicker could hit a pitching wedge type of kick (really high) to give defenders time to get down field and make a play.
Myron Frye
I've noticed teams experimented with this throughout the preseason. Detroit did it effectively to the Patriots last Saturday night. The 5 yards closer doesn't necessarily help the coverage since they're no longer able to get a running start, but the 5 yards greatly aids the kicker. Most if not all can now hang them high and still get it to the goal line. If you have faith in your coverage you can consistently back the team up inside 15, as the Lions did to the Patriots. Stephen Gostkowski has said he doesn't like the idea of changing his approach to kickoffs, although he did add he would perform whatever tasks the coaches ask.
Paul Perillo
Did the player that blindsided Danny Woodhead in the Buccaneers game get fined or penalized in any way?
Drew Buller
Drew Holland was the player who hit Woodhead and he was indeed fined $10,000 for his hit in the Bucs game. Holland is an undrafted free agent who was fined for questionable hits in each of the first two preseason games.
Paul Perillo
Last year the NFL decided to let New York host the Super Bowl at their new stadium in 2014. The forecast predicted snow and windy conditions for that game, which stirred a bit of a debate as to whether or not the championship game should be played in conditions that might ultimately affect the game's outcome. My solution is that whoever wins the Super Bowl earns the right to host a Super Bowl. I think that's a fair way to handle things and gives all teams an equal opportunity to host the big show. The thought of New England hosting a Super Bowl would be incredible - the added incentive would definitely add a little more motivation to this already driven team. Thoughts?
Rhys Robinson
I hate it. Is that succinct enough? First, no one can tell me what the weather will be this weekend let alone three years from now. Second, I agree that the Super Bowl should not be adversely affected by the conditions. That's a lousy way to determine a championship. Last, do you really think the prospect of hosting a Super Bowl will add incentive to any team the previous year? I don't. Every team puts everything it can into getting to the Super Bowl and having one played in their home stadium won't add even the slightest bit of incentive. In fact, as a player I'd feel cheated by having to play in a cold weather outdoor stadium where battling the elements is at least as important as battling the other team. No thanks.
Paul Perillo