Hey guys quick question, It seems the Steelers won't be able to afford to franchise Mike Wallace due to being too far over the salary cap and will be forced into just placing a first-round tender on him. My question is would you give up the 31st pick and a long term deal to Wallace and if so would you do it even if it meant losing Welker?
Andrew Corbett
I think Wallace is a very intriguing player. He's young, fast and makes plays down the field. Those are all things that the Patriots offense could use. Some, including people in Pittsburgh, think he's a one-trick pony. His production dipped over the second half of this season, although some of that probably had to do with Ben Roethlisberger's injury. Is he a truly elite receiver? No. Is he a very good developing young receiver? Hell yeah, and that's something the Patriots have lacked for years. But I'm not sure New England has the cap room to come up with a restricted free agent offer to pry him away from Pittsburgh. The Steelers could franchise him. But even if they don't, they probably won't let him leave for less than a big deal that could include maybe $20 million in year-one cap money. If the Patriots wanted to do that, they would likely not also be able to get something done with Welker. I would not make that swap. I'm not sure, at this point, that Wallace is a truly elite talent to build around. There is also always the concern of how he fits into this offense. Welker is more valuable here, and with Brady, than he is elsewhere. I'd love to have both guys, but if I can only have one at this point I'd stick with Welker.
Andy Hart
Does trading Ryan Mallett for what we need make sense?
Paul Burke
At this point, I'm not sure you could get too much for Mallett. He's not played since being drafted in the third round last year. I'm not even sure you could get a third-round pick for him at this point. So I don't think you'd be able to fill holes at pass rusher, wide receiver, cornerback, safety or any other spot. I'd prefer to hold on to Mallett, who has a year of work in the system, and see if he can develop into a legitimate backup and maybe replacement, at some point, at quarterback.
Andy Hart
With Stanford Routt going to KC, does that mean that the Pats will pursue CB Brandon Carr? Will they trade with Pioli again?
Pete Clark
After spending the coin to sign Routt the Chiefs will not be looking to invest in Carr, and will likely use the franchise tag on Dwayne Bowe instead. That would make Carr an unrestricted free agent. So the Patriots, if they had interest, could pursue Carr in free agency. I think Carr is a pretty good young cornerback but I don't think he's elite. Heck, he wasn't even the best Brandon on his team. (That would be Brandon Flowers.) As a guy who's not really a No. 1 corner, I wouldn't be looking to break the bank for him. I don't think the Patriots will be either and he'll probably find a more lucrative market elsewhere.
Andy Hart
LONGTIME NO POST PFW. I'M STILL HEARTBROKE FROM OUR SUPER BOWL LOSS. THAT BEING SAID I WANT TO GET YOUR THOUGHTS IN REGARD TO FREE AGENCY AND THE DRAFT BECAUSE THEY GO HAND IN HAND. DEFENSE BEING OUR BIGGEST CONCERN I THINK IT WOULD HELP THE TEAM A GREAT DEAL TO PICK UP LARON LANDRY FOR SURE IN FREE AGENCY AND MAYBE CLIFF AVRIL, AFTER THAT I THINK WE SHOULD GET ONE OR TWO YOUNG FAST RECEIVERS FROM FREE AGENCY GUYS I THINK WOULD HELP ARE AS FOLLOWS: DESEAN JACKSON, STEVIE JOHNSON, MARIO MANNINGHAM, PIERRE GARCON, ROBERT MEACHEM, MIKE WALLACE. IF THE TEAM WHERE TO ACQUIRE LARON WHICH OF THESE RECEIVERS WOULD HELP US OUT MOVING INTO THE DRAFT AND WHAT DO YOU THE COST WOULD BE FOR EACH? THANKS FOR THE GREAT WORK, LOOKING FOWARD TO THE RESPONSE.
LORD M.
Good lord, why all the caps? My lord! Lord have mercy. Anyway, I'm not a Landry fan. I think he's highly overrated and don't have any desire to see the Patriots invest big money in him in free agency. I know the team has a clear need at safety, but in my opinion Landry is not the answer on the field or in terms of financial sanity. Avril is interesting. He's in the Purdue mold of defensive end and outside linebacker types. His sack totals have increased each of his four seasons, peaking at 11 last fall. He also had an impressive six forced fumbles. But he's one of the more talked about free agents and I don't see him as elite, even if some think he'll be looking for $12 million a year. If you want to invest in a pass rusher, I'd rather go all in and pursue Mario Williams. As for the receivers you mentioned, almost any of those guys would add to the Patriots offense and give them an option on the outside. But all will cost a lot of money. I'm not overly high on Jackson and Johnson. If I were really looking to spend some money and go for the home run, I'd probably prefer Meachem or Wallace. In general I'm scared of paying elite money to guys who aren't really elite players. I think all those receivers fall into that in-between category. They're good, but not great.
Andy Hart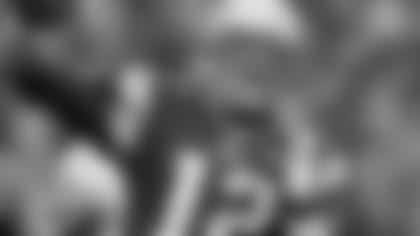 How many years do you think Brady will be in his prime? He did look great this year but there will come a time when his body starts to break down. I'm just afraid the window is closing and the Patriots may never get back to a Super Bowl.*
*Mark Chiaramonte
This is literally the billion dollar, Super Bowl question. Brady had a great year in 2011. But he also dealt with some sort of injury to his throwing arm that seems to be chronic rather than acute. That may not get any better and things like it could add up as he gets older moving forward. I feel pretty good saying that he has at least two more elite seasons in him, and probably a couple of others in which he'd be better than most other players at his position. So that means he'll at least play out his current deal, with three years remaining. So right now the only definitive, Brady-led Super Bowl window in New England is three years and counting. Tick, tick, tick.
Andy Hart
How much cap room will the Pats have if they have to franchise Welker? Could they afford a Mario Williams caliber player at DE? Also, given the field of future rookies, do you think the Pats will address the interior line in Rnd 1, or will they try to get an elite DT and revert back to a 3-4 permanently?
Phil M.
Many reports have indicated that the Patriots could have somewhere in the range of $20 million in cap space heading into free agency. The official cap number hasn't been set yet, nor have RFA tenders or franchise tenders. But the tag for Welker will be right around $9.4 million, according to NFL.com. That leaves more than $10 million in spending money, without taking into consideration making moves to create cap space. The team could cut guys. Others could restructure or even retire. So the cap situation will be a fluid one. If the team wanted to go after a guy like Williams, if he is on the open market and does not get the franchise tag in Houston, it could do it. It would obviously have an effect on other decisions and the ability to fill holes elsewhere. But the option is there.
Andy Hart
Over/Under: 1 WR free agent signing for Patriots? 1.5 first-round draft picks used by the Patriots? 2 trades during the draft? 12.5 wins by the Patriots during the regular season? 1.5 playoff victories?
Kurt Osborne
I love these games. I'll keep my answers short and without analysis. Over. Under. Under. Under. Over.
Andy Hart
This question has been lingering in my head for some time now and I think I came to the right place to get an accurate answer. Why do you think the Pats changed their game plan in Super Bowl, I didn't see the hurry up offense much used??? What do you think???
Fritzner Laurent
I think a lot of circumstantial factors led to the somewhat limited use of the hurry up. First, was the safety on the first snap. That led to a huge imbalance in the time of possession with the New England defense on the field for a long time in the first quarter. Going hurry up could have added to that imbalance. Second, was the injury to Rob Gronkowski. With the All-Pro tight end gimpy, he probably needed the time between snaps. And, with his reps held down a bit, Chad Ochocinco was on the field more. His struggles in the offense are well told, so going with a fast-paced attack may not have been ideal with him more in the action. I think all these factors led to a drop in the no-huddle/hurry-up attack.
Andy Hart
What are your thoughts on the play of safety James Ihedigbo this past season and him as a player on this team moving forward? I believe the secondary has some decent pieces with the return of Ras-I and development of S. Moore. What do you think?
James Grant
I thought Ihedigbo was OK at times, but I don't think he is a starting caliber player on a good defense. I think he struggles at times in coverage and his tackling isn't all that good, especially for a guy with his special teams background and decent size. For me the key to the secondary is Devin McCourty. If he returns to near rookie form in 2012, a lot of other pieces will fall into place. If he struggles as badly as he did this past fall, or if he needs to move to safety, then I think the secondary has a lot of questions. Ras-I Dowling has a lot of questions to answer in his own right, the first of which has to do with his health. He also has very good size, but needs to prove he can be an NFL cover guy. I loved what I saw from Moore down the stretch. I'm not going to say he's a future No. 1 corner, but his play over the last month of the season was as competitive and timely as that of any Patriots cornerback all year. I also like the fight that Kyle Arrington shows. He may not be the playmaker that his seven interceptions would indicate, but he is very competitive as a second or third corner. But the issue is that the Patriots need to solidify the spots at the top of the depth chart in terms of a No. 1 safety and No. 1 cornerback. Both spots are a question mark right now.
Andy Hart
Hi. I was just wondering if the Pats would bring back Deion Branch on maybe a 1 yr deal with option for a 2nd. I know he is 34 but I think he did a great job when he came back from Seattle and he even said he wanted to retire here. He loves it here and I am a huge Deion Branch fan. I also heard he is a great locker room guy. He brings a lot of positivity to the team and I know he has a great relationship with Brady. Do you think Brady might lobby to bring him back for at least one more year? I know he still has some football left in him even if he is a 4th WR. I think he would be happy with anything he gets. Thx.
Jason LaBranche
Depending on how the rest of the offseason pans out at the position, I do think that there is a pretty good chance that Branch will be brought back. He stayed healthy all year and while he's not a game changer, he did make some plays in the passing game. He has a great rapport with Brady. He knows the offense. And I don't think there is much of a market for him elsewhere. The Patriots could do worse for a fourth or fifth receiver, and for that reason I think we could see one more year of Branch in New England.
Andy Hart
Just read Paul's comments on free agent wide receivers. My question is why should we choose between Brandon Lloyd and Reggie Wayne? Is it possible that we can acquire both? Belichick loves Reggie Wayne. I've never heard him gush about any receiver the way he gushes about Reggie Wayne and I'm sure Josh McDaniels feels the same way about Brandon Lloyd. If we release Chad Johnson and don't re-sign Deion Branch that should free up enough money to sign both. Think of the possibility with them added to our offense. I've been praying that we can acquire both. Do you think it's possible? Please give me hope. Thank you.
Bobby Brown
It is certainly possible, but I don't think it's all that likely. Given the track record of the Patriots adding veteran receivers to the offense, I'm not sure bringing two new faces in to play key roles is a good idea. That would obviously be aided by Lloyd's knowledge of the Patriots-like system from his time working with Josh McDaniels. But I also don't love the idea of adding two aging receivers, rather than looking to go after more of a long term solution like a draft pick or younger free agent. I wouldn't mind seeing one of those players, but I'm not sure adding both would be a great idea.
Andy Hart
Do you think Bill is even considering giving Moss another chance at coming back? And if for whatever reason Moss comes back, do you think he'll make as much of an impact as he did in 07? Moss > Ochocinco
Nicola Rojas
With one of my prayers being answered and Randy "When You're Rich You Don't Write Checks" Moss coming out of his short lived retirement, what do you think the chances are of him wearing a Patriots uniform this upcoming season? GO PATS!!!!!!!
Chris Willick
I'm sure you'll getting a lot of these this week, but what is the likelihood of Randy Moss coming back to the Patriots in 2012? Is there any scenario in which this could work out, or did the ship sail during 2010 season and there is no chance for a second go-around?
Thomas Smith
I think the ship has sailed. I think the Patriots, Brady and Belichick have moved on. And there is no chance that Moss is capable of having an 2007-like return. He says he still runs a 4.3 40. I don't buy it. And he's lost any quickness that he once had. He's a short-term option with a lot of baggage. I don't think he's worth the trouble anymore. The Patriots didn't think he was worth the trouble anymore back in 2010. Why is it any different now after he sat out a year and the team developed a great passing game with elite tight end play? Moss' time in New England was great for a while, but it's better off left to the history and record books.
Andy Hart
Love your column gentlemen. I was hoping you could answer me this question: What happened to Gary Guyton this year? I've been a huge follower of his and thought he had found his niche with the Patriots, even filling in wearing the green-dot helmet after Jerod Mayo's injury in Dallas. His playing time went downhill from that point and I wish I knew what happened.
Marie Parsons
I don't have a reason for it, but Guyton fell off the depth chart. He went from a full-time, 16-game starter a couple years ago to a part-time start and, this fall, a healthy inactive. He was passed up by guys like Dane Fletcher and Tracy White. I never loved his abilities, but his fall from playing time, including as a special teamer, was remarkable in 2011. Not sure if there was any more to it than what we saw on the football field, but somehow Guyton fell out of favor as quickly as almost any player I can remember. It's a strange situation that I can't really explain.
Andy Hart
At the risk of being ridiculed, I shall ask the following: would Belichick ever consider dabbling in the eastern/American Indian philosophies as did Phil Jackson while coaching the LA Lakers?
Gail McCartney
While I have no knowledge of Belichick "dabbling" in such areas, to steal his own phrase I wouldn't rule it out. Belichick has an open mind when it comes to looking for motivation and other information. He's referenced such things as boxing, horse racing, explorers, ancient theories of war and other non-football literature in the past. He seems to keep a pretty open mind with things that he believes could help him or his football team. If it worked for a Hall of Fame coach like Jackson, maybe Belichick has or will look into it too.
Andy Hart
After seeing the success Hernandez had coming out of the backfield this year, I was wondering if the Pats would try using him more this upcoming year catching passes, running, etc? Or are the Pats hoping that Ridley or Vereen will step up and be more of that option catching passes out of the backfield? Hernandez had great success especially catching passes out of the HB spot and definitely causes matchup problems when he's back there.
JD M.
Hernandez causes many matchup problems, all over the field. The formation with him in the backfield was just one of the many ways he can be used. But I don't expect to see that become more of a regular thing. I think it loses its effectiveness the more it is used from week to week. I also don't like to see Hernandez used as a runner out of that formation. We saw him get banged up that way and think that could happen again with increased carries. Ideally Vereen will develop into a versatile third-down/change-of-pace back out of the backfield who can cause just as many matchup issues for opposing defenses.
Andy Hart
Do you think it would be wise to use one of the 2nd rounders on Coby Fleener? (The TE from Stanford). He's 6-6, 246 lbs, and shares some of the good characteristics of both Gronk and Hernandez. Just imagine all the offensive possibilities of having 3 good young tight ends.
Jaron Ayers
I don't think taking a tight end in the second round, even if it's the team's fourth pick of the draft at that point, would be a good use of resources. While I think the Patriots might look to add a third tight end at some point, that would be way down the team's list of needs.
Andy Hart
Hi. Just wondering what was up with Ras-I Dowling this year. Was he hurt or did the Pats just not feel comfortable enough with him to give him playing time and develop his skill set.
Ozni Rhodes
Dowling's pro career got off to a tough start. He was hurt and missed a lot of practice time in training camp and the preseason. Then he started the first two games of his career, but was hurt again and landed on injured reserve with a hip injury. He's dealt with injuries throughout his college and high school career, and his NFL time got off to a similar start.
Andy Hart
Bill Belichick seems to be able to hit on offensive and defensive lineman, TEs and LBs. Belichick has missed more than he has hit when it comes to drafting the skill positions of WR and DB. Is this a function of drafting lower in the draft consistently?
Donnie Harpell
I think Belichick has had both hits and misses at almost every position. You're correct that his most consistent drafting has come along both lines. But tight end was a spot that he struggled with until he landed Gronkowski and Hernandez. He's yet to prove any consistency taking linebackers. He did a good job at receiver with Branch and David Givens, but has struggled since. Belichick, like most GMs, continues to prove that drafting is an inexact science. For every hit there is at least one miss, if not more. There are no sure things, at any position for any talent evaluator. That's just the nature of the business.
Andy Hart
What are the key positions the Patriots are hopefully going to fortify in the offseason? What do you think was the main reason(s) the Patriots could not bring home the Lombardi Trophy? Do you think Tom Brady will stay as effective next year compared to his recent years?
Jethro Stopka
I think the Patriots biggest needs come on defense. That unit needs a better pass rush, better coverage players with an overall addition of more speed and talent. Sure the offense may need some depth on the line or additions to the stockpile of targets for Brady to throw to. But in the end the defense just hasn't been competitive enough – despite its valiant effort in the Super Bowl – to come up with the key stops it needs at key times in key games. I'm still calling for (as has been the case in recent years) the addition of an elite playmaker on the edge of the front seven to get after the quarterback. Call me a broken record if you will, but in my opinion that's the broken position in the New England defense.
Andy Hart
Does anyone else think that Chad Ochocinco was a huge bust? He made a few plays here and there I will admit. Unfortunately I think we could have spent that money better elsewhere. Do you agree?
Stephen Farnham
Everyone, including the man himself, was disappointed with the season that Ochocinco had. He didn't live up to his own hype, expectations or pay check. He was never a legitimate option for the offense and that was a major story throughout the season. So, it's not just you. The greater question is will No. 85 be asked back for 2012? Could he be given the chance to fight for a job in training camp, maybe having learned from a year in the system? I wouldn't rule it out. But I think the chances of him becoming a key cog in the offense moving forward are rather slim.
Andy Hart