So what will Indianapolis get from signing Deion Branch? Aside from helping as a receiver, what kind of info could he give the Colts to help bring down the Patriots?**
Wano Yee
I know it's a pretty common reaction that the Colts signed Branch strictly for intel but I really think he's just an insurance policy for the banged up receiving corps. Indy had Branch in for a workout a few weeks ago and chose to sign him when Darrius Hayward-Bey was injured, leaving the Colts down to their fourth and fifth options with Reggie Wayne already out. Branch won't likely be able to help Indy much unless another injury or two pop up; I'm not even sure he'll be active in the game after sitting out the entire season. As for any insight he may be able to offer, Branch really isn't familiar with what the Patriots are doing on offense at this time. There's no Rob Gronkowski, Brandon Lloyd, Aaron Hernandez and Wes Welker – all of those guys were huge parts of the offense when Branch was last here. Obviously he can offer some thoughts on how the Patriots operate but in terms of schemes and game plans I'm not sure he'd be in position to help much. Chuck Pagano will likely pick his brain, and maybe that's why they made the move now instead of a month ago, but I believe the impact will be minimal.
Paul Perillo
Which NFC team would you least like to see as a Super Bowl opponent on a cold and potentially snowy night in the first outdoor cold weather Super Bowl? Does this offensive line have enough depth/talent/health to run block and pass protect efficiently against these playoff defenses? Can the pass defense/pass rush perform at the necessary level against these playoff opponents?
Shane C.
I'm not sure it would matter which NFC team gets to the Super Bowl. If the Patriots are fortunate enough to make it that far, I think they would be content to take their chances against anyone. In terms of matchups, I feel Seattle and San Francisco would be the toughest teams to face in bad weather. Both play tough defense and can run the ball in the elements well enough to control the game. New Orleans isn't quite the same outdoors and would be the easiest of the four teams, in my opinion. They play tough defense but offensively Drew Brees just isn't the same on the road and he's been mistake-prone of late. Carolina is the wild card. The Panthers are balanced with a fast and aggressive defense, but one in which the Patriots moved the ball effectively in November. Overall, the team I'd most like to see would be the Saints and the one I'd like to see the least would be the 49ers.
Paul Perillo
I'm just curious to know what is a player's obligation is to speak or be available to the media? Are all NFL by contract supposed to do so many interviews? I hear players "refuse to speak" to the media, or they were "unavailable for comment" and then getting fined for it. Also if a player is in front of the cameras or a microphone, do they have to answer the questions or can they jabber on about off topic things?**
Mike Vaughn
Players are required to make themselves available to the media at least once per week and are subjected to fines if they fail to comply. Sometimes players get away with avoiding the media because no formal complaints are lodged. But if the media complains, like the case with Seattle's Marshawn Lynch recently, then the player can be fined. Lynch was docked $50,000 after not speaking to the media all season, and then appearing for 90 seconds during the Seahawks bye week. It's not normally a problem but every once in a while a high-profile player gets fined for not fulfilling his media obligations. As far as what a player says, that's basically up to the individual. Many times players and coaches choose to answer questions far different from the ones that are asked. It's not usually done in a malicious way, but if you listen to the questions and then the answers, sometimes one has nothing to do with the other. It's an occupational hazard for us media types.
Paul Perillo
Danny Woodhead is a free agent … is there any chance the Patriots would pick him up again for next season?
Paul Berube
Woodhead is not scheduled to be a free agent after the season. He signed a two-year deal with San Diego during the offseason and I expect the Chargers wouldn't be willing to let him walk after he turned in a productive season. Also, Woodhead was let go in large part to make room for an expanded role for Shane Vereen. Although Vereen has had trouble staying healthy, I feel he's a much better player than Woodhead and I understand the decision to let him walk. At this point it doesn't matter, though, as he's not likely leaving San Diego anytime soon.
Paul Perillo
What's up with Stephen Gostkowski not being an All-Pro? His numbers are better than Justin Tucker's and Matt Prater's, and, given each team's status, Gostkowski was more valuable to his team than the other two.
Justin Smith
There's no question that Gostkowski enjoyed a tremendous season kicking the ball for the Patriots. A strong argument could be made on his behalf for team MVP. He was that good with several clutch kicks and many of them coming from long range. But one thing I noticed each week while working on preview stuff for the upcoming opponents was every team seemed to have a kicker enjoying a terrific season. Few if any kickers missed more than two or three kicks, and many of them had several long-range bombs to their credit. Tucker went 38 of 41 and was 6-for-7 outside of 50 yards. Prater was 25-for-26 and also went 6-for-7 outside of 50 yards. Gostkowski's numbers were comparable as he matched Tucker's 38-for-41 overall and was 5-for-6 outside of 50. All three were vital cogs for their teams, and certainly Gostkowski had a case, but I can't argue with the selections.
Paul Perillo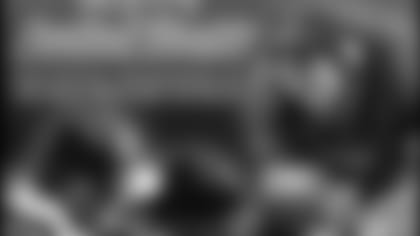 ](/fan-zone/patriots-football-weekly.html)In thinking about the Panthers loss and the controversial call at the end of the Carolina game, is there any chance there will be a specific change to the rules because of the penalty or lack thereof? In my little mind the problem with an official deciding that a player (Rob Gronkowski) cannot make a play on a ball (that a defender touched or caught) assumes the pass could not carom from a different intended receiver or defender into an area the fouled receiver (Gronkowski) could be to catch the pass. What am I missing?
James Siegel
Well, a lot actually. First let me state that I thought the decision to pick up the flag was ridiculous. Clearly Luke Kuechly interfered with Gronkowski and a penalty should have been called. But in ruling that it was an uncatchable ball, the officials made the decision to pick up the flag. The ball never got to Gronkowski so the officials had the right to make that determination, even though I felt Gronkowski wasn't afforded the opportunity to get back to the ball because of the interference. However, your suggestion of a carom doesn't make sense. Had the ball been deflected, then Kuechly's contact with Gronkowski would have been legal. If a pass is tipped at the line, or deflected before reaching its intended target, then any and all contact is deemed legal. So if the defender deflected the pass in the air, and Kuechly tackled Gronkowski to prevent him from catching the carom, no penalty would have been called.
Paul Perillo
Before we enter the playoffs, I thought I would ask an offseason question. Which of the following free agents should be a priority to re-sign? Aqib Talib, Ryan Wendell, Brandon Spikes, Julian Edelman, LeGarrette Blount, Michael Hoomanawanui, Dane Fletcher. My choices: should sign: Julian Edelman, LeGarrette Blount. Fence: Brandon Spikes, Aqib Talib.
Mike Baker
The only player on your list that I would make a priority to sign would be Talib. He's exactly the type of cover corner the team has lacked since the days of Asante Samuel and, before him, Ty Law. Bill Belichick has searched long and hard for replacements for those guys and he finally found one in Talib. I'd try as hard as possible to re-sign him and would be willing to give him a long-term deal to do it. Maybe four years, $40 million with about half of that guaranteed? I know that sounds like a lot of money, but I like the way Talib has fit into the locker room and emerged as a leader in the secondary. There's no comparison between the defense with him in the lineup and without him. As for the rest, Wendell would likely be pretty easy to retain. I'd like to give Edelman a reward for a great season but wouldn't break the bank. But Talib is the only one of those I'd prioritize.
Paul Perillo
Despite the Colts apparently suspect secondary, and it's bigger (than we're used to seeing from Indy) DL, do the Patriots run first (and second and third...) with their deep stable of running backs, while throwing the occasional play action pass, rather than get in those three receiver sets and sling it? Would this play to the Patriots late season ball control power running game, and at the same time limit the time Andrew Luck has to do his thing?
Tony D.
I expect the Patriots to have success running the ball against the Colts. Indy was 26th in the league against the run and the Patriots did have some success down the stretch when keeping it on the ground. That said, I expect Tom Brady to throw it plenty, especially if Luck and the Colts offense get off to a quick start. Luck needed just 22 minutes to put 45 points on the board against the Chiefs, so ball control didn't do Kansas City much good. The Patriots have to score, and usually that means throwing the ball, and I believe they will.
Paul Perillo
Hi, greetings again form Ecuador. Love the work you guys do informing us. What is the contractual situation with Bill Belichick? Will his contract end with Brady's in 2017? Will he still stick around after Brady is gone? If the Patriots win the Super Bowl, will the IR players get a ring as well?**
Andrew Vargas
The coach's contract is something of a mystery in Foxborough. No one outside of the parties involved knows exactly how long Belichick is under contract. My guess is he'll be here for quite some time and will likely outlast Brady. I just don't see Belichick stepping aside from something he so clearly loves to do. He still shows tremendous passion for all aspects of the job and obviously remains at the top of his game. As for the players on injured reserve, they all get rings as well since they are part of the team.
Paul Perillo
Who is going be an unrestricted free agent this year for us? Also any on another team worth a looking at? I know it's early.
Kat Weiss
It is early and I'm not getting into potential free agents from other teams at this point. There's still almost two months to go before that process even begins. In terms of potential free agents for the Patriots, that list is topped by Aqib Talib, Julian Edelman, Brandon Spikes, LeGarrette Blount and Ryan Wendell. Dane Fletcher and Michael Hoomanawanui also are potential free agents after the season.
Paul Perillo