If Miami wins next week and New England wins, why does Miami win the AFC East?Dan Paulin
Tiebreakers, Dan. It's all about the tiebreakers. The NFL has a 12-step process to break ties among division opponents (the last being a coin flip). The first is head-to-head record, and they're 1-1 against each other. The next option is division record: again, they're both 3-2, so if they both win this weekend, they'd be 4-2. So … we go to the next tiebreaker, which is record versus common opponents. Both teams are 7-1 this year against common (non-AFC East) opponents.
Which brings us to the fourth tiebreaker: conference record. The Dolphins are 7-4 against AFC teams, while New England is 6-5. Thus, Miami would get the nod if both teams ended up with identical records.
Erik Scalavino
Everyone is mentioning that if the Dolphins win, the Patriots won't make the playoffs. Is that true? What if the Dolphins win, Patriots win, and Ravens (somehow) lose, would that grant the Patriots a playoff berth? Either way, Patriots need to win ...Go Pats! (and for one week only, I hate to say it, 'Go Jets!')Kevin Hahn
Kevin, you're exactly right. That's the scenario the Pats would need if Miami beats the Jets. New England would have to win in Buffalo and the Ravens would have to lose … at home … to the struggling Jaguars. Tough sledding, indeed. Unless, of course, the Jets take care of business. Then, all the Pats would have to do is beat the Bills and they're AFC East champs, giving them a home playoff game (most likely against Baltimore, but possibly New York) on Wild Card Weekend. If the Pats get in as a wildcard, they'd most likely be headed to Miami on January 3rd or 4th.
Erik Scalavino
Is it possible for a Wild Card team to play the winner of their own division in the first round? For example, if Miami and N.E. win and Baltimore loses, Miami would be the third seed and N.E. the sixth seed. I seem to remember an old rule where the wild card didn't play its division winner in the first round regardless of seeding.Geoff Moore
I believe that used to be a rule, once upon a time, Geoff, but no longer. In fact, the Patriots hosted the Jets (a 37-16 win, if you'll recall) just two seasons ago in the first round of the 2006 playoffs. And as noted in the previous answer, yes, New England would travel to Miami for a Wild Card game if the scenario for that result were to play out.
Erik Scalavino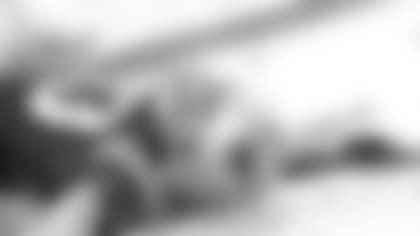 ]()Hey PFW, what's with the No Fun League flagging Wes Welker's snow angel celebration? I didn't see anything excessive there. He didn't use the football as a prop, it wasn't a group celebration, so, what gives? Love to hear your opinion on this one. *Mahesh Kalyana - Cary, NC*
I have sent the following message to the NFL ... The flag on Wes Welker for his snow angel this week was not only ridiculous, but also directly contrary to New England Patriots football tradition and the entire NFL. Lonie Paxton provided one of the Patriots' all-time great moments with his snow angel [against Oakland in the 2001 Divisional Playoff] and it has become part of a New England tradition ever since. My five-year-old son, who is always a Patriots when we play football, loves to make snow angels to celebrate when he scores a touchdown. This is because it is a beloved Patriots moment that he has grown up with. There is no difference between the snow angel and the Lambeau Leap. If the snow is a prop then the stadium wall is as well. Accepting the ridiculous logic that states that snow is a prop, then, obviously a stadium wall covered with banners is a prop. Every player should be flagged for a Lambeau Leap. Obviously they are not. Why? Is it because the leap is part of the history of Green Bay football? Are the Packers' traditions to be respected while the Patriots' traditions are not important and can be thrown away as easily as one tosses a yellow flag? Apologize to the New England fans and franchise for this ridiculous flag that undermines a part of New England football that is as much a part of the history and tradition of the franchise as the "Tuck Rule" and "Snow Plow Incident" … or start throwing flags in Green Bay.Roger Johnson
I agree with both of you guys. I thought Welker's snow angel was spontaneous, fun, and did no harm to any of the Cardinals. Everyone remembers Paxton's equally exuberant moment at the end of the Raiders "Snow Globe" game. It has come to symbolize the winning tradition and spirit of Patriots football in the Belichick era. If I were officiating the game, there's no way I would have thrown a flag – it was a harmless celebration.
And kudos, Roger, for sending the other Roger at the league office your thoughts. Not sure anything will come of it as a direct result of your actions, but maybe it will get some people there thinking. That's always a good start.
Erik Scalavino
During the Arizona game, a graphic was aired that showed Matt Cassel has 21 TD passes this season while the QBs he backed up at USC, Cincy's Carson Palmer and Arizona's Matt Leinert, have a combined three. Is that right?
Josh Strzeszkowski
That's correct. Cassel has 21 TDs this season. But that graphic was displayed before Leinart threw that bomb to Fitzgerald. So, now the other USC QBs have a combined total of four (Palmer three and Leinart the one).
Erik Scalavino
Although Jabar Gaffney has come up with some big plays for the Pats, he really hasn't been a serious number-two receiver threat. I was wondering what your thoughts would be on the team addressing this issue with guys such as T.J. Houshmandzadeh or someone like Terry Glenn?
Mike Josefiak
In fairness to Gaffney, he hasn't really been the number-two guy this year – Wes Welker has, and he just made the Pro Bowl. But your point is well taken. Gaffney has made some plays at times (see the most recent game against Arizona), but has also had his share of dropped passes (see the Colts game back in November). Houshmandzadeh would certainly be a tantalizing upgrade at that spot, but the Bengals could franchise tag the unrestricted free agent-to-be. So, let me throw another name out there for you to consider: Deion Branch.
This might just be a pipe dream, because I realize he signed a six-year, $39 million deal when the Pats traded him to the Seahawks in 2006. However, he hasn't quite lived up to expectations in the Pacific Northwest, and he does count as a considerable cap number for Seattle in '09. Perhaps Seattle would ask him to restructure or possibly just cut him if they felt they could absorb the hit.
Also, when we were out there earlier this month, I overheard some people talking about a 2009 option that Seattle would have to pick up (or not) to keep Branch. Not sure about the validity of that account, and haven't had much success finding any verification, so it might not be the case … but it got us at PFW thinking about the scenario of Branch coming back to the Pats. He remains friendly with several players here and has said repeatedly that he harbors no ill will over the way he left New England.
As for Glenn, he's ancient history. If the Patriots want to upgrade the receiver position, they should look to younger guys with up-side, not older guys with baggage.
Erik Scalavino
Will this be the off-season that Belichick upgrades the defense?
Shawn Robbins
If, by "upgrades," you mean "goes out and makes trades and signs a lot of free agents, like he did with the offense in 2007," the answer is: maybe. The Pats could use help at corner (Nnamdi Asomugha of the Raiders, perhaps) and certainly need to get more youth and speed next to Jerod Mayo at linebacker. D-line is pretty full at this point, so it would appear the secondary and linebacker are the target positions. We haven't examined the list of free-agents-to-be thoroughly enough yet … there'll be plenty of time for that once the off-season gets here. But, as Bill said and has said ever since that great 2007 off-season spending spree, it was a combination of need, availability, and resources to acquire them. If he sees that perfect storm forming for the defense in the coming weeks/months, then, yeah, he'll make the necessary upgrades.
*Erik Scalavino *
With Tedy Bruschi and Rodney Harrison both injured, I'm wondering if we've seen the last of both of them in a Pats uniform.Bill Heaney
It's entirely possible, Bill. Although Bruschi does have a year left on the two-year extension he signed earlier this season. And Harrison is a notoriously fierce competitor. But age and injuries may finally be catching up with them. Both are in their mid-30s and the team would likely want to get younger and faster at both positions. I wouldn't be surprised at all if both players decide to hang up their cleats after this season. I also wouldn't be surprised if either or both decided to return.
Erik Scalavino
Is there an NFL record on the number of injured players on one team? Has this Patriots team set an official record for injured starters? On defense, I'm sure they must have already.
Craig Mitchell
I feel your frustration, bro. It's been a tough year for the Patriots, in terms of injuries. But, no, there is not an official record kept in the that category.
Erik Scalavino
What year was the game played that the snowplow cleared out the area that the Patriots kicker kicked the field goal? And what team were the Patriots playing?Mitchel Jones
The Patriots beat the Miami Dolphins 3-0 on December 12, 1982 during a snowy game here in Foxborough at the old Schaefer Stadium (later Sullivan Stadium, then Foxboro Stadium). Mark Henderson, a prisoner on work release at the time, drove the snowplow (it was actually a rotating brush, not a plow) to clear a spot for John Smith, then the Pats kicker, who nailed the game-winner from 33 yards out.
*Erik Scalavino *
Watching the [Cardinals] game [on FOX], the words NUGGET ALERT! popped up a couple of times. What's this all about? Even my boyfriend and our best friend have no clue, and they're huge Pats fans.
*Wendy Spencer *
Has nothing to do with being a Patriots fan. Apparently, it's a feature the FOX broadcast team uses to fill time, especially in blowout games like Sunday's. One of the announcers tells his colleagues and the audience an ostensibly useful piece of information – a nugget, if you will – which, in many cases, could just be a useless piece of trivia. It's meant to get a laugh, too, I believe. McDonald's should sponsor it, if they haven't already. Or maybe it's not worth the investment.
Erik Scalavino
I am trying to create a new offensive formation and want to know if it is legal or not. Starts with your regular five offensive linemen, QB under center, RB seven yards back, WR on the right side of the formation. Here's where it gets a little wacky. You're going have three "receivers" trips left, but two of them are backup O-linemen reporting as eligible receivers. The purpose of the formation is to spread out the defense while in goal-line or short-yardage packages. It can be used to set up screens, or fake the screen and run the ball up the middle or right side of the formation. Anyway, the legality of having two backup O-linemen stacked up as receivers and how they would set up is where I am a little confused. Any clarification by your staff would be greatly appreciated.Andre Mencia
Well, Andre, the linemen in your formation would have to report as eligible, first of all, as you indicated. One of them, or another skill position player (a tight end, wide receiver, or running back) would have to cover up the left tackle (i.e., line up parallel to him along the line of scrimmage) and the receiver on the right side would have to do the same for the right tackle. In other words, there must always be seven offensive players on the line of scrimmage at the snap. The remaining four must be at least one step behind the line. So, in your formation, both of your eligible linemen can be spread out wide, but one of them (or the third receiver/back in the trips package) must line up on the line.
Sounds like an interesting concept … let us know if it works for your team. You do coach a team, right? High school? Pop Warner? Because if this is just for a flag or two-hand touch game, put the chalk down, my man. And if you're designing this for no particular reason, well, you need more help than any of us at PFW can provide.
*Erik Scalavino *