Given Steve Smith's desire to leave the Carolina Panthers, do you think the Patriots should trade a draft pick for him? I reckon he's worth a third or fourth rounder, but still has the ability to stretch the field and beat defenders. He had a down year, but Carolina had the worst QB in the league last season.Mark H.
Smith is likely worth more than a third or fourth rounder but in this crazy offseason he could very well be had at a discount. Smith is one of the most competitive receivers in the league and he's never really had the opportunity to play with a gifted quarterback. The idea of watching him with Tom Brady is certainly worth getting excited about. Do I believe it will happen? Absolutely not, but that doesn't mean it's not worth discussing. I feel with time being so short at this stage that it will be difficult to put together moves like acquiring Smith – and that assumes that Carolina even wants to deal him in the first place.
Paul Perillo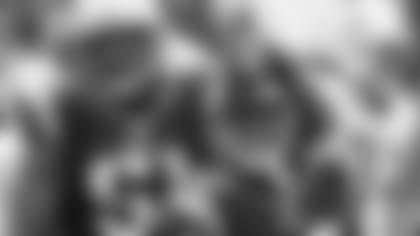 Assuming that Devin McCourty can develop at a reasonable pace year to year it can be expected that by the time his deal expires he will be a better player than Asante Samuel was in 2007. The question is, assuming he is humble and asks for fair compensation and follows the Patriot way and doesn't make a fuss in the media, do the Patriots pull out the check book this time? Need I remind you of Deltha O'Neal and Ellis Hobbs in 2008?*
*Tyler Spence
Count me strongly on the McCourty bandwagon. He had a solid a rookie year as I've seen for a cornerback in a long time. That said, there are never any guarantees when it comes to free agency. I agree that McCourty would be worthy of a long-term deal should his progress continue along the lines of his play last year. But Samuel was certainly worthy of one after the 2007 season as well and didn't get one. He didn't necessarily break the bank with his contract in Philadelphia but was still deemed to be too rich for the Patriots. I don't necessarily believe in all the qualifiers you put forth (what you think is fair compensation and what McCourty thinks might not be anywhere near the same). That said, if McCourty keeps improving, he definitely deserves a big-money deal to stay.
Paul Perillo
After the previous draft, I was kind of disappointed that the Pats did not pick up J.J. Watt, a defensive end from Wisconsin. I watched him on TV and he was bashing through offensive lineman like a raging bull. Any ideas on why the Pats did not pick him when they had the chance?? Thanks for your expert opinions on readers questions.
Ron Dionne
Well, for starters Watt went to Houston with the 11th overall pick. The Patriots picked 17th, which means it would have required a pretty significant move up the board to get him. Personally I'm glad they didn't make such a rash move to pick Watt. From what I saw of him he seems like a solid player best suited as a defensive end in 4-3 fronts. He showed some ability to rush the passer but didn't necessarily show great technique in doing so in college. I believe Watt will be a fine player but not a star worthy of moving up six spots in the draft to get.
Paul Perillo
Hey guys, I was wondering if Marcus Cannon would start this season at right guard with Stephen Neal's retirement. What do you think?Will B.
By all accounts Cannon has the ability to be a starter at the NFL level. But obviously there are some issues he's going to have to overcome before any such evaluation can be made. Most important is his health. Cannon underwent chemo treatments for non-Hodgkins lymphoma, a form of cancer, and is still recovering. He recently told a writer in Dallas that he was feeling well and was in the midst of working out in an effort to be ready for training camp. Even if that is the case he'll still have a hard time getting up to speed as a rookie with little to no preparation time throughout the offseason. Not to mention he'll be behind Logan Mankins and Dan Connolly, at the minimum, for starting spots to open the season. Assuming Cannon's recovery from cancer continues to go well, he may be in line for some playing time before the season is over. But expecting him to start from the beginning is unrealistic.
Paul Perillo
Logan Mankins was offered a deal that rivals Nick Mangold's, and to play with Brady and NE, and he doesn't like it. What a weird individual. Wouldn't you agree?
Matt S.
Actually, no, I wouldn't. First, there was a difference of opinion of the actual worth of the contract Mankins was offered. The team rated its value as much greater than Mankins and his representative, Frank Bauer, did. So the blanket assumption that Mankins was offered a deal that rivals Mangold's isn't necessarily true. But I feel Mankins' larger point is that he was a victim of the system. That's not the Patriots fault as the team was simply playing by the rules. But Mankins' situation was a bit unfair in that he's entering his seventh year and still hasn't experienced free agency. I also don't think playing in New England with Brady factors into the equation much. There are a lot of good teams and quarterbacks in football, some of which might be willing to pay Mankins what he wants. What if Green Bay wanted to give him $20 million more than the Patriots would? Same chance at success with a great quarterback coming off a Super Bowl. He should turn this down because it's not the Patriots? I understand that he makes a lot of money – and personally I think the Patriots are right not to match the contract Jahri Evans signed in New Orleans that was inked under different rules heading into the uncapped year – but Mankins is the best in the business and wants to be paid as such. I just don't feel the value for a guard is worth those kinds of resources, but if Mankins does indeed wind up leaving after this season he will be missed.
Paul Perillo
What do you think about the idea of Cullen Jenkins from the Packers being signed by the Patriots?Ryan Pool
I like Jenkins as a player even though he's been injury prone as of late. He is one of the rare players who can generate heat on the passer from the inside. But at 6-2, 305 pounds he's more of a nose tackle type in a 3-4 and the Patriots already have Vince Wilfork. I'm not sure it makes a lot of sense to spend much money on acquiring another interior defensive lineman considering the dough already tied up with Wilfork. He has spent some time as a 3-4 end but that's a little short to do so in New England. He could be a nice part of the rotation in subpackages but he would be a rather expensive situational player in that scenario. Again, like Jenkins the player but not necessarily Jenkins the Patriot.
Paul Perillo
Randy Moss. There, I said it! I am not sure why so many say that ship has sailed? He did become a headache in the end, but it didn't last long. They did what they should have and said goodbye. But now, after he got kicked around three teams and did nothing last year, I think Moss is a new man. If he signs with someone this year and kicks butt, why not let it be with us? I think he knows now what he had here and won't screw it up this time. I like Deion Branch and am happy to see him back where he belongs but he would be much better (Wes Welker also) with Moss on the team. And with the short preseason coming, Moss already knows most of what's going on here. Give him $4 million and load it with question marks, if he screws up, see ya! I really think he is headed for a good season and wouldn't it totally suck if it is with the Jets! I will be whippin stuff all over my apartment. Thanks guys, you da best.
Richie Brown
I guess I watched a different guy than many others did last year. The Moss I watched couldn't get open and barely made a ripple in the NFL all year long. He did virtually nothing as a Patriot playing with the best quarterback in the game, and he did less than that in Minnesota and Tennessee. Why would anyone give this guy $4 million to come in, pout, and make very little impact. I have no problem risking him signing with the Jets or any other team. In fact I hope the Jets do sign him and he continues to disrupt them like has to every other team he's been a part of. I feel there's virtually no chance of him having a major impact anywhere this season.
Paul Perillo
With all the talk about pass rushers this offseason, it made me think about a few things. It seems that analysts tend to base their assumptions on the best pass rushers based solely on sacks. While this seems like it makes sense, a player who has 12 sacks in a year is considered a very good pass rusher, but if you think about it that's less than one big play per game. I know someone who has a lot of sacks is generally disruptive, but is there a place where we can see other pass-rush stats for ourselves such as batted balls, times they rushed the QB, times they knocked down the QB, times QB flushed out of the pocket, etc? It would be nice to see all the stats in order to see who are truly the most disruptive players on each play instead of assuming based on a single statistic.Mike Howlett
Well most of those stats are kept and appear in various places each week. In addition to quarterback sacks, the league charts batted balls (passes defensed) and quarterback hits. There are also unofficial stats available charting pressures (forcing QB from pocket) on line. While these additional stats add something to the equation, bottom line is generally the guys that get the most sacks tend to accumulate numbers in all related pass rushing stats. To say that a player who gets 12 sacks makes less than one big play a game is borderline ridiculous. First, good pass rushers impact games in ways that numbers couldn't begin to describe. For example, Bill Belichick once told me that Dwight Freeney required a tremendous amount of preparation heading into every Colts game. So even if Freeney didn't wind up with three sacks he forced the Patriots to pay close attention to him, possibly at the risk of freeing up another player. Good pass rushers are instrumental for any quality defense.
Paul Perillo
Hey since we really only have two major needs what do you think the odds are that Jermaine Cunningham will step up to where he needs to be? Also for the WR do you think Braylon Edwards or Santonio Holmes will be signed by us?Jacob Mattson
I expect Cunningham to make a jump in his second year. He was injured during camp last year and missed a lot of important preseason time. He subsequently had a quiet rookie year but he did have his moments and showed potential. I feel he'll build off that and make some more big plays this season. However, I don't feel he'll be the big-time pass rusher the team sorely lacks. I just don't see the explosive first step necessary to be an elite edge rusher. Perhaps that was due to his injuries and time will tell. I don't see Holmes or Edwards on the Patriots anytime soon. Both have had their issues on the field and would require money. The Patriots tend to keep problem children on short-term deals that they can control. It wouldn't figure that Holmes or Edwards would agree to such deals.
Paul Perillo
Just a big thanks for all the great Pats coverage. Down here in Steelers country you guys are my only sanity. Now this is a far out there question, but was wondering about the Pats long snapper situation. Seems like BB isn't satisfied with their current guy. Pats had John Condo in camp a bit back and was wondering if there was any chance of getting him back?
Jaytee Herrington
Not sure why you think Belichick is unhappy with the long snapper situation. Matt Katula came in last year to replace the struggling Jake Ingram and performed well. He had no hiccups to speak of and the operation continued to run smoothly even after Stephen Gostkowski was lost for injury. Katula will be the long snapper heading into camp.
Paul Perillo
I have been wondering how the Pats were able to sign free agent DL Marcus Stroud after the season ended, when the NFL still has not yet even started the free agency period. Can you explain?
Steve Tibbetts
Stroud was released by Buffalo before the lockout, so he was available to sign with anyone since no team owned his rights. The reason pending unrestricted free agents (like Matt Light) weren't available is due to the fact that the new league year never began and therefore those free agents remained property of their previous teams. So, because no team owned Stroud he was able to sign. Technically, Light was (and still is) a Patriot until the new league year begins.
Paul Perillo