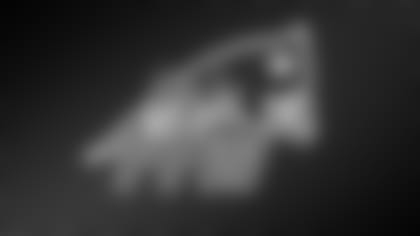 ](/fan-zone/askpfw-contactus.html)Hi Guys, I am writing in from Dublin, Ireland and just wanted to say firstly thanks for all your hard work we all really appreciate all you do. If you are ever in Dublin the Guinness is on me!! Now to my question...What do you think are the chances the Patriots give up a draft pick to get in another TE before the trade window closes? I was thinking would it be feasible to offer the Browns a first or second round pick for Jordan Cameron, I think he has the potential to be a top TE in the NFL and its likely we wouldn't get a better player than him with our first round pick and the Browns may be interested in picking up another first round pick to help improve there roster so it may be win-win all around! We could go back to our devastatingly brilliant 2 TE Offense and the Browns would be in great shape going into next season. What do you guys think? Am I living in dreamland?!! Tony Lynch, Dublin, Ireland
No, you're living in Dublin, obviously. As for your idea, it's not far-fetched. I would not be surprised to see the Patriots trade for another offensive skill position player. You like Cameron? Okay, I'd take him. Marcedes Lewis from Jacksonville is another name I wouldn't mind hearing tossed around. I wouldn't want to waste a first-round pick on either one, however. They can be had for less. More than a pint of Guinness, certainly. Speaking of which, I will take you up on that offer when I get to Ireland someday. Erik Scalavino
Do you think the Pats will pursue a trade for Hakeem Nicks or Kenny Britt to get some much needed help at the WR position before the trade deadline comes? Darryl Rucker
I've been hearing rumors about possible trades for Kenny Britt or Emmanuel Sanders. Is there any possibility of one or both of these trades take place? If we could somehow get both these players, the combination of Britt, Sanders, [Kenbrell] Thompkins, and Gronk would be a sight to see. Also with [Jerod] Mayo being placed on IR, I think this is a great way for Hightower to show how much he has grown. Andrew Tate
As I said in Tony's answer, I can see New England trying to acquire more talent on offense. I have absolutely no interest, however, in the likes of Britt. He's a troublesome individual and this team needs more good players who are also good people. Nicks is hurt too much for my liking, and the Patriots have cornered the market on oft-injured wideouts. Sanders is a guy the Patriots really wanted during the offseason, so, it wouldn't stun me if they tried to get him again. The only wide receiver I'm really interested in is Larry Fitzgerald. He's the perfect player, on and off the field. Anyone else would be a letdown.
As far as Hightower is concerned, Andrew, he hasn't done much growing since last season, I'm afraid. And that's a concern, seeing how most players at this level make their greatest jump in development from their rookie year to their second. Hightower is slow to react to plays and gets beaten in pass coverage far too frequently for a player with his supposed skill set and high draft status. Erik Scalavino
Thank you guys for always doing a great job. Pats fan here from Nepal. Since the trade deadline is nearing and our young receivers (other than KT) are not connecting with Brady as hoped for, do you think there is a chance they will try to bring in Emanuel Sanders? Or since Falcons won't make it to Super Bowl, they will be nice with Tony Gonzalez and trade him with us. I believe Gonzalez and Gronk combo would be unstoppable. What do you guys think? Thank you.* *Atin Pradhan
I've already addressed the Sanders scenario, but Gonzalez? Not happening. The Falcons would disagree strongly with you that they have no chance of making the Super Bowl. It's an uphill battle, for sure, but not impossible. They're not parting with a legend like Gonzalez. Sorry. Erik Scalavino
I'm glad Gronk is finally back, but now it looks like Brady is forcing the ball to him. Your thoughts? John A.
Um, yeah! I would, too. Rob Gronkowski is one of the best skill position players in the NFL. He's easily the best receiver on the team. And he darn near won the Jets game with a one-handed catch on the final drive of regulation. I'd force the ball to him, too, because more often than not, he catches it. Erik Scalavino
With all the injuries on defense, why don't we drop [Rob] Ninkovich back at LB in place of Mayo and let [rookie Michael] Buchanan take his place at DE? We all know how versatile Ninko is and I think Buchanan showed a little potential in a few games. Kacey Lewis
With the loss of Jerod Mayo, do you think it's time to move Ninkovich back to LB? Caswell Bennett
Absolutely not. The last thing this damaged-by-injuries defense needs now is more change. Stability is what's required to keep the unit playing at the improved level it has shown so far this season. That's reason number one.
The second reason to keep Ninko where he is is because that Buchanan has not been THAT good. He's been decent as a sub-rusher in three-defensive-end sets, lining up beside Chandler Jones, but nothing he's done thus far would suggest he can be a full-time starter. New England is already relying on more than its share of rookies on defense right now. Let's leave Ninko right where he is. Erik Scalavino
Do you think that because teams are only allowed to practice in full pads with full contact a few times a year, could that have an impact on the amount of injuries?* *Zack Ross
Even when teams practice in full pads, they're not tackling with "full contact." So, no, I don't think this is much of a factor in the rash of injuries. The problem is twofold: 1) cheap-shot hits by players who can't tackle properly or refuse to do so, and 2) men whose bodies are too big for their frames and bone structures. It's unnatural for people to carry hundreds of pounds around, move at the speeds they do, sustain the violent collisions we see, and expect not to see such devastating injuries. The game of football is just getting too big, literally, for its own good. Erik Scalavino
What are the Patriots doing differently, if anything, this season that has made our defense improve from last year? Is there anything different about the way defensive coordinator Matt Patricia is running the defense from a year ago? And finally are the Patriots looking to make any more changes to the defensive lineups this year by moving some players around or looking into trades/free agents? Justin Phillips
Yes, they are doing some things we haven't seen before. For instance, three defensive ends. In order to get more pressure on QBs, Patricia has employed this look at times in nearly every game so far. Chandler Jones slides to a tackle position, and rookie Michael Buchanan, mentioned earlier, takes the end spot. It's been an effective personnel grouping.
Against the Jets last week, with the team struggling against the run early, Patricia changed to a 5-2-4 defense, with three defensive tackles. The move seemed to pay off and stanch the bleeding in the running game. What's more, New England has essentially been playing nickel as its base defense, partly because of the matchups they've faced. This means adding another quicker defensive back and removing a slower linebacker, which helps the pass coverage. And let's not overlook the fact that the core of the defense is back together and has a year of experience working with one another. Erik Scalavino
Austin Collie made two key receptions for the Patriots against the Saints. Will we be seeing more of Collie, possibly a start? Or were those two key catches not enough for Collie to get more playing time? Trevor McIntosh
Collie has been productive at times in his NFL career when healthy. Problem is, he hasn't been healthy very much. It was nice to see him contribute the past two weeks, but if he's on the field more, that means Danny Amendola is on it less. That's not good. And what the Patriots need now is more playing time for their talented rookie receivers who've had their struggles and need to develop their chemistry with Tom Brady. Playing Collie more would not help in this area. Erik Scalavino
Hi Guys! Great job every week. Question: Why in the world is LaGarrette Blount still returning kicks? Watching the game, I was actually hoping that he took a knee because he seems unable to even get to the 20! I'd be interested to know his return average, because it must be atrocious. Meanwhile, the Jets pickup Cribbs off of the dang street and he does a better job. Why not give Boyce a shot - or anybody else for that matter?*Thanks, *Graham Smith
Kickoff returns have been a deficiency for the Patriots since Ellis Hobbs left town. New England hasn't been able to find a consistently productive player for the position. Leon Washington was supposed to be that guy this year, but he's been hurt and unavailable. No one else on this roster is capable of doing better than Blount, and since guys who've done it before, like Devin McCourty, are more valuable as starters on defense or offense, Blount gets the gig by default. The rookie receiver Boyce hasn't been active in most games, so, he's not an option, either. This is just something the team will have to deal with until next year, at least, when they can pursue a truly talented player for the spot… or until Washington is healthy again. Erik Scalavino
What about Armond Armstead? I feel like he could help the defense out right now but there hasn't been any update on his status. Mark Harrison too, both are eligible to return right?Anonymous
Yes, both of them are eligible to begin practicing, but they were not activated last week, which was the first opportunity. Perhaps tomorrow they will. The release of veteran d-tackle Andre Neblett yesterday is maybe an indication that Armstead may be ready to go. I wouldn't expect much from Harrison, however, as we've yet to see him run routes or catch passes as a Patriot, even as far back as the spring, when he was injured. Erik Scalavino
Greetings from Denmarks! Truly appreciate your work and noticeable passion, which I share. I just have a question regarding overtime rules: Hypothetically, if the kicking team decides to kick an onside kick (I know it's very risky and unlikely) and they recover the onside kick, would that event count as a possession by the receiving team, thus immediately making it a 'next score wins'-game? Best regards. Jannick Hansen
Yes, it would. Erik Scalavino