I haven't been able to make it up to a training camp yet and was wondering if you guys could give an update on how a few players I'm interested in are performing. First is how Julian Edelman has looked out there. Second is Tavon Wilson and also Brandon Bolden. Those are three players I'm really interested in and was wondering if you could give an in-depth update. Thanks.
Sam M.
My pleasure, Sam. Edelman appears to have found his niche on this team as the lead punt returner. He looks far more confident and smooth back there than he did just three seasons ago when he fielded a punt for the first time (and dropped his first two, if you'll recall). For that reason alone – and his versatility as an emergency DB – I believe Edelman makes the 53. He's getting his reps, too, as a wide receiver, but the competition there is so steep, he won't get much action there. When he's had his chances in camp, though, so far he's made good on the balls thrown his way.
Wilson has been active, but hasn't really done anything to stand out, positively or negatively. But he's contributing and getting quality reps each day, which is a good sign that he's at least able to pick things up. And to be fair, he wasn't known as a playmaker at Illinois, so, it would be a bit unrealistic to expect him to arrive in the NFL and dominate.
Bolden has been a pleasant surprise. Throughout the spring, he showed a good burst, along with some power, and an ability to catch the ball out of the backfield. He's continued that during the early days of camp. If he keeps it up, it will be difficult for the coaching staff to part with him. His job may wind up being on the practice squad, but that's still too far out to predict. Right now, he's being competitive, which is all you can ask of an undrafted rookie at this early stage.
Erik Scalavino
Hi guys, what is your feedback this far from [Shane] Vereen? I think he should be the number 1 back. Is he practicing with the first team? Is he doing good?
Genaro Abdala, Argentina
Vereen and fellow second-year back Stevan Ridley are pretty evenly matched at the moment. The coaching staff is doing a good job is splitting the reps with the first-unit offense between the two young tailbacks. They have slightly different skill sets, of course – Ridley more of an inside runner with outside burst potential; Vereen a Kevin Faulk-like third-down scat back – but either could wind up getting the majority of carries in a game, depending on the game plan versus a particular opponent.
What Vereen has going for him this summer, as opposed to last, is that he's healthy. He battled a hamstring issue, which virtually wiped out his entire rookie campaign. Today, though, he's out there regularly and getting quality looks, running and receiving. I'd say he's living up to his end of the bargain at this point.
Erik Scalavino
Good day, thanks for all the work you put into this. Living in Gainesville, Florida, I need to catch what info I can when I can. There is a lot of rookie talk about [DE Chandler] Jones and [LB Dont'a] Hightower and to some extent [DE Jake] Bequette, and maybe it's deserved. Do you all think [CB Alfonzo] Dennard can make a difference as a rookie? The skill sets are there, we stole him late because of a legal issue, but he is a solid football player. Have you seen him at camp if so how does he look?
David Gannon
We have seen him. Every day, in fact. Problem is, he injured himself (looked like a hamstring or other leg injury) on the second day and hasn't been in uniform since. He shows up at each practice and rehabs on the field with several other injured players. So, it's good that he's not hurt so badly that he can't be out there, but he's missing valuable practice reps, which isn't good for any player, particularly a rookie. He can ill afford it, and neither can the team, which needs every healthy body it can get in the secondary. As we saw with Vereen last summer, though, you can't rush a hamstring recovery (if that's in fact what it is in Dennard's case). Best to give him whatever time he needs to get back to playing condition, or else lose him effectively lose him for the rest of the season.
Erik Scalavino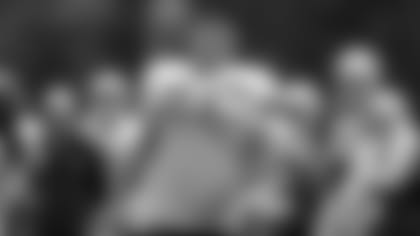 Hey PFW, glad that you guys are keeping us fans informed with Matt Patricia's daily fashion... but on a more serious note, how are our DB's looking so far? Is McCourty showing any glimpse of his rookie season or are we in for another disappointment? I'm also curious to what you guys think about BB's recent press conference where he hinted Aaron Hernandez possibly playing the "slot receiver" role. Even NFL.com has talked about it. Is it really realistic to keep both Welker and Hernandez (both will be looking for a pay raise next year)? Thanks!
Chris Morton
I haven't yet seen an dramatic improvement in the defensive backfield, collectively or individually, with the possible exception of Ras-I Dowling. So far (fingers crossed for his sake), he's remained not only healthy, but also a physical tackling presence. McCourty's been beaten a few times, but he's also shown good recovery speed and knocked a few passes down at the last minute. He's living dangerously out there on that island, however. I'm still not confident about this group.
As for Hernandez, look… he's essentially been a slot receiver since he got here. I just don't understand some people's fascinating with calling him that. Most times, he lines up in the slot standing up; other times, he's in the backfield as an H-back. The only time his roster-listed position is going to matter is if/when he is given the franchise tag – an eventuality which may never even occur. So, it's pointless to dwell on what "position" he plays today. As long as he's productive, that's all I care about.
Erik Scalavino
Hi. I still don't see where they have done anything to the secondary. They surely must know that they have a tremendous problem back there. Why don't they do something to fix that?? I don't understand it. After last year's fiasco, you think they would be all over the secondary problem. Go PATS!
Richard Funden
You're clearly either discounting safety Steve Gregory entirely, or just haven't heard about him. He was New England's biggest free agent acquisition in the secondary this year and is expected to start alongside Patrick Chung. His addition should help improve the secondary, but I agree, overall, the team didn't make any other noticeable upgrades there. Apparently, the thinking is the guys they already have are capable enough. Maybe they are, but after last year's performance, I'm still skeptical.
Erik Scalavino
I heard the Steelers just signed Antonio Brown to a long term deal. I also heard that the team has lost hope of signing Mike Wallace long term, and that they are considering trading him. I was wondering if you thought it was possible the Pats would trade for him? I was thinking he could provide a complementary deep threat opposite Brandon Lloyd, as well as youth to an aging receiving core.
Jon Smith
I was leading the Wallace-to-New-England charge at the beginning of free agency, but reality has set in. He's not coming here. Time to move on. The Patriots offense will be even better, I think, this year, even without Wallace. Just sit back and enjoy the show.
Erik Scalavino
By all accounts Hightower is a monster who looked very comfortable in his first NFL practice with the first team. If [Brandon] Spikes can continue his late season 2011 play, along with the stud [Jerod] Mayo, how good can this group of 'backers be? Can't wait to see!
Brett Larson
If by "monster," you mean he's a preternaturally big human, then yes, Hightower is that. If you mean he's gobbling up ball carriers on every play, well, simmer down. Like the aforementioned Wilson, Hightower has been getting plenty of reps in the first few days of camp, but I'm not seeing any domination just yet. Spikes has been a non-factor, even though he's suited up every day. The surprise so far in this group has been veteran Bobby Carpenter. He and third-year guy Dane Fletcher and picking up the slack in Spikes' absence, and doing yeoman's work. This group has the potential to be better than last year, but it's too soon to say just how much better.
Erik Scalavino
People have repeatedly used the phrase "retooling on the fly" regarding the Pats D. With TB12, the Pats are able to pick up "win now" offensive veterans at a discount. It sort of feels like BB is building the offense in "win now" mode and the defense in "great in 3 years" mode. Do you all agree? Is BB looking to set up a stellar D/game manager O for Hoyer/Mallett when Brady leaves (like the Brady early years)?
Michael S.
If you follow this team with any regularity, you should know that Bill Belichick doesn't think past his own nose. It's one hour at a time, let alone one day at a time with him. Heck, at this point, the preseason game against the Saints might as well be light years away. It's not even on his radar right now. He wants this defense to be good today, this year, not three years from now. Who knows if Bill will even be here by then. Carpe diem, Michael. That's Bill's philosophy.
Erik Scalavino
This year's offense, at least on paper, looks awesome. I particularly like having [Wes] Welker, Lloyd, [Deion] Branch, [Jabar] Gaffney, and  [Donte'] Stallworth on the team even though it is overkill. What are the odds that BB keeps them all? And if he were to keep them all, what other position do you think gets short changed? Would you keep all 5 receivers?
Wayne Y.
Keeping those five players wouldn't necessarily mean Belichick would have to skimp on some other position. He normally keeps a half dozen receivers, sometimes seven, on the 53-man roster. So, I could easily see those five making it, plus Edelman and, nominally speaking, Matthew Slater, whose role would be mainly on special teams.
*Erik Scalavino