Bill Belichick has put together a great run of competitive teams since the 2004 SB victory with his strategy on drafting and managing free agency. What the Patriots have done this year should be deemed remarkable, injuries and all... But, as we all know, Brady will be 40 in 4 more seasons. Do you think the Patriots should change their roster building strategy and "go for it on 4th and 2" for Tom Brady's last years? OR should they stay the course and look for "value" as they have all these yrs?**
Wano Yee
I'm not sure there will be major philosophical changes to the approach this offseason and I'm not sure that there should be. In my opinion the biggest issues for the Patriots late in the year were playmakers on offense and depth on defense. The playmaker issue is a bit unique given the Aaron Hernandez situation and the crazy year of injuries for Rob Gronkowski. I do think New England will target adding playmakers on offense. But it's not like the team never spends any money or doesn't spend to the salary cap in most seasons. It's about investing the money well and making the best decisions in free agency and the draft. This will be an interesting spring. I think there will be a focus on offensive playmakers. Will that be a 2007-like perfect storm of talent addition? That seems unlikely.
Andy Hart
What do you think of the seven practice squad members signed to future contracts? Does this mean they will make the 90 player roster pre cuts and does this say anything about Free Agency Plans or a sign that they might be potential contributors for next season?
Jacob Mattson
This is really just a formality with players that the Patriots clearly want to keep working with. It makes them a part of the team moving forward so they can take part in offseason work this spring and summer. They could be cut from this at any time. They are all developmental types that would have little bearing on top-of-the-depth-chart issues. While I don't have a lot of intimate knowledge of the various guys in question, I would say that offensive linemen R.J. Mattes and Braxton Cave would be names to keep an eye on in the offensive line development area that is always such a factor in building depth on Dante Scarnecchia's offensive line.
Andy Hart
Now that this season is over, and it ended the same way two years in a row, do you think the Patriots will finally do something about the pass rush? Joe [Flacco] and Payton [Manning] had all day to sit back and pick us apart....at will. It was a hard watch. Bottom line is defense does win championships.**
Matt Arguin
Belichick has been attempting to address the pass rush with varying degrees of success in recent years. He traded up to nab Chandler Jones two years ago, and the defensive led New England with 11.5 sacks this fall. He's re-signed Rob Ninkovich, who's had 8 sacks in each of the last two years. I even think the additions on the inside of the likes of Tommy Kelly and Armond Armstead were with an eye on helping the pass rush, but those guys weren't around at the end of the year. I also think that the pass rush will get a boost from the evolving Jamie Collins in 2014. The Patriots had 48 sacks in 2013, most under Belichick in New England. I do think there needs to be even more pressure on the opposing quarterback, but don't think it's a case of Belichick having to "finally do something." There is very much room for improvement on the defense, and getting a more consistent pass rush and pressure on opposing passers is an area that could use a boost. But it's not quite as dire a situation as you portray it to be, Mr. arguing.
Andy Hart
[Dan] Connolly and [Ryan] Wendell might be good guys, but these undrafted backups who became starters on the SB contender cannot protect Brady from interior rush nor can they run the ball on elite or powerful D lines. They are not big or strong enough. This has not been a priority issue for Patriots for years, yet it always costs them SB's. Will BB address it this year?
Ben G.
So, terrible loss and where do the Pats go from here? In my opinion Brady is a different QB now and I think that has to be acknowledged. He was sharp when the Pats could get the run going against weaker run defenses, but not his usual self when tasked with handling the whole load. Given this, do you think it would be wise to concentrate on the run game and get a couple of behemoth guards so we can open run lanes against the likes of [Terrance] Knight? At this stage of Brady's career I think he would benefit from the help.
Stephen Flemming
The interior of the line, specifically center and right guard, will be an area of inspection this offseason. Both Connolly and Wendell are good but not great players. Each had his struggles at times this season. Wendell is a free agent this spring. He could be brought back, but it will be to compete for a job in my opinion. Connolly is making good money, with a $3 million salary for next season. Despite allowing a sack to Knighton on Sunday, Logan Mankins remains the highest paid player on the line and one of its best. Nate Solder and Sebastian Vollmer are pretty much entrenched at tackle, assuming the latter is healthy. That means the two spots open for upgrades would be center and right guard. There is also the chance that Connolly could go back to center, where he's started in the past, with right guard being slotted for an improvement. If the Patriots are looking to run the ball more moving forward, like they did down the stretch this year, I do think a big more power-based, run blocking line might be in the cards. And an upgraded right guard would be a step in that direction.
Andy Hart
Hey Guys! A long time Patriots fan from Hungary. I really appreciate the work you put in week in and week out. My question is in regards to the missed long passes thrown by Brady. The problem is IMO that Brady had to throw deep balls to 5-11 Edelman, Collie and Amendola. I mean a 6-3 receiver such as Demaryius Thomas has a much wider catching radius. Is it a possible reason for missing wide open receivers or should we put all the blame on TB this time? Thanks!**
Aron M.
While it's easier to throw to bigger receivers down the field given their extra length and ability to go get the ball, I think the blame on the throws that Brady missed last Sunday falling squarely on the shoulders of the quarterback. As he said, he simply overthrew them. I've heard excuses, including the light air in Denver, but in the end those are just excuses. Brady missed throws that he couldn't afford to miss in this matchup with Peyton Manning and the Broncos impressive offensive attack. And it cost the Patriot dearly. If he hits that early deep ball to Edelman it could have very well been a touchdown and may have changed the way the entire game played out. We'll never know. Deep balls have never been Brady's strength, and that weakness was one of New England's many problems in the AFC title game loss.
Andy Hart
Such a tough loss to swallow, especially after having overcome so many adversities. Do you guys think this is a jinx: Whenever the Pats have an honorary captain in the playoffs, they tend to lose.
John Lee
No, I don't think it's a jinx. Although…LeGarrette Blount was on the Sports Illustrated cover last week.
Andy Hart
Congrats to an overachieving Pats team. My comment and question concerns the GM Belichick. Same formula, same results. Soft in trenches, no outside threat and hope Brady is hot. Let's sell out SB or bust, then rebuild. Don't re-sign Talib unless it is for a set of golf clubs. The only thing he shuts down in the playoffs is the medical staff. Your thoughts?
Craig Fricke
I don't necessarily see the Patriots loss this winter as the same as last year's, but the Talib link is interesting. He's gone down the road Rob Gronkowski has traveled – one of the team's most important playmakers but unable to stay healthy to be with the team when the season is on the line at the end. Talib's health is certainly a concern/consideration when trying to figure out how much to offer him. Injuries are a part of the game but Talib's seemingly recurring hip injury bothers me, although that wasn't the issue on Sunday. I'm not willing the break bank to sign Talib to one of those $50 million contracts for top-end cornerbacks, but I'd still very much like to see him back in New England. It's all about trying to find the right numbers to make it work for both sides, as he's said how much he enjoys playing for the Patriots and would like to be back.
Andy Hart
How much does Sunday's result lower Blount's value? Might the Pats offer him a low-ball 1-year deal and dare him to go somewhere else?**
Shawn M.
Certainly Blount having 6 yards on five carries in the Patriots loss is not how the big back would have preferred to roll into free agency. He was coming off two huge games but never got going in Denver. I do think that some team might consider giving Blount "starter" money to come be a lead back. That's not something he's likely to get in New England, where the committee approach is king and backs in general are seemingly viewed as replaceable. If Blount wants to come back, I'm sure he'd be welcome in the backfield stable on a team-friendly contract. If he's looking to cash in or be handed a starting job then he probably should look for work elsewhere.
Andy Hart
Do I dare hope that the Pats after 10 years will clean house with their coaching staff? The entire D coaching staff needs TO BE FIRED! The idiot Josh McD NEEDS TO BE FIRED. If I was BB I would have told good old Josh to walk home from Denver. Come on Pats let's start the off season right by cleaning out the trash on the coaching staff.
Matt Lucia
This is just one of the many sane, rational emails we got after the Patriots lost their second straight AFC Championship Game. Emotions run high after a loss like that, especially one to Manning with the season on the line. But do we really think the coaching staff needs a complete overhaul? No. There will be changes. Pepper Johnson has already announced he won't be back. It's been reported that George Godsey could join Bill O'Brien's staff in Houston. There may be another change or two. But it seems that McDaniels and Matt Patricia will retain their coordinator titles, as I think they should. Both dealt with a lot in 2013 and held it together until an AFC title game. Would I like to see an experienced veteran voice or two added to the staff? Yes, I would. But a complete house cleaning and overhaul is not necessary, nor is it in the cards.
Andy Hart
Greetings from England, and many thanks for the great work you do. As the college season has finished and the mock drafts have begun, what do you see as being the most pressing needs for the Patriots when they are on the clock? I'd like to see us draft long-term replacements for Vince Wilfork, Logan Mankins, Steve Gregory and, legal issues pending, Alfonzo Dennard. We seem to be OK at the skill positions, but it looks like reinforcing the offensive and defensive lines would be priority. Also, adding an athletic Jimmy Graham-type tight and wouldn't hurt.
David Beckett
Some of the focus in the draft will depend on free agency. Regardless, I think New England needs to add playmakers at both tight end and maybe receiver, given that Julian Edelman will be a free agent and that I'm not sure what Kenbrell Thompkins' long-term future is. I do think that a powerful right guard might also be a priority. Defensively I think a big safety to put next to Devin McCourty would be nice, although the team has drafted safeties high in the last two seasons. Cornerback depth is another issue, and if Talib leaves in free agency then the team needs to add a top-end cover corner. Depth on the defensive line, at both end and tackle, is also a concern. I don't think the team is good enough, right now, to simply start drafting long-term replacements for stable positions. It's about adding talent that can help the team win next year.
Andy Hart
Hey guys, I had a quick question regarding the draft, how are compensatory picks assigned and do you expect the Patriots to get any this year?
Clarens Jarbath
Though the league doesn't share the exact formula, if one even really exists, the compensatory picks are awarded to teams based on a net loss of free agents from the previous year. It takes into account all the unrestricted free agents that a team has lost and added, as well as what those various players did in terms of playing time and how much they were paid. Basically if you lost a top-level free agent and didn't replace him, you'll be likely to get a high (they start after the third round) pick. If you added a high-level free agent or crop of free agents, you probably won't get many picks if any at all.
Andy Hart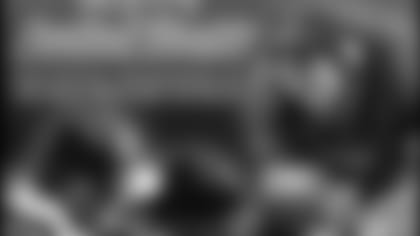 ](/fan-zone/patriots-football-weekly.html)Do you think that the absences of Mayo and Spikes are allowing Hightower to be more comfortable in exerting himself as a leader on the team, and thus is translating into having him play better? Thank you.
Vince Iuliano
I do think on some level that Hightower has settled into his own over the end of the season. He played his best stretch of football. Some of that may have had to do with comfort, confidence and control. I also think you saw him slide into middle linebacker more often, which may be his position moving forward and maybe a more natural fit in the NFL for his skills. Regardless, the play we saw from Hightower down the stretch this season has me hopeful of what we might expect from him for an entire campaign for his third season next fall. I didn't necessarily feel that way earlier in 2013.
Andy Hart
Hey guys great work! Do you see the Patriots keeping Dobson, K.T & Boyce next year or trading KT to Pitt for Sanders and a 4rd pick? Or going out and getting a Vet WR like the Fitzgerald or someone of that nature.
Joshua Breen
I think all there rookie receivers you mentioned will be in training camp with the Patriots next summer. Where that goes and what their roles might be next fall is a total unknown at this point. While I do see the Patriots likely pursuing a veteran receiver, my guess is it will be a guy more along the lines of Sanders (who they tried to add as a restricted free agent last spring) than a superstar like Fitzgerald. I'd love to see Fitzgerald or another elite talent in New England, but it's just not likely to happen. Let's try to be realistic as we embark on this offseason.
Andy Hart
With all injuries in pro football, why doesn't the NFL adopt a disabled list similar to MLB rather than the finality of the IR list? Thanks
Harry Rich
The league did take a step in that direction the last two years with the slot of injured reserve that was designated for return. That player, who started the season on the active roster, had to miss eight weeks before returning. New England used its slot on Shane Vereen and it worked out well. I wouldn't be surprised to see the NFL add to this option with another player or two in the coming years, especially if the league adds more games or continues to expand mid-week games. It may never reach the flexible levels of baseball, but it's going in that direction and it makes sense. Everyone wants teams to have their best players available when it matters most last in the year.
Andy Hart