The Patriots weren't the only athletes at training camp on Sunday morning. Not only did Celtics Jayson Tatum make an appearance, but another group of athletes also stole the show on the sidelines.
A group from Special Olympics Massachusetts visited Patriots training camp through the Patriots Foundation, and the group of athletes got a chance to watch Patriots player dazzle on the practice field up close. After practice wrapped up, Braxton Berrios, Chase Winovich, Ted Karras and Jakob Johnson spent time talking with the group of athletes, signing autographs and taking pictures.
Though it was a hot day at practice, the guys were all smiles as they greeted each athlete.
"It's so special to even be in this realm. I don't take it for granted. It's not many times in your life that you're going to have people that want to even, first of all talk to you and want your autograph and want to be around you and meet you," Ted said. "I think that's pretty special. It makes kids' days and I never got to meet a football player growing up, so I think it's pretty special."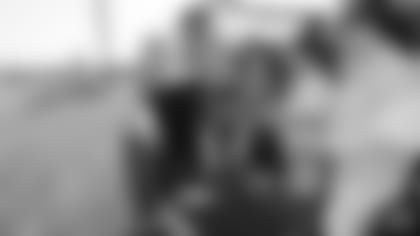 Among the athletes invited were local football players, and the guys were able to talk shop with the members of the team. As they took in practice of their favorite NFL, Ted said he hoped they learned one crucial lesson: the value of hard work.
"If you watch our practices, we work pretty hard. I hope that they always can pay it forward and be a team together and I can't believe it," Ted said. "These guys have a pretty good team over here, I have to say."
The group of competitors from Special Olympics came into training camp see some of their role models work on the field, watching intently as the team ran routes and drills. It wasn't all serious, though. In fact, they may have even left with some new friends.
"My name is Ted," he said, introducing himself. "But my friends call me Teddy."