For all that has changed in New England the past ten seasons, there is one constant that hasn't changed. That constant is quarterback Tom Brady, who enters his thirteenth training camp with the Patriots donning the same red #12 uniform as he did when he joined the club as a rookie in 2000.
"I certainly don't take it for granted," said Brady after Saturday's practice. "It's the most fun I have. I still feel like a young kid out here trying to earn a spot."
Brady will hardly have to worry about earning his spot this year, but there is definitely competition among his throwing targets. While Brady has been the main man under center for more than a decade, the players he throws to have changed every year, and 2012 is certainly no exception.
Offseason acquisitions Brandon Lloyd, Donte' Stallworth, and Jabar Gaffney are three big new faces this year, joining Wes Welker, Deion Branch, and tight ends Aaron Hernandez and Rob Gronkowski in what should be a potent offensive attack. The three newcomers all have backgrounds in coordinator Josh McDaniels' offense; Stallworth and Gaffney had previous stints with the Patriots and Lloyd played under McDaniels in St. Louis during the 2012 season. For Brady, their familiarity with the offense helps.
"[If] you have guys who you play with who you've won games with that you really have a lot of trust in, then you can go out there early and execute at a relatively high level."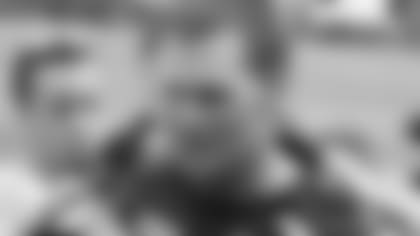 These fresh faces also add depth to the wide receiver position, which should result in some fierce competition during camp. There are eleven wide receivers on the Patriots 90-man roster, but that number could slim down significantly by the end of camp, which means that some talented players may be left out. Brady says he's excited to see how it all plays out.
"[T]he more good football players you have on the team, the better you're going to be... We've got some depth at the receiver position; I don't know how it's going to sort out, but based on what we do out here on the field, that's everybody's opportunity."
As his teammates come and go and battle for roster spots, it is sometimes easy to take Brady's constant presence for granted. When you stop to think, it really is remarkable that he has been able to play at such a high level for such a long period of time. The players around him may change, but when late July comes around, you can bet on seeing number 12 under center. He wouldn't have it any other way.
"I love playing quarterback for this team. It's a great responsibility to have and I appreciate it every single day," says Brady.
"There's nothing I'd rather do than be out here being the quarterback for this team."