It was supposed to be one those mindless NFL transactions that requires paperwork and little else. Injured player is unavailable during training camp, team needs to replace him so his reps can be assumed by another player and ultimately the individual can regain his health while on injured reserve.
It didn't exactly work out that way for Jake Ballard.
After tearing his ACL as a member of the Giants in Super Bowl XLVI against the Patriots, the tight end thought he was headed to IR when New York waived him injured last summer. Bill Belichick, though, had other ideas and Ballard wound up getting claimed by New England before he could get there.
"The first couple of days were kind of shocking and abrupt. I heard and the next morning I was on a plane to Boston," Ballard said after wrapping up another day of OTAs in overcast Foxborough. "That was pretty crazy how everything went down. I was very grateful to be in the league and be with such a great organization like the Giants. But I'm putting that behind me and I'm absolutely a Patriot through and through. I enjoy being here, being around the coaches and I'm just looking forward to getting back on the field and being 100 percent."
Judging from Ballard's work during the media's two glimpses of the workouts, he still has some work to do in order to regain full health. He continues to run with a discernible limp and hasn't participated fully in either workout, although he has been active and shown solid hands while generally working in offensive drills without the defense.
I'm not full-go for the whole practice. It's not like they're just throwing me to the wolves," Ballard said. "I'm talking to the trainers and coaches and they tell me what I'm limited to do and what they think I'm going to be able to do and we just gradually improve from there day to day and week to week.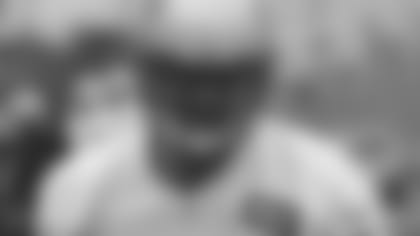 "I'm doing the best I can to be 100 percent and I'm doing as much as I can, as much as they're allowing me to do out here. I feel like I'm putting in some good work and getting better." With Rob Gronkowski still on the mend from arm and back injuries, and Aaron Hernandez dealing with the aftermath of shoulder surgery, Ballard has gotten the opportunity to gain valuable reps with Tom Brady. The fact that he's had a year to immerse himself in the offense while rehabbing has been quite beneficial to the former Ohio State star.
"I think it helps tremendously," Ballard said of his experience with the playbook. "My first year I was on the practice squad in New York and I had a chance to study that offense for a year and then got out there and played. It was pretty much the same thing here. I was watching all last year, looking over the playbook and mainly doing rehab but I still got a sense of what the offense is about and now with these OTAs and meeting sessions it's really helped a lot.
Even with the headliners at the position – Gronkowski and Hernandez – on the mend, the Patriots still have plenty of depth at tight end. In addition to Ballard, Brady has thrown passes to Daniel Fells, Michael Hoomanawanui and rookies Zach Sudfeld and Brandon Ford at OTAs.
"We have a lot of good tight ends on the roster and they use them quite a bit," Ballard said. "I'm just trying to help us win whatever they ask me to do whether that's block for the run or pass protection."
At 6-6 and 275 pounds, Ballard most closely resembles Gronkowski and projects as the backup in the role of an inline blocker more so than anything else. While some have labeled Ballard as Gronkowski's replacement, even he acknowledged the obvious differences.
"I watched him play all last year so I learned quite a bit from him, just how he gets open and asking for pointers and stuff. I'd say we're pretty similar but Rob is faster than me but I think we could play a similar role," Ballard concluded.