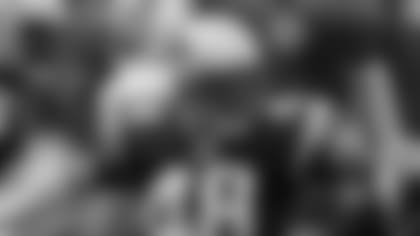 ]()With the defending Super Bowl champions sporting a solid rotation of veteran linebackers, it can be difficult for a young player to crack into the defensive lineup in New England. That task is even more difficult for a player trying to make the transition from college rush end to every-down linebacker. But that is exactly what former Cal standout and Patriots 2003 seventh-round draft pick Tully Banta-Cain has been trying to do over the last two-plus years in New England.
After two seasons in Bill Belichick's defensive system and plenty of special teams action, the 6-2, 250-pound California native is hoping 2005 is finally the season in which he gets his opportunity to contribute more regularly on defense for the back-to-back defending Super Bowl champs. To date, Banta-Cain's career totals include 25 games played, 14 tackles, 2.5 sacks, one interception and 32 special teams tackles.
"I definitely want to elevate my role as much as I can," Banta-Cain said recently following an offseason workout at Gillette Stadium. "It's been two years. I am more familiar with the scheme and the system. Hopefully I can build on my last two years and try to really be a big-time contributor this year.
"I am confident in what I can do – my abilities. If they need me to play special teams I have no problem with that. I went through that in college as a young freshmen, but I never see myself as being just a special teams guy. If I do it, I am going to do it the best I can. But I am trying to get some of that D time."
The two biggest advantages Banta-Cain feels he has heading into his third training camp in New England is the fact that he is completely healthy and now totally confident in his ability to play on two feet at linebacker.
"The biggest thing now is that I am more comfortable," Banta-Cain said. "So it's not so much that I am out there thinking and making sure I make the right call and this and that. It's more that I can just react now. I think that's going to play a lot more into me making more plays and being more of an impact player."
And while Banta-Cain is confident in his own skills and the strides he's made in his young professional career, he knows that as one of 17 linebackers currently on the roster he'll have to fight for every chance he gets.
"Seems like we have had like 30 linebackers every time I have come out," he said. "I am a competitor and I look forward to getting out there and competing against whoever it is. It's going to make me a better player. It's going to make us a better team. That's the only way to look at it.
"We have a lot of great linebackers. We utilize our players for a lot of different things. I definitely know that I can help in the pass rush department for this team. That's one of my best attributes. That's basically how I see myself right now. I do eventually want to be an every-down linebacker, but I am still developing."
But just because he acknowledges the log-jam of players at linebacker, Banta-Cain doesn't let himself get caught up trying to figure out how roles and roster spots might unfold heading into the 2005 regular season.
"I don't really worry too much," Banta-Cain said. "Like I said, I am confident in my ability. Whatever I can do to help, I will do. But at the same time I know what I am good at and hopefully they will utilize it.
"Of course I want to get on the field. I just take it one play at a time and the opportunities that I get just have to make the best of them. That's really going to be the ultimate factor in how much I play and what I do. So I just look forward to that one play and then the next play and the next play. Hopefully I make it happen."