Throughout the month of October, the Patriots, along with the rest of the NFL, displayed their support of the NFL's "A Crucial Catch" campaign. The League, in partnership with the American Cancer Society, launched the campaign in 2009 in order to raise awareness for breast cancer and emphasize the importance of receiving annual screenings. The league has incorporated the color pink and the cause's pink ribbon into all aspects of the game including the field, players' equipment and general sideline apparel to help raise awareness. In addition to the visual aspects of the campaign which help draw attention to the cause, the NFL auctions off the players' and coaches' limited edition apparel with the proceeds benefiting the American Cancer Society's Community Health Advocates National Grants for Empowerment (CHANGE) program.
The effort was not limited to the players, coaches and football staff, as the New England Patriots Cheerleaders (NEPC) chipped in as well, sporting pink jackets and waving pink pom-poms during the Patriots' 31-21 win over the Denver Broncos on Oct. 7. However, the cheerleaders' outfits provided only a small glimpse of the squad's contributions to breast cancer awareness.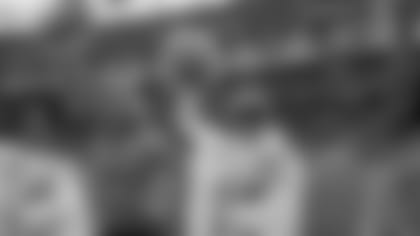 Caitie, a rookie cheerleader for the Patriots and an exercise physiologist, focused the early part of her career on helping breast cancer patients at Greenwich Hospital in Greenwich, Conn. Catie spent two years coordinating a program at the hospital called NEXT (Nutrition, Exercise and Therapy): a program designed to provide breast cancer patients who have already gone through radiation and chemotherapy, with free personal training, nutrition counseling and group fitness activities.
"[The program] kind of landed in my lap," said Caitie. "I really was not looking for it, but it came to me and I took the opportunity and fell in love with it. It's a great program and the women that I met through it were so amazing."
Although Caitie moved up north upon making the Patriots Cheerleading squad she still keeps in touch with many of the women she met through the program. The NFL's initiative has allowed Caitie to continue her efforts in raising breast cancer awareness despite leaving Greenwich Hospital.
"It is more personal now because I know so many survivors and I have gotten so close to so many of them on a professional level," said Caitie. "The increase in awareness with the games and wearing pink—I think it is so important."
While Caitie became involved with breast cancer work by mere chance, fellow Patriots Cheerleader Michelle began raising awareness for the disease at an early age. Inspired by her grandmother and her aunt, who are both breast cancer survivors, as well as a second aunt who is currently battling breast cancer, Michelle has been an advocate for breast cancer awareness throughout her entire life.
"In high school I became a student ambassador to the program 'The Young Survival Coalition,' which deals with women under 40 who are battling breast cancer," said Michelle. "Both of my aunts, coincidentally, were diagnosed in their mid-30s, so it kind of hit close to home around the same time."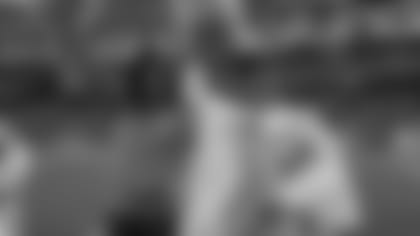 During October, Michelle not only helped raise awareness for breast cancer on the field with the Patriots Cheerleaders, she also continued her off the field efforts by participating in the Susan G. Koman Race for the Cure in Boston, Mass. Michelle ran this year's race with the Wicked Local Warriors, a team sponsored by Gatehouse Media New England, a newspaper conglomerate that serves more than 150 towns in Eastern Massachusetts, including Michelle's hometown of Swampscott.
Michelle believes that the recent surge in breast cancer awareness is making a serious impact and has noticed a difference in the way younger woman view the disease.
"I think my first pageant where I [used breast cancer awareness] as a platform I was only 11 or 12," recalls Michelle. "I remember learning that you get mammograms when you are 50 or 60 and I only heard that older women like my grandmother get breast cancer. But then as I got older and as I did more research and did more fundraising for it and got involved with more organizations, I realized that it happens a lot to younger women too and I think more younger women are catching it [early] because of the increased awareness."
As a freelance columnist for the Swampscott Reporter, Michelle continues to raise awareness for breast cancer through her writing and recently published a story on her aunt's current fight. The story can be found here.
While October has come and gone, the efforts of women like Caitie and Michelle leave a lasting impact on the fight for a cure and help ensure that the pink ribbon stays on people's minds until next fall.