INDIANAPOLIS - Much of the talk at Giants headquarters today was about a guy who didn't talk yesterday.
Defensive end Osi Umenyiora was a no-show for the mandatory 45-minute media interview session on Wednesday, and subsequently fined $20,000 by the NFL for his indiscretion.
Sure enough, he was at his assigned podium position on Thursday and tried to explain his absence.
"Honest mistake. We had just went through the whole Media Day the day before, so, I wasn't sure that this was mandatory … I went to hang out with my family. It was a mistake, a costly one, but a mistake none the less.
"I remember doing the Media Day four years ago and I really, honestly don't remember doing anything else besides that," he added. "I think that's maybe where my memory got fudgy because I remember specifically doing the media day, then after that I don't think that I did anything else."
Clearly. You would think that an accomplished veteran like the talented, well-spoken Umenyiora would be familiar with the responsibilities of Super Bowl Week.
"No question about that," he conceded, "but I felt like we would at least have a practice in between the mandatory media sessions. It cost me a lot of money, I am sorry about that. At the end of the day I don't really know what I could have discussed with you guys between Tuesday's media day and Wednesday morning. It is not like we had a practice or anything like that. At the end of the day, I understand why they did it and I am okay with it."
Umenyiora faced a barrage of such questions for most of the session, but some reporters also wanted to talk football - specifically, how he and the Giants' defensive front stack up against New England's offensive line. It was that match-up that most observers believe helped the Giants win Super Bowl XLII four years ago because of the constant pressure New York was able to apply on Tom Brady.
But the Patriots' o-line did a much better job, Umenyiora admitted, in the most recent rematch back in Week 9.
"Matt Light is still there, [Logan] Mankins is there, [Brian] Waters - he's an outstanding football player. They have some really good, strong components on that offensive line. They've been playing very, very well as a unit. It's going to be a great test for us. They played well that [Week 9] game. We got a little bit of pressure on Brady, but, honestly, that offensive line played very well that game. They played well against us."
Not surprisingly, Umenyiora believes the key for New York again in this Super Bowl will be getting to Brady early and often.
At the same time, Umenyiora cautioned that the Giants' defensive front can't do it all, especially if Brady and the Patriots offense are successful in their hurry-up offense.
"They present some problems with that, but that is something that we prepare for, something that we work on a lot. At the end of the day, if that is what they elect to go to we will be ready. He is a great quarterback, a great football player. The most we can do is just try to get as much pressure as we can on him, cover his receivers and try and confuse him as much as we can. It is going to be hard, but at the end of the day, that is what we have to do.
"That can't be the only thing," he was quick to add. "We have other players. There are games that we played this year that we didn't get to the quarterback and we were still able to win. All the guys are going to cover, our linebackers are going to play downhill. Our tackles, our ends have to play the run because we feel they are going to try and run the football also. There are going to be a bunch of different things that are going to lead to us being able to win besides just pressuring the quarterback."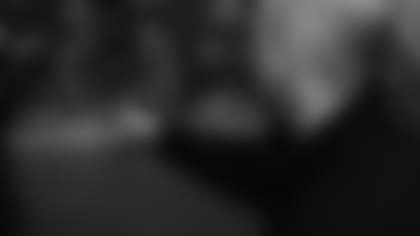 Can he back it up, or Canty?
While Umenyiora's session began with what he didn't say, fellow defensive lineman Chris Canty was mobbed by reporters wanting reaction to what he and some other Giants players did say this week.
Canty, during an earlier media session, encouraged Giants fans to "get ready for a parade on Tuesday," a clear implication that he expected New York to win. It's that kind of bravado that the Giants have been exhibiting as Super Bowl XLVI draws closer. Safety Antrel Rolle made similar statements on Monday.
And at his press appearance this morning, QB Eli Manning, though a little more subdued, said, "We do have something to prove. We know we're a better team than our record. It's important that we try to keep that mentality going into this game."
Canty justified his bold claims by saying that Brady made equally assertive declarations at New England's send-off rally at Gillette Stadium this past Sunday.
"Honestly," Canty remarked, "it's just one of those things where we're a confident football team. Obviously, the Patriots were confident by some of the comments some of their team members made earlier this week before arriving here in Indianapolis. It is what it is. They have a right to be confident. They're a hard-working group. They've earned the right to play in this football game, but so have we. And we're looking forward to the challenge that is the New England Patriots on Sunday."
Umenyiora eagerly jumped to his teammate's defense.
"Well, [Canty] is supposed to think like that. There is really no other way to think. If that is what he said, that is what he said, and we are going to ride with him."
Canty did acknowledge the fine line between confidence and over-confidence, bordering on arrogance, and how that could affect the player's actions on the field.
"Absolutely. Over-confidence, I think there's a touch of laziness in over-confidence when you get guys who have lapses in focus and preparation. I definitely don't get that feel from this football team," he insisted.
"Everybody is paying attention to detail and focusing on the task at hand. We had a great workout yesterday, guys were flying around out there. We're looking forward to building upon that today, and we're looking forward to moving forward in our preparation."
Rolle, meanwhile, appeared to have arrived at the point of frustration over the reaction he's gotten to his confident comments, claiming nothing surprises him anymore, where the media are concerned.
"I just said, 'We didn't come here expecting anything other than to win the game.' I don't know why people are making such a big deal about it. I mean, who would want someone on their team that doesn't think that?"
"We're not playing the underdog card," claimed Canty. "It's just what it is. Let's call it what it is. Let's be honest, nobody believed in us to get to this point. We're here now. We're playing good football. We're a confident group, and we're excited about the opportunity to go out there and play on Sunday."
The most accurate statement Canty may have made on this day was this: "Let's face it, words are not going to win this football game on Sunday. It's not going to be won in the media, the court of public opinion or anything like that. It's going to be won on the football field. Who's going to be able to perform at the highest level, who's going to be able to execute, who's going to be able to have the right mentality, play with enough physicality to be able to make plays."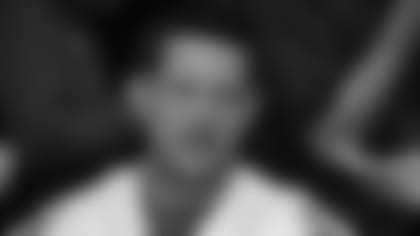 Weather-ing a potential storm
Yesterday, Giants backup QB David Carr revealed that if he were pressed into action because of an injury to Manning, and then he himself was knocked out of the game, punter Steve Weatherford would likely take the snaps at quarterback.
I caught up with Weatherford today to get his reaction.
"I'm an option guy, you know, I'm not really a pocket passer like Eli, but I like to use my athleticism to really make the defensive ends nervous," joked Weatherford, tongue firmly planted in cheek.
"[The Giants coaches] have been game-planning me this week," he continued, keeping the ruse going. "I'm encouraged about that. Oh, there's no doubt about that. I've been dreaming about this day. Maybe Eli jams his finger and David catches a cramp, it'll be my time to shine. I'm planning on getting that MVP trophy."