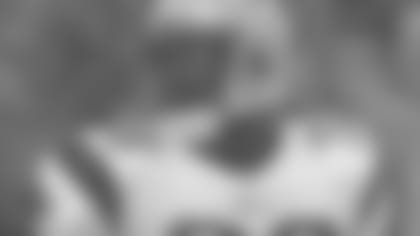 ]()The Patriots drafted James Sanders in the fourth round (133rd overall) of the 2005 NFL Draft. The 5-foot-10-inch, 207-pound safety started 32 of the 40 games he played for Fresno State and recorded 238 tackles (120 solo), seven interceptions and seven sacks during his three-year stay. In 2004, the California native earned All-Western Athletic Conference honors for the second straight year after collecting 63 tackles, three interceptions, two forced fumbles and two fumble recoveries for the Bulldogs.
Sanders sat down with us to answer some questions about his life both on and off the football field.
What is your favorite pizza topping? I would have to say pepperoni.
What is your favorite store to shop at? The Nike store on the Internet. I just started looking at the Michael Jordan shoes.
What was your favorite present you got when you were growing up? My first football. It was an official football and a week after I got it my dog chewed it up to shreds.
Who is your favorite musical artist? Tupac Shakur. I still listen to him.
Who is your favorite athlete to watch? It's a tie between Barry Sanders and Michael Jordan.
What is your favorite homemade meal? My mom's lasagna. I always liked the way she made it when I was younger.
When you were growing up, who was the player you pretended to be while playing in backyard football games? Deion Sanders on defense and Barry Sanders on offense.
What was the worst job you ever had?Working at a beer factory back home. I had to load kegs on top of palettes in the freezer. It was a good workout, but it was cold.
What do you like to do in your free time? Spend time with my son, James Jr.
What is on your Christmas list? A whole bunch of Nike apparel for my family. Shoes, clothes, you name it.
What is the toughest thing about being a rookie in the NFL? Just trying to learn the whole system. There are a lot of plays each week. I have to absorb all that and react in a split second on the field.
What is one thing that you have never been able to do? Probably hitting a baseball. It is a great sport, especially if you don't like to have your body beat up. I never played baseball, but if I could do it again I would learn how to hit.
What was your most embarrassing moment in sports? I was a receiver in sixth grade playing Pop Warner football. I ran a post route and as soon as I caught the ball I ran into the goalpost. It was a passing league so we had no pads on. I split my head open and had to get 15 stitches.
What is something that annoys you? People who chew food with their mouth open.
Who is the one player on this football team that can always make you laugh? Willie McGinest. Every day he has something new to say.
What scares you the most? Any type of spider.
Why did you leave Fresno State after your junior year? The biggest reason was to provide for my family.
Who was the best player you lined up against in college? Stephen Jackson who is a running back for the St. Louis Rams now. We played Oregon State twice and he was a big, physical back for them.
Which player has helped you the most during your rookie season? Rodney Harrison. He has taught me how to be a pro, how to carry myself and how to keep a good work ethic. He has been a great role model to me. Fresno State gave USC a good game earlier this year.
What was it like watching that game? I watched as much as I could. It got a little late out here. I thought they had them. They had a chance to put Fresno State on the map, but after that loss they have dropped three in a row. You get nothing for playing them close. It was a tough loss.
Sack the quarterback or pick him off? I would rather pick him off and take it to the house.
Go to the movie theater or watch the DVD? Watch the DVD.
Blackjack or poker? I really don't play either, but blackjack is easier. Bungee Jump or Sky Dive? I couldn't do either. No way.
Better student at Fresno State: Logan Mankins or James Sanders? Why did you have to come up with that question? I will pass on that one.
Better comedian: Eddie Murphy or Chris Rock? Eddie Murphy.
If you could be any celebrity for a day, who would you be? Jamie Foxx. He is a very talented man - acting, singing, and comedy. It would be great to live a day in his shoes.
Which one of your teammates would be the best apprentice for Donald Trump?Matt Chatham. I hear him talking about law and bringing his books in from time to time.
If you could spend one day with any person throughout history, who would it be? I would want to spend a day with Martin Luther King Jr. to see how he handled certain situations.
If you had a free round-trip plane ticket to anywhere in the world,where would you go? I would go home to California to get out of this cold.