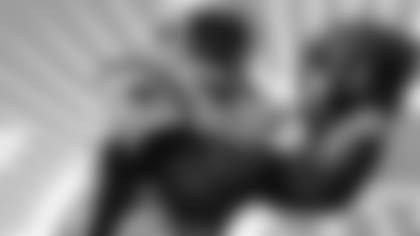 Daniel Graham** has recorded 109 receptions for 1,271 yards and 17 touchdowns in his five-year Patriots career. The 2002 first round pick's 16 touchdowns are good for third all-time among Patriots tight ends. The six-foot-three-inch, 257-pounder has also become one of the NFL's most devastating blockers at the tight end position. Graham, a University of Colorado alum, earned the John Mackey award his senior year as the nation's best college tight end.
Graham sat down with us to answer some questions about his life both on and off the football field.
Who is your favorite teammate to harass? Heath Evans because - of all people - he harasses me. I have to get him back.
What is your favorite hobby? Definitely my music. I listen to music, collect music. I love music.
Who is your favorite actress? Probably Nia Long.
Who is your favorite NBA player to watch? Carmelo Anthony. I like everything about his game.
What is your favorite concert that you have attended? Janet Jackson was the best concert ever. I was a sophomore in college. She puts on a good show.
What is your favorite day of the week? Probably Friday. It's the beginning of the weekend and the end of a long week of work.
What is your favorite homemade meal? Probably my mom's homemade Mexican food.
What was your favorite cartoon growing up? There are so many of them. It's hard to decide. I used to get up every morning and watch Dennis the Menace before school.
Your father played for the Broncos back in the early 1970s. Did he tell you a lot of stories about playing pro football when you were growing up? I heard a lot of stories. I never saw him play, though, so I don't know if his stories are true.
You have two brothers who also played collegiate football. The backyard games in your neighborhood must have been pretty good. It was street ball. It was fun. When there was snow on the ground there was a little bit of cushion.
What is one thing that you wish you were better at? I wish I was better at playing the piano. I took lessons when I was little but never kept up with it.
If you could only have one old-school authentic jersey, which one would you choose? I'm still searching for a Mark Bavaro jersey. He was my favorite tight end growing up. What is the best thing about living in New England? I love the summertime out here.
What is the most interesting thing you did this past offseason? I didn't do anything too interesting. I was getting ready for the season.
What is something that annoys you? Standing in lines. I hate standing in lines for anything.
Which player on this team best resembles your personality? That's a hard one. I really don't know. Maybe James Sanders?
Who is the one player on this football team that can always make you laugh? Matt Light. He always has something up his sleeve. He's just silly.
Who is the best-dressed player in the locker room? It's a three-way tie between myself, Rosevelt Colvin and Don Davis.
Do you have a specific pre-game ritual? Tom Brady and I do a head butt with our helmets, and I like to listen to a certain Tupac song before every game.
Who do you think is the greatest tight end to ever play the game? John Mackey.
In your mind, what makes a great teammate? Someone who can listen as well as be a leader.
What is the toughest thing about the NFL that most people wouldn't know? Practice on Wednesday through Friday. Everybody thinks we come out on Sunday and it's all glory, but it is hard work all week leading up to that.
Better comedian: Eddie Murphy or Chris Rock? I'm going to go with Eddie Murphy.
Bungee jump or sky dive? Sky dive. I want to do that for my 30th birthday.
Play in the rain or play in the snow? Snow. I hate the rain.
Early riser or night owl? Both.
College football BCS or playoff format? Playoff format.
Better game to attend: Celtics or Red Sox? That's a tough one, but I'll say the Celtics.
Which one of your teammates has a second career in music? As far as singing, it would be Matt Light. He's no good but he tries.
If you were playing in a basketball tournament and the game was on the line, which teammate would you least like to take the last shot? Patrick Pass. He is awful.
Which one of your teammates would be the best apprentice for Donald Trump? Josh Miller. He just seems like the perfect Donald Trump character.
If you were trapped on a deserted island, which one of your teammates would you most like to have by your side? I'm going to go with Benjamin Watson, because I know he would be trying to get off as hard as I would be.