Patriots head coach Bill Belichick.


As Bill Belichick often says this time of year, these practices are more about teaching than evaluating.
With so many new players (rookies and free agent acquisitions) having to absorb a new system with its new terminology, the helmets-only workouts that took place this week at Gillette Stadium were sort of an extension of the classroom. At the same time, it allows both the fresh faces and some returning veterans a chance to impress the coaches a bit.
"Just an opportunity to give everybody some reps, who haven't had too many with this team," Belichick observed following Thursday morning's session, which was marked by on-and-off stiff breezes. "It's been a good opportunity, with the wind. Guys gotta get used to handling the ball [in these conditions]. We'll try to get a lot of teaching done, and we'll resume that on Monday when we get [the full team] back in."
A lot of veterans, Belichick pointed out, have different commitments during the offseason. So this week, while important for the new players, is more of a make-up week for the seasoned vets. Many of them who'd like extra workouts or have to make up for lost time usually get that done this week.
The coaches also have extra work making adjustments from the practices that took place.
"A lot of things to plug in from a team standpoint, but we're getting there," said Belichick.
One area in particular that will be watched closely come training camp is the inside linebacker spot. Belichick indicated that he's no closer to deciding whether or not Junior Seau will return to the team, but he did say he's closer to the time when that decision will have to be made.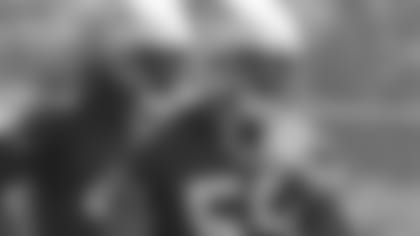 ]()Meanwhile, veteran free agent Victor Hobson, late of the New York Jets (who also employ the 3-4 defense), is making strides picking up the Pats' version, in which he's playing inside. He was mostly an outside 'backer for the Jets.
"He's a smart guy, he runs well, he's got some experience in the system, and certainly playing inside," Belichick noted. "He adds a good combination of experience and toughness and athleticism to the position."
At this point, Belichick said it's more about teaching Hobson, rookie first-round pick Jerod Mayo, and other players what to do and how to handle their specific assignments.
"All the players that play that position are pretty much getting the same amount of reps," he revealed. "Then when they get a chance to execute it in training camp, we'll evaluate them based on how they do then. We try to give everybody a good base, so that we can make the competition as even as possible when we go to training camp."
The same 36 players – 21 on defense, 15 on offense – who practiced on Wednesday took part in Thursday's passing campworkout.
During 7-on-7 drills, rookie QB Kevin O'Connell was picked off twice, once by fellow rookie CB Jonathan Wilhite on a tipped pass off the hands of TE David Thomas. The other came from **Terrence [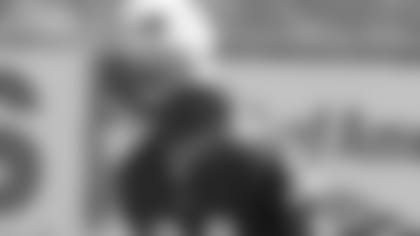 ]()Wheatley**, the Pats' other rookie corner. He was actually beaten deep on the play by WR Ray Ventrone, but O'Connell's pass came up short and Wheatley made the INT.
Mayo worked on dropping back into pass coverage for much of the morning. He also stayed late after practice to get some extra work in.
When the kickoff return team saw action, WR/DB Matthew Slater, WR C.J. Jones, and Wilhite and Wheatley took turns fielding the ball.
Belichick was spotted again last night at the Boston Celtics playoff game versus the Detroit Pistons. After passing camp concluded, the Pats head coach talked a little hoops. "I enjoyed it last night. What an awesome performance by Ray Allen, Kevin Garnett, [Rajon] Rondo. It was an exciting game to watch. So was the first one. A lot of contact down there. Looks like a lot of tight ends playing." Belichick also made note of his prime seating arrangements, behind the Celts' bench. "Seats are awesome. I feel like I'm the team mascot now."