There are 10 teams in the NFL working with a new head coach this season and seven of those coaches are 'rookies.' Sunday's Patriots-Broncos matchup at Gillette Stadium pits two coaches from the opposite end of the spectrum against each other. Both veteran coaches have known each other for many years and each of them voiced respect for the other this week.
Broncos Head CoachMike Shanahan is a 14th-year head coach in the NFL, first carrying the title with the Raiders in 1988. Bill Belichick is in his 12th year as a head coach in the NFL, including five years with the Browns.
"In my opinion, he's the best today," said Shanahan of Belichick during a conference call with the media Wednesday.
"Well, I thought it was kind of interesting that when I first got the job, Bill left Cleveland and people asked me how I would rank the head coaches. I had Bill number one and Joe Collier and Jeff Fisher as two and three," said Shanahan. "They kind of laughed at me at that time, and they said, 'What do you mean? Why would you rank him there? He didn't have a lot of success in Cleveland.' I said, 'you just wait and see.' Not that it has surprised me because I watched him as a coordinator, obviously as a head coach, and what he does speaks for itself."
Belichick voiced similar feelings for Shanahan in his Thursday press conference, saying, "I have a tremendous amount of respect for Mike Shanahan. Always have – even when he was an assistant coach out in San Fransisco. I think he's got a great football mind. He's won championships. He's consistently put good, successful, productive teams out there on the field. It's always a tough game with Denver. He's been very consistent. I've got a lot of respect for him."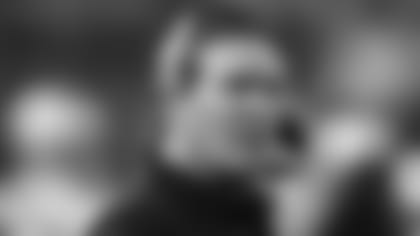 Belichick also said that he enjoys speaking with Shanahan when they get the chance, and watching him coach when they aren't competing.
Veteran safety Rodney Harrison played for the Chargers, a Broncos division rival, for nine seasons. He compared Belichick and Shanahan today.
"Those guys have been coaching football for a very long time – over 25 years and they're Super Bowl Champion coaches," said Harrison. "They just have that innate ability. Sometimes it works out sometimes it doesn't. Most of the time with those guys, if they make something happen, it's gonna work out for them. I look at them as similar coaches, but I think Belichick's more of a defensive coach and Shanahan is more of an offensive coach."
Ty Warren also sees similarities between the two veteran coaches.
"When I first got here, I got the notion that Belichick is going to play the guys that come in here and work hard, no matter where you were drafted or how much you're getting paid or whatever the case may be," Warren said. "I think Shanahan's the same way. I know friends over there at Denver, too, and they say his attitude's the same way."
Another similarity between the two coaches seems to be their lack of fear.
"Let me say it, Mike [Shanahan] is not afraid of anything," said Belichick bluntly. "I think that's the way he coaches. I think fourth-and-one last week against Kansas City, he runs a reverse for about 20 yards. Fourth-and-one, he's not afraid to go for it. He's not afraid to blitz. He's not afraid to trade Clinton Portis for Champ Bailey. He's not paralyzed by any decision. I think he's going to look at his team. He's going to look at the situation. He's going to do what he thinks is best and not be worried too much about what everybody might think or that he might get criticized – that type of attitude. I think he's going to be aggressive in every phase of the game. He's got a lot of guys on his roster – like Rod Smith and Matt Lepsis – that weren't drafted. They've turned out to be really good players that he wasn't afraid to put in there."
Belichick was careful to say that he doesn't compare himself to Shanahan, or that he would. But he has said before that his main priority is to do what's best for the Patriots, which seems to indicate a similar lack of fear.
"Certainly, I've learned a lot from what he's done and I've tried to take some of the things that I think Denver has done a good job of and in some cases, apply them or partially apply them to a situation I've been in, whether it's in Cleveland or here or even as an assistant coach here or with the Jets," admitted Belichick. "I think what he's done out there has been pretty unique and pretty special. I'd like to have his record, let's put it that way."
Shanahan's 29-11 record through the month of September since 1996 is the best such mark in the league.
Quote of Note: Harrison said he seriously considered playing for the Broncos before he signed with the Patriots, because of Shanahan. "I thinkMike Shanahan is such a talented coach. I admire him. I played against him for years out in San Diego, and I knew what type of ship he ran. I talked to [former Bronco turned commentator] Shannon Sharpe and he had nothing but great things to say about Mike Shanahan. But when I had the opportunity to come out to New England, they really stepped up and they wanted me here. They flew me out here. They wouldn't let me out of here, so I couldn't pass up that opportunity."
Ties to tragedyThis week's Monday Night Football game will be held at the Louisiana Superdome. It will be the first NFL game held there since Hurricane Katrina. The 2-0 Saints will play the 2-0 Falcons.
LSU alumni Eric Alexander and Kevin Faulk joined other teammates on a trip to Otis Air National Guard Base last fall to visit with families displaced by Hurricane Katrina. They both had thoughts on the game and the re-opening of the Superdome.
"The whole state is going to be thrilled about it. Everybody's going to be real hyped about it. Everybody in the state of Louisiana is going to be watching the game," said Faulk. Asked if he would be cheering for the Saints, Faulk replied, "I always do. Home state team."
Alexander took a little different stance on the game. He admitted he was uninformed on the issue, but he was concerned about the money it cost to restore the Superdome. "Maybe they should've used some of that money to build up some of the parts that are still messed up in New Orleans, but I would have to look at the mayor and people who make those decisions," said Alexander.
Practice Notes:
Tackle Matt Light missed the media portion of practice for the second day in a row. David Thomas and James Sanders were both wearing red non-contact jerseys again today as well. In the locker room before practice, Mike Vrabel was seen wearing a Celtics hat. Arizona alumnus Josh Miller was seen wearing a hat bearing the Wildcats symbol. Tedy Bruschi also attended the University of Arizona and has a visor displayed in his locker in support of the team.