There was a time when a young Tom Brady acted like a man well beyond his years and spoke of needing more time to recover during the rigors of training camp. Now, at 32 and perhaps entering the stage of his career when many of his peers actually require additional recovery time, the quarterback is singing a different tune.
"I'm reversing the trend. I'm getting younger now. I'm 32 and I started going the other way," he joked after Tuesday morning's walkthrough. "I feel great and I want to be out here playing. I want to be out here with my teammates. I'd rather be out here practicing and getting better. So, that's the decision that coach made and that's the decision that we as players go with."
Reversing the trend? Maybe we should start call him Benjamin Button Brady.
Whatever the reason, Brady has been present for every training camp practice thus far, and he certainly doesn't appear to be a man in need of or looking for any time off – and that includes Thursday night when the Patriots will be in Philadelphia taking on the Eagles in the preseason opener.
While Brady wouldn't confirm if he would play against the Eagles, he did strongly indicate that he'd like to see plenty of action.
"I hope so," he said. "We haven't talked about it. He told the guys everybody needs to be ready to play. I'm expecting to play, there's no reason why I wouldn't. I've been out here doing everything and it will be nice to get out there and play some football."
Bill Belichick, the man who will ultimately decided when and how much everyone will play in Philly, was equally non-committal on the topic. Rather than discussing any individual player's situation, the coach instead treated all playing time decisions as a whole.
"I think it's important for every player to be ready for opening day and the start of the season," Belichick said when asked if it was important for Brady to take part in the preseason after coming off his knee injury.
"As we get closer to the game we'll talk about our playing rotation and what we feel each player needs. There are aspects of playing the preseason that are positive and I can also think of players not playing in the preseason that were very productive players. We'll take each case individually and make a determination."
Brady also downplayed the need to play based solely on his recent inactivity. While he felt it was important to get back on the field from a team perspective, he didn't feel any anxiousness based on the injury or shaking off any rust that may have built up from a year's worth of rehab.
"I think it's the same for everybody," he said. "There are a lot of things you can simulate in practice but in the games they're very different. The way it takes place in the game, often when there's a threat of a run, when you're not tackling out here it's a lot different for the play action passes. We certainly have very diverse game plans. Hopefully we can go out and execute well and I expect us all to play as hard as we can.
"I'm really not [nervous about taking a hit]. I'm more excited than anything. There's nothing to be nervous about for me. I'm just excited. I'm excited to see how our team performs. That's what I'm most excited about, to see what the 2009 version of the Patriots can be like. We've had quite a bit of changes and guys coming off injuries and guys who are new to the team. It's really our first test to see what this team is going to be about."
Brady made an appearance on the HBO show "Entourage" Sunday night and drew rave reviews. He played himself and joined series creator Mark Wahlbergat a charity golf tournament where he was part of a four-some with the series' star Vinny Chase and his brother Johnny "Drama" Chase.
When asked about his supporting role, Brady jokingly took offense. "That was a starring role. What are you talking about? I was on the whole show."
During one of the scenes, Drama borrows one of Brady's clubs and proceeds to shank his drive – and then destroys the club.
"It wasn't my club. I would have been pissed. [Wes] Welkerwas mad … 'why didn't you have any reaction to that. I would have thrown a golf ball at him or something.' I said, 'when you're on the show you can do that OK Wes?'"
Some of his teammates have predictably giving him the business about his multi-media exploits, but Brady has no problems defending himself.
"I've been doing that for a long time, 10 years I've been putting myself open," Brady said. "I've heard just about everything. Those guys are the biggest beneficiaries or everything too. Those guys get the Smart Water delivered to their house, the cologne, their watches and the cars. If something goes well for me it goes well for them, too."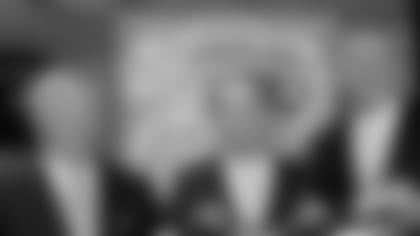 ]()Scratching the surface**
The Patriots announced a partnership with the Massachusetts State Lottery on Tuesday, unveiling the New England Patriots Instant Ticket that will raise millions for Bay State communities while entertaining and exciting fans with incredible prizes, including five pairs of season tickets for life. The New England Patriots instant game is the first licensed NFL lottery product and comes just weeks after the league owners voted to partner with lotteries around the country.
Team president Jonathan Kraftand owner and CEO Robert Kraftjoined State TreasurerTim Cahillat a press conference announcing the plan at Gillette Stadium.
"I don't think people realize how much the Lottery contributes to local communities annually," said Robert Kraft. "We are proud to team up with the Lottery in a partnership that will not only reward our game winners with cash and one-of-a-kind experiences, but will also benefit cities and towns throughout the Commonwealth. We are happy to contribute some truly unique prizes to complement the many cash rewards offered. We are excited to see Patriots fans win these prizes throughout our 50th anniversary season."
In what is always one of the true highlights of camp, there was another big body in a rather unconventional position as practice came to a close on Thursday. In the past the Patriots have had Matt Lightand Vince Wilforkstanding alone trying to field punts with the idea of earning some sort of time-wide prize. On Thursday it was rookie Sebastian "Sea Bass" Vollmer's turn.
Vollmer stood about 35 yards from punter Chris Hansonand drifted to his left slightly as the ball came down. The 6-8 tackle bobbled the kick slightly before securing it as offensive line coach Dante Scarnecchiaraised his arms in triumph just behind him. David Thomas rushed toward the rookie as the two leaped into a hip bump celebration, and Belichick later came over with a congratulatory handshake.
It is unknown what reward Vollmer earned for his teammates but in the past they've gotten a night off from running sprints or attending meetings.
Welker sat out the afternoon practice for the second straight day. He was joined on the sidelines by Shawn Springs, Paris Lenon, Nathan Hodel, Tedy Bruschi, George Bussey, Benjamin Watson and Mike Wright. Brandon Tate(NFI) and Mark LeVoir(PUP) remained out of action.
Who's hot: Randy Moss –I'm falling into the typical training camp trap of selecting Moss, fully aware that I could substantiate doing so every do he's in uniform. The wideout was galloping all over the field during some situational work, catching several passes including back-to-back touchdowns as the clock was winding down.
Who's not: Jamar Love –This one really isn't fair considering the experience levels of the players involved, but Love had the misfortune of covering Moss throughout the afternoon as part of the scout defense. Moss likely lost count of his catches at one point because Love was powerless to stop the onslaught.
Play of the day:Brady looked deep for Greg Lewisduring a team period late in practice and was rewarded when one of his new targets made a terrific play. Lewis was well covered by Mike Richardsonon the play but the wideout jumped at the perfect time and outwrestled the corner for a big gain.
Myron Pryor worked in a four-man front with Ty Warren,Vince Wilfork and Richard Seymour. Pryor, a rookie sixth-round pick out of Kentucky, lined up next to Wilfork over the ball. … Pat Chungtook some reps as a punt returner for the first time in camp. … Julian Edelman spent some time working with Moss and Brady in between reps as the two veterans offered some precise route running instruction. … As if generally the case at training camp, Belichick welcomed good friend Jon Bon Jovito practice for Tuesday afternoon's session in helmets and shells. The players also were treated to the singer's work throughout the pre-practice period and stretching routine. ... The Patriots will conduct a walkthrough on Wednesday that will be closed to the media and the public before traveling to Philadelphia for the Thursday's preseason opener.