For the better part of training camp the defensive backs have dominated play. Darrelle Revis has been the standout but completions have been scarce in the neighborhood of just about any member of the Patriots secondary.
Just don't tell that to Brandon Browner.
The Patriots other free agent addition at cornerback was quite agitated on the field Wednesday morning and he said it was because he was sick of watching so many passes get completed in his area. This seemed to irk the 6-4 corner, and Browner showed a fiery edge throughout the workout.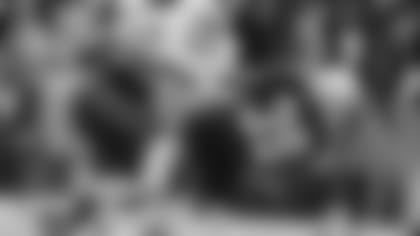 He locked horns several times with Kenbrell Thompkins and seemed to intimidate the young receiver. Using his physical style, Browner prevented Thompkins from making barely any catches during some spirted 1-on-1 drills. Often times Browner's aggressive nature would have drawn a flag, but on this day he wasn't concerned with the potential to cost his team yards as much as he wanted to send a message.
On one play in which he manhandled Thompkins with a major league hold, Browner drew the ire of wide receivers coach Chad O'Shea. The two exchanged heated words before cooler heads prevailed. Browner later said the two "hugged it out" and wouldn't get into it further, but it was a clear indication of the type of swagger the corner brings to the Patriots secondary.
The altercation was one of the highlights of the Patriots sixth practice of the summer, this one coming in full pads once again. Here are some more observations of today's workout:
-The Patriots injury list grew a bit on Wednesday as center Bryan Stork, wide receiver Josh Boyce and linebacker Chris White all missed practice for the first time. Stork left Monday's practice early while Boyce appeared to injure his knee but was able to continue on a limited basis.
Rookie defensive back Jemea Thomas, tight end Michael Hoomanawanui and running back Tyler Gaffney (knee) all missed practice as well while the members of the lists – Aaron Dobson (PUP/foot), Matthew Slater (PUP/unknown), Jeremy Gallon (PUP/unknown), Dominique Easley (NFI/ACL), Chris Martin (NFI/unknown) and Deontae Skinner (NFI) – remained unchanged.
On the positive side, right guard Dan Connolly returned after missing Monday's practice. He took most of his reps at center while Marcus Cannon continued in his role in Connolly's normal spot. Ryan Wendell was the odd man out on Wednesday as he was relegated to the center position with the next group.
!-Andy Hart often laments the fact that the term "coverage linebacker" is a bit of a misnomer. Few if any linebackers are capable of sticking with running backs in coverage, as he has stated countless times. But so far in camp James Anderson has proven to be the exception. As Andy has mentioned, his coverage has been solid and on Wednesday he was outstanding on one play against James White. The rookie tried a double move and worked his way down the sideline on a deep fade. Anderson was stride for stride with the shifty fourth-round pick and prevented the completion with stifling coverage.
-Logan Ryan is enjoying a solid camp and appears to be in a tight battle with Kyle Arrington for playing time in the slot. On Wednesday he was with the second group while Arrington appeared to take reps with the front line guys but that didn't stop the second-year corner from making his presence felt. During a 1-on-1 rep against the shifty Julian Edelman, Ryan stayed tight in his coverage and was able to knock the pass away. It was one of the rare time that Edelman has been handle so effectively this summer.
-The defensive backs worked in tandem during a drill designed to recover fumbles near the sideline. One player would act like a receiver trying to keep his feet in bounds while knocking the ball back into the field of play while the other would try to secure the loose ball. Just another wrinkle in the myriad drills the Patriots coaches come up with.
-Ryan Mallett barely edged Tom Brady in their race during pre-practice calisthenics.
-Jonathan Kraft was on the fields watching much the morning's practice.
-The receivers and defensive backs engaged in a spirited session of 1-on-1 red zone work early in practice. This is where the Browner/Thompkins battles began, but they weren't the only ones taking things seriously. Revis set the pace on the first rep by gobbling up Edelman to the point where Brady didn't even throw the ball. Danny Amendola followed that by beating Arrington with a nice inside-out move for the touchdown, but Thompkins then slipped against Browner and Justin Green later got inside Thompkins and made the pick. Green appeared to catch Thompkins in the face and likely would have drawn an illegal hands to the face penalty but the physicality was noteworthy. Of the 15 passes we charted, only four went for touchdowns.
-Thompkins appeared to tweak his lower leg after getting locked up with Browner on a deep out. Thompkins limped a bit before falling to the ground, where he was consulted briefly by head athletic trainer Jim Whalen. Thompkins soon returned to his feet and jogged quickly in place, seemingly in an effort to work out the problem.
-For the second straight day Brady spent the special teams period working with Rob Gronkowski and Revis. The tight end ran several patterns at roughly three quarter speed against Revis while the rest of the team worked on kickoff coverage. That trio got together again during the second special teams segment as well.
-The safety spot next to Devin McCourty has seen a variety of changes this summer but never more so than on Wednesday. Tavon Wilson, Patrick Chung and Nate Ebner all got significant reps with McCourty during both 7-on-7 and team periods. Bill Belichick is clearly giving everyone an opportunity to be evaluated.
-Kanorris Davis once again spent a lot of time working individually with the specialists. He was simulating the gunner's job while Stephen Gostkowski fielded Ryan Allen's punts and would wait for Scott O'Brien to tap him on the helmet to let him know when to start his pursuit.
-James White showed a nice burst during an off tackle goal line run that resulted in a touchdown. Interesting to see White follow Stevan Ridley quite frequently during goal line running work.
-The team periods featured a lot of down-and-distance work, as well as some two-minute drills toward the end of practice. Browner picked off a Brady pass during the latter.
-After not doing much in the way of contact work thus far, Tommy Kelly was next to Vince Wilfork at defensive tackle during the team action.
-Stephen Gostkowski once again was perfect closing practice with seven successful field goals. Gostkowski also nailed several kicks prior to that as Belichick worked on situations where the entire unit was forced to run onto the field in a potential late-game situation on the fly. The process appeared to go off without a hitch.
-The Patriots will practice once again on Thursday at 9:45 a.m. in Foxborough. Friday will feature the Hall of Fame induction ceremonies for Ty Law beginning at 4:30 p.m. followed by practice inside Gillette Stadium at 7 p.m. The practice is a ticketed event for season ticket members only.