BB: **So we're pretty much halfway through the drafting process here. I think we were able to improve our team here tonight with the four players we selected, so we're pleased with that. We'll see how it all comes together. I felt like we got good value for our picks, good players, guys that have a lot of things going for them, so we'll see how it all works out. Obviously we made the trade yesterday, which got us basically two extra picks: the 83rd pick, which was Logan Ryan, and the pick we have tomorrow which is 102. Those are two players that we didn't have prior to Thursday's start and hopefully those will be two guys – whatever happens tomorrow – that we can add to what we originally came in with. Again, I felt like we got good value for the picks that we had: three defensive players and a receiver. Jamie [Collins] is an interesting guy that came into college as a safety, played inside linebacker, played outside linebacker in a 3-4 and then played defensive end last year. He's been a very productive player in the kicking game. He's got a lot of versatility, solid player, hard worker, great kid. Of course Aaron [Dobson] was a great high school basketball player and football player. Was a very productive player at Marshall. Had a real good Senior Bowl. Both players have real good size, good speed for their position, and have been productive at good levels. And of course the two Rutgers DBs – that was a very good defensive unit that they had last year, over the past few years actually, but especially last year. Of course Logan [Ryan] had a very productive year outside and Duron [Harmon] inside. I know that whole group, but especially those guys, are close. They communicated well, played well. Both were very productive, both defensively and in the kicking game, solid guys. We've had a number of our players here comment on their personal characteristics, so I think we're getting some high quality guys there as well as good football players. We'll see how things go tomorrow. Right now we're scheduled to be in the fourth and seventh rounds. We'll see how all that comes together. Like I said, I feel like we improved our team and hopefully we'll be able to do that tomorrow through the draft process and the subsequent free agent signings that will come post draft.
Q:What are some of the things that stand out to you about Aaron Dobson?
BB:He's big, he's fast, he's got good hands, he's a strong player; smart, very smart. He has some position flexibility and versatility. Catches the ball very well. We'll see how it goes.
Q:There's one stat that says he recorded no drops as a senior. Does that speak to his hands?
BB:I don't know what the stats were. I mean, he's got good hands. Every receiver has dropped the ball. Every quarterback has thrown an interception. Every defensive player has missed a tackle. Every guy that has ever carried the ball has fumbled at some point. I don't want to get carried away on that, but I'd say he has good hands.
Q:How would you define this class of overall prospects in this year's draft?
BB:Like any other draft, we'll see as time goes on. Guys have a lot of strengths. There are a lot of good players out there. How they develop or fit into the different systems and how they are able to respond to the opportunities and competition that they have, that's all in front of them. And I'm sure, like every year, there will be guys that aren't drafted or guys taken in the sixth or seventh round that nobody will be talking about that at some point everybody will be talking about. It's a very unscientific process. We're all doing the best we can. Everybody's looking at the same board. We'll see how it all turns out. I don't know.
Q:Did you find that there was more bunching than normal?
BB:I think there was a lot of depth in the third round. I think there are lot of interesting prospects that are still on the board. I think there's plenty of quality in that second, third, fourth round where we were. Not that there wasn't in the first as well, but I think it was maybe more evenly spread out.
Q:Were there any opportunities to move up, specifically in the second round?
BB:I don't know. There's always phone calls on draft day. People calling us, us calling other people. Sometimes they develop, sometimes they don't. But, we didn't move today. We stayed there and took players we felt would help our football team.
Q:Is there some positional advantage in getting two guys that were teammates at the same position in college?
BB:I don't know. I don't know.
Q:Nick Caserio said last night there were guys you were looking at with the 29th pick that were still on the board. Did any of those guys fall to where you picked today?
BB:I think we got good value for our picks, put it that way.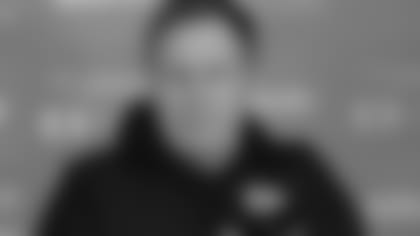 Q: **Do you see Jamie Collins playing on the line of scrimmage or off?
BB:He's done both. He was basically a defensive end last year. His sophomore year he was more of an off the line 'backer. His freshman year he was a safety and his junior year he was a 34 outside linebacker where he was on the line but he was in coverage, whereas this past year, he wasn't in coverage very often. He has a lot of versatility. We'll see how it goes.
Q:Does a player with that kind of versatility have more value these days with the way the game is played with spread offenses and sub packages?
BB:Sure, if players can do that, great. Some guys just do one thing and do it well. There's a lot to be said for that too. It's similar but I would say different than [Dont'a] Hightower but there's some similarities. Dont'a did that as well – played inside, played outside, played defensive end in their nickel package at Alabama last year. Jamie [Collins] did that more by season than Dont'a did. He was more within the game he would do those different things. Yeah, there's some value to that but there's value to doing one thing well too.
Q:How many of the four picks tonight did you personally talk to and sit down with?
BB:I talked to all of them.
Q:How important is that to you in the process?
BB:I don't know. It's a piece of the puzzle. It's a big puzzle and there's a lot of pieces. I don't know. It's one of many things. We've drafted plenty of players that I haven't talked to, so I don't know if it's any criteria.
Q:How did Aaron Dobson's smarts demonstrate themselves to you? Was it film, private workout, on the white board?
BB:Yeah, all the above. All the above.
Q:Was there a specific one that stood out?
BB:I'd say all of them. You talk to him about what he did. He can explain the techniques, his assignments, what other guys are doing at Marshall. We'd look at things that we did, then come back and talk about them. He remembered how we did them, how we call them, things like that. He's a pretty intelligent guy. He has good recall of what [Marshall] did. He had a good understanding and grasp of learning, taking new information, processing that and being able to understand it and apply it. Tell him something and then see a play a few plays later and say, 'What would you do on this play if they did this, they did that'? There's different ways to measure all that, but he's a pretty impressive kid. He's a mature kid. He's pretty smart.
Q:Would you say he stood out in that area more than some of the other receivers?
BB:I'd say he's certainly in the upper group of that.
Q:Is it a new development to scout players that bulk up to become front seven players – players that go from defensive backs to the front seven?
BB:I don't know. We can't control any of that. We can just evaluate the player as he is. I wouldn't say that Jamie has bulked up. He's grown into his body like a lot of kids do when they go to college. When they come out of high school, four years later they're bigger, stronger, more developed like most people are at that age. I wouldn't say that he's a guy that just bulked up. He grew into his body. He has a big frame and I think the weight he has is good weight.
Q:It seems like Duron Harmon is a guy that you could have gotten later. Did you feel like, 'Why wait until the fourth round if he's the best player on our board?'
BB:We thought it was good value when we took him. I don't know what other teams, how they have their boards stacked or anything else. There's no way to predict that – 31 other teams. I think you have to take the players you feel like can help your team. That's what we did.
Q:Were there any surprises for you through the first three rounds?
BB:Every draft is unique and has its own characteristics, as this one did. It's pretty obvious. I don't think there's anything to really…it is what it is. Next year's draft will be different than this year's draft; this year's draft is different than last year's draft. Different players, different teams, different order – it's like shuffling the cards. It will be a new shuffle next year.
Q:What attracted you to Logan Ryan?
BB:He's a good football player in a good program. He's been very productive. He's one of the most productive corners in the draft. Smart; been productive. He's been in a very good system. He's been well coached, knows his techniques well, he's an instinctive player. He's had a lot of production. He's tough, he's a good tackler.
Q:You made a similar move trading out of the first round in 2009. Does this year make you think back to that and some of the lessons you may have learned?
BB:We talk about things that happen in every draft and evaluate them after the draft and then try to go back and do a little refresher course. The draft comes around once a year and I don't want to say it's out of your mind for the other 350 days around it, leading up to it and after it, but you try to go back over your notes and refresh yourself to all the different scenarios that can come up in the draft prior to. That's part of the preparation and then analysis after it's over so that the next time you go through it you can go back and look at your notes and try to keep those things fresh in your mind because we won't go through this again for another year. Now is the time to think about it and make whatever notes or points or adjustments to how we do it next year. If we're going to do it, now is a good time to think about those because a year from now, especially when you get to be my age, you don't have the kind of memory that you used to have, you don't remember all the little things that happen as well. We try to do that now and we obviously go back over what has happened. It might not be us, it might be another team that you learn something from; another situation that could come up.
Q:Was there any trepidation moving from 29 to 52?
BB:We looked at the board. We took a guesstimate of what we thought the value would be and what the two extra picks basically that we got were 83 and 102. So we kept [91] and 59. We felt like we would get good value there and I think looking back on it, in addition to the seventh, looking back on it, I think if we could have made that trade before the draft started, that we probably would have made it on Wednesday.
Q:Can you talk about what you're wearing [a Watertown Police sweatshirt] and why?
BB:To support the Watertown Police. That was an unbelievable job they did. I'm sure we all followed it, followed as closely as we could. Just supporting people that protect our safety and our freedom – the police, the military. That's what makes it all possible to do what we do. [I'm] behind them all the way.