BB: **We're kind of on a normal Friday here. Trying to tie up some loose ends, go over some situations and pull things together here for Cincinnati and head out there tomorrow. We'll see how it all comes together here. Again, a team that we don't have a lot of experience with. Although we've seen them a lot on film, we haven't played against them much in a couple years. A lot of preparation things on their end and just getting things right on our end, so this has been a challenging week, but hopefully it will come together here today and tomorrow and we'll be ready to go on Sunday.
Q:Are there any similarities between the systems Austin Collie has been in in the past and here to possibly make his transition easier?
BB:Yeah, I don't know – he seems like a pretty smart guy, so I think probably what we're doing are things he's done before, just had different ways of calling it or terminology or that type of thing. We'll see. We've had him on the field for one day, so we'll see how it goes today. We'll kind of recall where he is and see where we're at tomorrow and make a decision. I don't know.
Q:How would you describe him as a receiver – not specific to the one day you worked with him, but having worked on him coming out in the draft and then watching him in the NFL?
BB:I'd say in his career, he's played both inside and outside, so he has some versatility.
Q:Every situation is different, but can you think of examples of times you've signed a guy on a Thursday and he's played on a Sunday if he hasn't been with the team prior to that?
BB:I'm sure there are, yeah. At Cleveland we signed a payer on Tuesday and started him at quarterback on Sunday, so yeah. I don't know, we'll just have to see how it goes. We worked with him one day; we'll see how it goes.
Q:With their tight ends – Tyler Eifert and Jermaine Gresham – what are your thoughts on their skills? Are they pure tight ends, combination guys, or more receiver types?
BB:I think they both have done kind of all the tight ends things – all the things you expect a tight end to do. Gresham has been doing that for three years, however long he's been in the league. They use him at the Y, they use him as the off line guy. They do the same thing with Eifert. They split both of them out at times, not a lot but they do it – put them out there as a receiver type location. But I think they do all the things you'd ask a tight end to do: block, pass protect, run block, be vertical receivers, get open in short areas, use their size to create separation.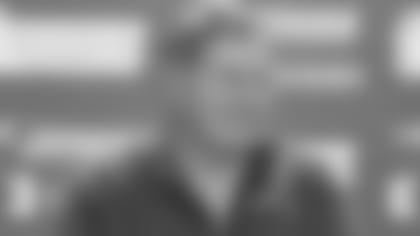 Q: **With BenJarvus Green-Ellis, obviously you're familiar with him from your time here. What do you see from him in terms of how he's running? Is he pretty much doing the same things or do you see anything else?
BB:Benny is a tough kid, runs hard, gets yards after contact with his strength and power. Dependable guy in pass protection. I think they're getting those things out of him.
Q:Can you talk about Chandler Jones and some of the versatility he's shown in being able to move inside on the line a few times this year? What is it about him and his characteristics that have allowed him to be able to do that?
BB:I think certainly his second year he's a lot more experienced and familiar with not only what we're doing, but what our opponents are doing and kind of how the game goes, than he was last year. He has shown good versatility. We've dropped him into coverage at times, played him out there on the tight end, played him further inside on the tackle and he's actually moved in to the guard, as you mentioned, at times in some sub situations. He's a good athlete, he's smart, he's got good playing strength. He's not the biggest guy out there, but he's got playing strength, he's got length. He's got a good skill set in terms of his athleticism, his strength, his power, his ability to work the edges but also to be able to get in there and hold his ground and stack people up to a point. He understands how to play. He's done a little bit of all those things for us. He's given us good communication and good leadership out there, certainly a lot more than he did last year, but that's to be expected. I'd say the same thing about [Dont'a] Hightower – guys that have gone from year one to year two. But there's been a good growth and progression with him.
Q:Their Special Teams Coordinator Darrin Simmons has mentioned Scott O'Brien as someone who has had a great impact on his career. Do you notice some similar things in their special teams?
BB:Yeah, do we do. Some of the same schemes, a lot of the same fundamentals, yeah. When we practice against them it's kind of easy to set some of those things up because it's similar to the way we do them. Obviously the personnel is different and there's a difference, but there are a lot of similarities too in there in their overall basic patterns and the way that they fundamentally try to do things. I think there's a lot of carryover, sure.
Q:Do you see Brandon Spikes playing a bigger role this week with Vince Wilfork being out?
BB:Well, I don't know. You know, a lot of our defensive game plan depends on what matchups we have and what our calls are, what personnel they use and so forth, and we don't have a lot of control over that at times like what group they're going to have on the field. I think all our players need to be ready to go and we'll just see how things turn out. I mean, I don't really know how playing time's going to go.
Q:It seems like there are a lot of positives to having multiple running backs who can work on a game day, but is it challenging for those guys that don't get those 10 reps to see what the defense is doing and how to adjust to it?
BB:I mean, I don't think so. I think you see that pretty much with most teams in the league. It's a tough position to play and you've got everybody after you when you have that ball. So to have depth and have multiple guys that can do it and spread the load a little bit, then you just have a fresher guy who's stronger, fresher, ready to go. I don't think you want to necessarily shuffle them in and out on every play, but situationally at times that's – you know, third-down backs and that type of thing. There are plenty of teams that do that. We've done it and had a lot of success with it through the years. I think each situation, you just try to get the most out of your players, whatever that happens to be. That's what the NFL is today; you see guys running on and off the field on every play on both sides of the ball. I don't know if there's a great way around that unless they don't substitute and you don't substitute. But there're a lot of times when you're matching up or situations dictate that you want particular skill type players on the field, then you put them out there.
Q:Do you ever talk to a guy about numbers or expectations? Stevan Ridley got almost 300 carries last year and maybe it's a little more spread this year. Do you ever talk to a guy about that?
BB:I talk to the players all the time. I talk to them every day.
Q:But I mean in terms of numbers specifically – that maybe it's not going to be the same this year?
BB:Who knows what this year is going to be. I have no idea. I have no idea what this week is going to be. So we just prepare to play, go out there and play the best that we can and do the best that we can to help the team win. That's what we're here for.
Q:With Vince Wilfork gone, do you name another co-captain for the defense?
BB:Well, we haven't. I don't know what will happen, but no, we haven't.
Q:When they go to their three wide receivers, is Brandon Tate the third receiver?
BB:No, it's usually 82. [Marvin] Jones. But Brandon does play some as a third receiver. They have good depth at that position. But it's usually Jones, [Mohamed] Sanu and A.J. [Green].
Q:You've been here for 14 years and Marvin Lewis I think is 11. Longevity in the NFL coaching wise, how do you view that? You're the longest-tenured head coach with the same team and he's the second longest tenured head coach.
BB:Yeah. It's kind of surprising, really. It is and it isn't. When I came into the league, that's the way it was: coaches coached for a log time with the same team. They had a consistent program. There was always turnover, but not like there is now where guys coach for a year, year and half and the team makes a change and brings in somebody else. Wheels spin pretty fast in that and along with it goes all the changes – head coaches then therefore coordinators, position coaches. I mean, you go to the Combine and it seems like every year a third of the coaches are wearing a different jacket than they wore the year before when you saw them. From that standpoint, it's a big change from what I was used to, the way I was brought up on the league, brought up in football. We all know it's a production business; we all know that you're not guaranteed anything for very long. But the way things turnover in this league and in pro sports in general… It turns over pretty fast. It's pretty amazing, really. On the one hand, it seems like a long time given the quick turnover that we have now. On the other hand, given the way I was used to it, it doesn't seem like it should be that way. But it is what it is. Marvin is a good coach. He's done a good job. He's been very consistent. The last couple years, taking a young team into the playoffs back-to-back years with a rookie quarterback, second-year quarterback last year… He transformed that team over the past few years, won with different guys, won with Carson Palmer, won with… winning now. So they've had different ways of doing it, but the common thread is that he's been there. Mike Brown-Marvin Lewis has been a good owner-coach combination. They've done a good job of acquiring personnel and coaching them and winning games. The consistency says something. We've seen that at other organization like Pittsburgh for example: a lot of success through the years with not a lot of changes.
Q:Are you surprised they're not better than they are with all that talent? They're 2-2.
BB:I think they're pretty good. They lost a very close game to Chicago in the opener and they certainly could have won last week against Cleveland. It wouldn't have taken too much. I think this is a team that's a couple plays away from being 4-0. I think they're going to win their share of games this year; we just hope it's not this week. I think they're a good team and I think they've played well. They could easily be 4-0. Take two or three plays a little bit different than what they were and you'd be looking at a 4-0 team, which is the way we look at it.
Q:Have you slid defensive ends over to defensive tackle for a few years now, or when is the first time you saw that?
BB:As far back as I can remember. In Cleveland we did it with Rob Burnett. He probably had more production inside than he did outside, and he had a lot of production outside too. So how far is that? 20 years ago? We've done it with plenty of people around here. When you're in a 3-4 defense, you usually take your defensive ends and move them inside. If you're in a 4-3 defense, a lot of times you just get your better pass rushers out there on the field. If one of your outside guys can move inside and be productive in there, then I think you see a lot of teams of that. I don't think it's anything that's revolutionary or that big a deal to us or any other teams in the league. But like I said, I can remember doing that back in Cleveland with Rob Burnett. Those guys can do a good job sometimes moving inside on guards with their quickness and their pass rush skills, when they don't really have to play the run on a lot of those situations. They can just rush and you can get a third guy in there, that's really three ends. It gives you better speed, better athleticism, better pass rushers on the field – if that's the situation.
Q:With the coaches being on the same team, does that have any meaning to you – to be able to stay on the same team? Based on the way you were brought up?
BB:Yeah, I feel a loyalty to all the people that are in the organization. And I'm not saying I'm great or anything, that's not the point. The point is when you're the head coach, there are a lot of people that are dependent on you. Having been an assistant coach for a long time and been the son of an assistant coach for a long time, you know that your future is, to a certain degree, tied to the head coach. It's important to me to be able to hopefully provide some stability to the other members of the coaching staff, the other members of the organization that relate to the football department, the players. We all know that the first thing that changes is the coach; the next thing that changes is most of the roster. I certainly like the fact that we have players that have been brought up in this system, that have tried to develop in this system, and hopefully they have the confidence to know that they can come back and play in this system again with the skills and the training and the knowledge that they've learned to do it. I mean, I feel a loyalty to them and I think they also feel a loyalty to me along those same lines. I mean, it's a two-way street. I know everybody has got to take care of themselves and their own needs and all that. I do have a lot of loyalty and respect for the people who work for me and I want to try to continue to provide a good working environment for them to be successful, for us to be successful, so that we can all benefit from that. So yeah, I would say that's definitely important to me and that's the way I was brought up. I mean, when you're an assistant coach and the head coach isn't there, you're probably not going to be there either. That's just the way it is. I learned that a long time ago.