Tight end Eric Bjornson, signed in the offseason as a replacement for Ben Coates, was released Wednesday by the New England Patriots. The Patriots also announced the signings of offensive tackle Josh Rawlings and wide receiver Curtis Jackson.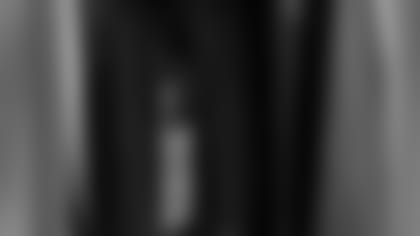 ]()
            Bjornson, 28, signed with New England as an unrestricted free agent on Feb. 29, 2000, after five seasons with the Dallas Cowboys. He started six of eight games this season and caught 20 passes for 152 yards and two touchdowns. In six seasons, he has 147 career receptions for 1,384 yards and six touchdowns.  

"It just didn't work out. Eric is a diligent worker and he prepares well. We envisioned a role for him offensively, but it just didn't work out," Head Coach Bill Belichick said. "I admire his work ethic and the way he prepared. We had every intention of trying to make the situation work out, but it just didn't go the way we hoped it would."
Bjornson's role with the team had dwindled drastically in the last few weeks. He was inactive for the Week 10 loss to Buffalo, and the following week he did not play despite being on the active roster in Cleveland.
]()
            Bjornson was also made expendable because of the play of fellow tight ends Rod Rutledge and Chris Eitzmann. After catching just seven passes in his first two seasons, Rutledge has had six catches in the last three games, including a 2-yard touchdown against the Browns.  

"Rod has gotten better opportunities in the last few weeks, and he has taken advantage of those opportunities," Belichick said. "With [Rutledge] and Chris Eitzmann, we just felt like at this point it was better for all parties just to move forward."
Both players New England added were signed off NFL practice squads. Rawlings, 23, who was with the Patriots for one week during training camp, originally signed with the Kansas City Chiefs as a rookie free agent on April 20, 2000.
After seeing limited action in two games with the Chiefs during the preseason, he was waived and claimed by the Patriots on Aug. 23, 2000. After the Patriots waived him, Rawlings returned to Kansas City when the Chiefs signed him to their practice squad. He was a three-year letterman at Minnesota (1997-99).
While Belichick said Rawlings will provide depth on the line, the coach added that rookie Adrian Klemm will work at guard. The team has no backups for starters Joe Andruzzi and Sale Isaia because of the season-ending injury to Max Lane. Andruzzi is also listed as questionable for Sunday's game against Cincinnati due to a shoulder injury. So Klemm should see a lot of practice time at the spot.
Jackson, 27, originally signed with the St. Louis Rams as a rookie free agent on April 17, 2000. The 5-10, 190-pound receiver from Texas had his senior season cut short after suffering a season-ending knee injury in his fifth game in 1996. He played in 12 games as a junior and ranked third on the team with 27 receptions for 401 yards and two touchdowns.
After the release of Bjornson, the Patriots had two open roster spots because of Lane being placed on injured reserve. The team also has one spot open on its practice squad because of the latest release of wide receiver Tony Gaiter.
Redmond, Andruzzi listed as questionable
Andruzzi and running back J.R. Redmond were both listed as questionable for this Sunday's game. Andruzzi has a shoulder injury, while Redmond hurt his ribs in a gang tackle play during the loss to the Browns.
Also questionable on the Patriots injury list are linebackers Matt Chatham (leg); Ted Johnson (thigh); and Chris Slade (back); and defensive end Willie McGinest (calf). All but Slade missed the Cleveland game.
Quarterback Drew Bledsoe (thumb) and defensive lineman Brandon Mitchell were both listed as probable for the game, but both played last weekend and are expected to go in the Cincinnati game.
The Bengals passing attack averages a league-worst 107.5 yards per game… Cincinnati has just two receiving touchdowns on the year, with the last one coming on Oct. 1 against Miami… Former New England safety Chris Carter is starting at strong safety for the Bengals, and former Patriot linebacker Marc Megna was signed from the Cincinnati practice squad to its active roster last week… The last time New England hosted Cincinnati was 1993, and the 1-11 Patriots won 7-2 to spark a four-game winning streak to finish the season 5-11.