As the Patriots wrapped up their final day of training camp on Monday, families from Boston Children's Hospital on the far side of the field sat watching closely from the Patriots Foundation tent. Fifty patients and families made their way to Gillette Stadium to catch the Patriots prepare for Thursday's game and the upcoming season. Whether they still receive ongoing care or are on the other side, the day was more about family.
"So all of these patients and families that are here today for the most part do so much for the hospital in return," said Nikki Benoit, Special Events Coordinator. "They've had such a great experience at Boston Children's Hospital that they've turned around and gotten involved with our foundation and help to give back to other patients and families."
Dealing with the illnesses of their loved ones has helped to strengthen the bonds between their families. Their ordeals have also allowed them to form a support system amongst each other. Now they want to pass on that courage, tenacity and kindness to families have only begun dealing with it.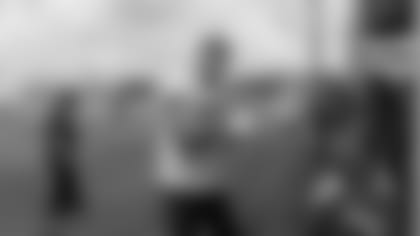 For the Simoncini family, paying it forward is about giving others hope that they can make it through in even the toughest of circumstances. When Maureen, the family's matriarch looks back on how far her son Brody has come after multiple surgeries early on in his life, she's still affected by how much the family grew from the experience.
"Brody is six and we've spent a lot of time at [Boston] Children's and you know I can't give the hospital back all this money," Maureen said. "If I can share Brody's story and another family can have hope because they've heard that this little boy has gone through this and now he is a six-year-old who is a super Patriots fan, plays football, plays all sports that's just [amazing]."
Boston Children's helped them to forge a relationship based on their shared experiences with staff and their individual treatments, but watching their favorite team practice with their family and friends gave them memories that could last a lifetime.
With the players focused on drills, the energy in the shifted from excitement to elation as Patriots owner Robert Kraft stopped by the tent to check in. Favorite footballs, jerseys and posters in hand, Mr. Kraft signed autographs and asked how each family was doing. Once the final horn signaled the end of practice, cheers rang out even louder as Rob Gronkowski approached fresh from catching passes with Tom Brady. As he finished signing autographs and snapping photos, the atmosphere remained abuzz as the group packed up to go home.
To make sure that they got the most out of the day, many parents took days off from work and planned their schedule around the visit.
"Days like today are incredibly fulfilling," said Jennifer Cotell, whose daughter is a patient at the hospital. "We've never been to an actual game at the Stadium before so to be here to see our team that we valiantly root for every weekend, every year, it's a wonderful opportunity and we couldn't be happier to be here."