Even after a 27-0 win over the Texans last Thursday, Bill Belichick wasn't done going over film when he left Gillette Stadium. More than 300 people came out to support the Bill Belichick Foundation's third annual Hall of Fame Huddle on Sept. 23, and the coach let those in attendance inside his great football mind.
Linda Holliday and Bill welcomed the guests to the Hall of Fame Huddle at the Seaport World Trade Center in Boston for a night laughs, insight and conversations with some familiar faces. Former Patriots Matt Light and Jerod Mayo took part in a panel discussion about leadership and professional sports in Boston alongside Celtics coach Brad Stevens. Broadcaster and former Patriot Scott Zolak was also on hand to help break down the scoring drives of Thursday's game against the Texans. 
Jonathan Kraft, Patriots coaches Matt Patricia, Sammy Morris, Brian Daboll and Nick Caserio, former NFL coach Jen Welter and members of the Boston Cannons were also in attendance.
Bill moderated the panel discussion throughout the night, and Brad, Matt and Jerod spoke about transitioning from college to professional sports, building relationships within a team and the enthusiasm in the city.
"There's not only this responsibility, there's this special way that this town, the people in this town and our organization makes people play at a better level, and I believe that," Brad said. "I don't know why that is the case, but I do believe there is a responsibility and an honor that comes with that and raises the level. "
The audience also got behind-the-scenes look at the Patriots with clips of team bonding exercises during training camp. Bill showed videos of an offense vs. defense tug-of-war and rookies receiving punts. If the rookie made the catch, the team would get the night off, and Matt, who was one of the unlucky rookies his first year, said the pressure is immense.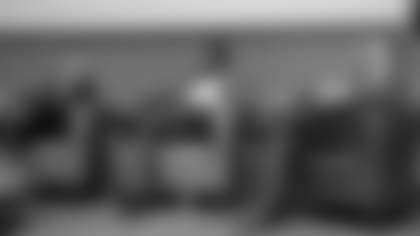 "He said, 'If Light catches the punt, you have the night off, and if he doesn't ...' it was something to the effect of 'We're here forever,'" Matt remembered. "It's the worst possible thing … Let me tell you something, you may think you know what it's like to be in a situation where there's this object that hangs forever in the sky and you catch it … I'm here to tell you there's nothing simple about that."
Coach Belichick said fun drills help the team bond during the "dog days" of training camp.
The night raised about $200,000 to support student athletes and athletic programs, and Coach Belichick presented a $10,000 check to fund Daly Field, a new turf field in Brighton, Mass. Daly Field will be a community space, a place for local boys and girls lacrosse teams and used for Simmons College's athletics.
While the event raised money for the Bill Belichick Foundation, Matt said it's also great for people to see a different side of Bill.
"I played with guys who are as good as there'll probably ever been in certain positions and they're dedicated, but then you see a guy like Coach Belichick who eats and breathes [football] in a way that, unless you're able to soak it in, you really can't comprehend," he said. "I think tonight's event is really about seeing another side of him, seeing what he's passionate about and what he and Linda support, and overall just sharing a few laughs because he does have a pretty good sense of humor."
For pictures from the Bill Belichick Foundation Hall of Fame Huddle, check out the gallery below. 
FUN GALLERY
The Bill Belichick Foundation held its third-annual Hall of Fame Huddle and fundraiser in Boston on Friday, Sept. 23. The event featured many guests, including Boston Celtics coach Brad Stevens and former Patriots Jerod Mayo and Matt Light.