INDIANIAPOLIS -- With only two quarterbacks on the active roster the past two seasons, the Patriots could be in the market for another backup signal caller, and there are some in this draft they could consider.
A couple in particular mentioned Tom Brady by name during their media interviews Friday at the 2011 NFL Scouting Combine at Lucas Oil Stadium.
"Oh, I watch Tom Brady by choice," declared Alabama quarterback Greg McElroy (6-2, 225), whose head coach, Nick Saban, has a well-documented, personal relationship with Patriots boss Bill Belichick.
"Coach Saban never had to say, 'Sit down and let's watch 12 from New England play.' He's the most fun guy to watch in the league right now. There are a lot of efficient quarterbacks, but as far as his control, his balance, the way he sets up in the pocket, the way he's so mechanically sound. He's such a joy to watch. He's so fluid, he never gets flustered… all the subtleties, the little details.
"I've obviously spent a lot of time watching Tom Brady. He's a hero of mine, and a guy I'd love – LOVE – nothing more than to pattern my game off of."
Iowa's Ricky Stanzi(6-4, 230) actually broke down some Brady game film during his Hawkeye career and gained valuable insights from doing so.
"Definitely. He's my favorite," said Stanzi. Like McElroy, Stanzi's head coach, Kirk Ferentz, also enjoys close ties with Belichick. Ferentz was once an assistant in Cleveland with BB, and Ferentz' son, Brian, is now the Patriots tight end coach.
"Yeah, I watch film [of Brady], the same way we'd break down a college game," Stanzi continued. "You watch how he carries himself, their footwork, then watch your film and see if there are things you're not doing that they are. Once you see it on film, you can connect the dots and work on it."
Stanzi is even working with Brady's famed QB coach, Tom Martinez, out in California.
According to NFLDraftScout.com the two passers could hear their names called sometime in the fourth or fifth rounds come draft weekend.
The two passers may have agreed on their favorite player, but their responses to the following question differed significantly.
Could you see yourself backing up Brady in a couple of months?
"I don't know," Stanzi chuckled sheepishly. "Haven't thought about that."
"Oh, in a heartbeat," McElroy laughed. "Absolutely."
Baalke and BelichickNew San Francisco GM Trent Baalke is a soft spoken, relative unknown to most NFL fans. But the guy who'll team with Jim Harbaugh in an attempt to return the 49ers to glory has a history in the AFC East, and with Belichick.
In working his way up the ladder, Baalke's first job was with the Jets where he credited Dick Haley – the father of Chiefs coach Todd Haley who was a longtime NFL personnel man who held that role when Baalke was part of Bill Parcells'staff in New York.
"I learned a lot from Mr. Haley; also on that staff was coach Parcells, who I still consult and learned a tremendous amount from; coach Belichick was a part of that group, and that entire staff. That staff was loaded with talent."
What did Baalke learn from Belichick?
"More than anything, just his work ethic and his intelligence, his understanding of the game – every facet of the game and what it takes to play the game."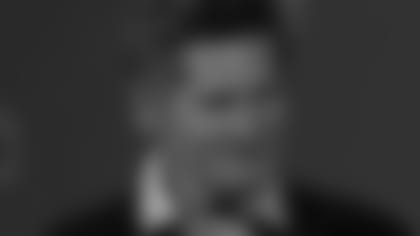 Dimitroff raves about Caserio Falcons GMThomas Dimitroffspent plenty of time working with the Patriots director of player personnelNick Caserio** when the pair worked together in New England. As such Atlanta's reigning NFL executive of the year has nothing but good things to say about his former co-worker and the job he does for the Patriots.
"Nick Cesario is a fine man. He's a very intelligent guy. He's a tireless worker," Dimitroff said Friday at the Combine. "I don't know who works harder than him in the National Football League. He's worn many hats there in New England. Bill has asked him to do a lot of things. Not only on the personnel side, but on the coaching side. You're talking about a well rounded individual. Nick is a top notch personnel man."
A couple nods for Quinn
Who has a better view for talent evaluation than players matched up against other players? No one. That's why it means something when B.C. offensive lineman Anthony Castonzo, considered by some to be the best left tackle in this year's draft, says the best player he ever faced was North Carolina defensive end Robert Quinn, who missed all of his 2010 junior season due to a suspension.
Quinn, who could project as an outside linebacker in a 3-4 scheme, also got some love from NFL Network analyst Michael Lombardi.
"I think he'll go in the top five," Lombardi said on Thursday. "I think he's one of the best defensive linemen in the draft, unfortunately he missed a year. So I could see him being the first pick overall, actually."
Woicik love
Mike Woicikwas named the Strength and Conditioning Coach of the Year and changed jobs in the same offseason. With his contract having run out with New England, Woicik returned to the Cowboys, where he helped the team win three Super Bowls in the 1990s. At that time he worked with then backup quarterback Jason Garrett, who's now the team's head coach.
"Mike Woicik is an outstanding football coach," Garrett said of adding Woicik to his staff. "Again, I had the good fortune of playing for coach Woicik in the '90s for some of those Super Bowl teams with the Cowboys and his track record speaks for itself. He won three Super Bowl rings with the Cowboys then turned around and won three more with New England. It ain't by accident. He contributes to those teams. You ask guys who were part of the team I was a part of in the '90s, his role in their development individually, his role in our development as a football team was significant.
"Again, he's a good friend. He's remained a good friend. We're fortunate we do have him as our strength and conditioning coach."
Ready to stock upDespite finishing the with the best regular season record in the NFL last fall the Patriots are well positioned to add to an already successful roster with six picks in that first three rounds of April's draft, including three in the first 33 overall selections. Those picks came thanks to Belichick's ability to work trades, especially in previous drafts, as he amassed even more future picks.
It's just one of the many skills that impresses Dimitroff in regards to New England's personnel department.
"Bill Belichick and his regime never cease to amaze and surprise me at so many levels," Dimitroff said. "When you turn around they are getting more draft picks and moving players. A new player will come in and it's the idea the bucket in the water and pulling out the hand. He's been magical in doing that over the years."
A worry-free philosophy
Lost in some of Rex Ryan'sbluster and all the antics that surround the Jets is the fact that, Vernon Gholston disaster aside, the team has done a pretty good job in recent years in its drafting. Most of that credit has to go to GM Mike Tannenbaum. In stark contrast to what the Patriots seem to do in most drafts in trading down to maximize picks, New York has often traded up to get players it targets such as Mark Sanchez, Darrelle Revis and David Harris.
"Philosophically, I am quality over quantity as it relates to the draft," Tannenbaum said.
Oh yeah, and in case you missed it Ryan was his usual entertaining and bombastic self at his Combine press conference, starting by laying down the gantlet for the rest of the NFL in 2011.
"I believe this is the year that we're going to win the Super Bowl," Ryan said. "And the fact is I thought we'd win it the first two years, I guarantee we'll win it this year."
Ryan, who mentioned a number of times that the entire Jets organization and fan base was going to "lock arms" to make his guarantee come true, clearly isn't afraid to put himself on the line.
"Why would you put yourself out there? Why? Because I believe, I believe we will be the team that wins it period, plain and simple," Ryan said. "I'm not afraid to stand up here and say we're going to get it done. It's not just going to be because of my efforts, it's going to be from our team's efforts, our fans' efforts, our organization's efforts, that's why. And I know we're committed."
Some might question after yet another must-see press conference whether Ryan is committed or should be committed. Regardless, after reaching the AFC title game in each of his first two years in New York the head coach is certain he'll be able to lead the Jets to the next step in 2011, a season which will end in the very same place it's beginning with the Combine – at Lucas Oil Stadium in Indy for Super Bowl XLVI.
Lockout plansWhile NFL coaches and GMs can't talk about the pending lockout or current CBA negotiations, the prospects are under no such gag order. As such many have been asked for their thoughts about the possibility of having no team to actually go to after hearing their name called on draft weekend.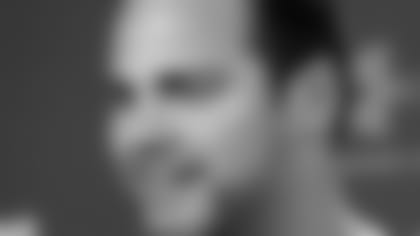 Wisconsin tackle Gabe Carimi, a potential first-round pick, has a pretty simple plan if there is a lockout: "Don't spend money."
Montana State tackle Mike Person, on the other end of the spectrum and just trying carve out a name for himself, sees the irony of the opportunity of a lifetime potentially being delayed by a lockout.
"I try not to think about it, but obviously it's in the back of my head because it's … the one thing I tell all my friends, of course the year that I'm eligible for the draft there might be a lockout," Person said. "But I try not to think about it too much and just take it day by day, watch the NFL Network and see if there is any more news."
Notes and QuotesBelichick was spotted leaving a league meeting Thursday night that gave the coaches and top decision makers on all 32 teams some logistical information has to how the new league year will be run in light of the labor uncertainty. Belichick did not speak with reporters. … Ryan clearly defers to Tannenbaum on personnel and draft matters, so much so that he wasn't even sure which pick New York had in the first round come April. "And we know we're picking -- I don't know where we're picking – I think we're picking 30th or something like that." … Person hails from a small town in Montana that he calls "a different world," a land where they only recently were forced by the Federal government into having speed limits. … The physical workouts began for players on Friday and run through Monday. As always there will be a huge focus on 40 times, especially for any of the skill position players. But too much focus on timed speed can be a dangerous game to play. "There's two types (of speed)," Lombardi said, "the playing speed and I think there's can a guy run fast on tape and can he run fast at the combine? And there's a lot of guys that run fast at the combine that they don't run fast on tape. And that's the problem." … Former Jets and Patriots safety Victor Green has been working the Combine in a media role for Class Act sports. … According to the Boston Herald, now former Patriots safeties coach Corwin Brown actually told players last September that "he thought he may lose his job and that the Patriots didn't believe in him." … Heisman Trophy winner and self proclaimed future "icon" Cam Newton did not meet with the media on Friday with the other quarterbacks, but may do so on Saturday. The regularly scheduled interviews on Saturday will be with defensive linemen and linebackers. … The first drills of the Combine will begin on Saturday with the offensive linemen hitting the field inside Lucas Oil Stadium.