Various media reports have categorized Tom Brady's contract situation as anywhere from dire to inevitable. After hearing directly from the source on the topic for the first time this summer, the correct assessment likely falls in between.
Brady answered about 13 minutes of questions this morning, a vast majority of which dealt with his contract and pending unrestricted free agency. Since this is the first time he's been this close to hitting the open market in his 11-year career, the topic is tops on the team's attention meter at the moment.
As is normally the case with the smooth quarterback, Brady handled the situation as well as he usually deals with opposing defenses – that is to say, with relative ease. He showcased his trademark smile, and his new, longer than normal Justin Bieber-styled mop of hair, while taking each question and answering them all intelligently.
He put many fears of a possible departure to rest, trying to keep the focus on working hard and at one point even mentioning that he's "hoping to earn" a job. But he did not classify his return as inevitable and kept his feelings on the situation to himself.
"Coach doesn't like us talking about [contracts] a whole lot," Brady began. "Nobody here can solve it other than myself and the team. I'm in a position that a lot of guys are around the league – I'm under contract and it's my responsibility to come and play as hard as I can. That's what I love to do anyway. I have a job, that's important to realize, too. It's an interesting time in the world and I'm glad I get to do something I love.
Everyone [hates when] spoiled athletes are bitching about making millions of dollars. Everyone works hard to make a living for themselves and I certainly don't think we have much to gripe about. We love what we do – most of us. I enjoy coming out playing and that's where I get a lot of enjoyment in my life."
Brady went on to say how much he values playing for the Patriots, calling Bill Belichick the "best coach in the history of the league" and describing his relationship with Chairman and CEO Robert Kraftas "great."
"I'm not into playing games. I just want to come out here and do the best I can do," Brady said. "Whether you make a dollar playing or millions of dollars like we do make – I really enjoy playing quarterback for this team and I have since the day I stepped on the field. It's something I relish. Every year is an opportunity … you don't get these opportunities back. I want to play another 10 years, hopefully. Each year is an opportunity to accomplish something pretty special and I don't want anything to get in the way of that."
But when Brady was asked about his thoughts on the situation and whether or not he expected to finish his career as a Patriot, he was less forthcoming.
"My personal feelings are my personal feelings and I don't want to express them with anybody other than a very few people because it doesn't do any good, it doesn't help this team, it doesn't help the organization. It just really gets in the way," he said. "Everybody's situation is different, I'm only commenting on my situation. Everybody has to do what works for them. There are a lot of guys that are restricted free agents based on the CBA this year and it's very different for different guys. I have to do what comfortable for me."
"Certainly that's everybody's goal," Brady continued when asked about retiring as a Patriot. "That was Troy Brown's goal. That was Tedy Bruschi's goal. At the same time I know that I'm playing this year, hopefully, we still have five weeks before final cuts so it's my responsibility to come out and earn a job and that's where my focus is."
Brady could have continued his praise when asked to express his feelings on the situation, but instead chose to keep them to himself. If he felt like his contract were close to being resolved, it's had to imagine that not doing the team or organization any good, as he put it. But for whatever reason he chose to keep those thoughts private.
In any regard, it's clear from listening to the three-time Super Bowl champ that the fire to compete still burns bright and he doesn't expect anything to change in that regard.
"I like to think I have a little more mental toughness than letting anything become a distraction," Brady said. "Nothing outside when I walk out to this field ends up being a distraction. We all have different stuff in our loves, some more challenging than others. As a leader on this team you put the things off the field behind you and come out here with a good attitude and show good leadership."
Brady was also asked about Logan Mankinsand his teammate's absence as the guard tries to earn a contract extension, and the quarterback had some kind words for one of his chief protectors.
"Logan has been a great player for this team and a great representative of the organization," Brady said. "He's a great player. We miss him, there's no doubt. He's a good friend of all the guys on this team. He's got a lot of fans in the locker room. We're hoping that at some point this situation gets resolved, but in the meantime, we've got to go out there and do our job."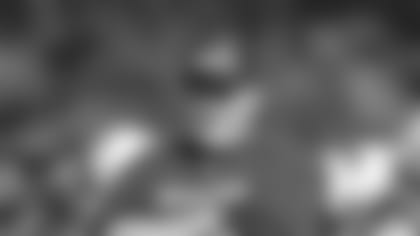 Much has been made of the Patriots back-to-back 12-player draft classes during the offseason and the potential impact so many young players may have on the team's immediate future. Bill Belichick wasn't quite ready to anoint any of the 24 players – or anybody else for that matter – with a role.
"That's what training camp is for," the coach said. "I'm not sure how much we can count on anybody. That's what training camp is for. Every year is a new year. It's a clean slate for all of us. We all have to go out and reestablish our level of performance, whether it's players, coaches, whoever it is. It doesn't make any difference. It all starts back at square one and part of that was in the spring, but now a bigger part of that is in training camp and preseason. I don't take anything for granted and I have the same expectations for myself that I do for everybody else, and that's that we all have a lot of work to do, including me."
One member who missed the opening day of work returned to action as wide receiver/special teams captain Sam Aiken was back in uniform. Aiken took reps at receiver while also serving as one of the wings on the punt team, which is a change from last year when his role on the unit was the punt protector inside. Patrick Chunglined up in that capacity on Friday morning.
Other than Aiken the news was bad on the injury front. Matthew Slater, Bret Lockettand Thomas Clayton, each of whom was nicked up during Thursday afternoon's workout, all missed practice. Lockett and Clayton were on the field in sweats while Slater was not spotted.
Wes Welker continued his morning routine from Thursday working out with trainers on the field throughout the practice. Meanwhile, Derrick Burgess was placed on the reserve/did not report list as he evidently continues to mull his retirement. Also, Ron Bracejoined Darnell Jenkinson the non-football injury list and remained out of action, and Mankins remains out of the picture.
One day after answering questions about playing guard, Nick Kaczur, the manned Belichick has initially tabbed as Mankins' replacement, did not finish practice. He was replaced for much of the day by Dan Connollyat left guard. Kaczur was on the field to start the morning but was not with the rest of the linemen as the team periods of practice unfolded later in the workout. Also, Mark LeVoirsplit reps with Sebastian Vollmerat right tackle fairly regularly throughout the morning.
Who's hot: Brandon Tate – The young receiver has made some dazzling catches already and now must focus on consistency. He made a tough grab of a low pass from Brady when he reached down to his ankles to snare the ball on a deep out during an early drill. He also returned punts without incident and show nice explosion doing so. But he did have a bad drop along the sideline during team work later in practice.
Who's not: The offense –For the second straight day the offense could not punch the ball in on the goal line during some spirited play late in practice.Laurence Maroneygot the call on both plays and didn't come close either time, although he could hardly be faulted given the lack of running room. The unit was forced to do a lap after practice, presumably a result of their red-zone failures.
Play of the day (AM): Young linebacker Tyrone McKenziewas the main reason Maroney didn't find paydirt on his first attempt. Running off right tackle, Maroney tried to turn it up with a decisive cut around the 2 but was belted by McKenzie, who pop could be heard throughout Foxborough. It was a hit reminiscent of Ted Johnson's heyday and easily the highlight of the morning.
Although it did not appear to be serious, defensive end Ty Warrenspent some time with trainers in between the practice fields midway through the workout. Trainers were stretching Warren's right leg but it was unclear what any potential injury may be. … Rookie linebacker Dane Fletchermade a nice athletic play to deflect a Brian Hoyerpass intended for Julian Edelmandeep down the left seam. … One early camp observation: the quarterbacks all seem to be much improved on their play action fakes. Each has executed several nice ones thus far. … The defense had an interesting twist during the morning with Vince Wilfork sliding to right end and Gerard Warren manning the nose. Wilfork also lined up in the gap between the guard and tackle on occasion rather than the tradition two-gap spot head up on the tackle. … Pierre Woodsreplaced Rob Ninkovichat outside linebacker for much of the morning. … Zoltan Meskoshowed some improvement over his performance during spring OTAs but still needs to be more consistent. In two separate sets of six punts he mixed in a pair of shanks among his 12 kicks. He seems to struggle when trying to direct the ball toward the sideline, which is where three of the four mishits wound up. … Chad O'Sheahas added some wrinkles to the wide receiver drills at the start of practice. Yesterday we saw him use a dummy to shield the wideout's vision near the sideline, which made it tough for them to secure the ball and get their feet in bounds. Today he had one receiver cross in front of the intended target to block the vision. Randy Mossmade life particularly difficult for his teammates when he served as the shield. … Coaches brought out the medicine ball to help defensive backs and linebacker avoid cut blocks during a drill at the start of practice. … Aaron Hernandezran a lap for a false start penalty, and Brady and Ryan Wendellwere forced to hit the road when they couldn't execute a snap. … The Patriots resume their double sessions on Saturday with practices set to run from 9:30 a.m.-11:15 a.m. and 3:45 p.m.-5:30 p.m.