Patriots quarterback Tom Brady scrambles during practice.


Another single-session workout for the Patriots on Wednesday, as training camp winds down. There was quite an exciting end to the day, as you'll read about shortly.
After practice, QB Tom Bradymade only his second visit with the media to discuss a number of topics. For one, Brady acknowledged that he will see his first game action of the preseason this weekend in Tampa Bay.
"It will be nice to be out there and play a little bit and see if we can make some improvements from last week. Coach has been pretty tough on us and wants us to make these improvements quickly. Tampa Bay is a great test too because they are very well coached. They present different challenges as a team. We have our work cut out for us."
Brady then said he's not concerned at this point about the injuries that have taken their toll on his offensive line. The offense has experimented with several combinations at the position so far this summer, with varied results.
"No, I don't have any concerns," Brady declared. "I know they are working hard to get back. The guys that are in now I have a lot of confidence in. They are guys who have played. Billy [Yates] has played. Wes [Britt] has played. [Nick] Kaczurhas played. They are going to be fine."
Another difference from a year ago is that Brady and his top receivers, Randy Mossand Wes Welker, have an entire season's experience in the system working with Brady. The QB acknowledged that that aspect has helped the offense make progress much quicker this year.
"I think in ways we are very far ahead of where we were last year. We know what we can do. It's not about getting lined up in the formation and running the play, now it's about getting into a better play if the play we called in the huddle isn't the one we like the best when we line up on the field.
"Those guys can adjust because they know the signals and routes. They know how we want to run. They know the techniques of the defensive backs. I feel like from day one we were way ahead of last year. I hope that shows up when we start playing the regular season."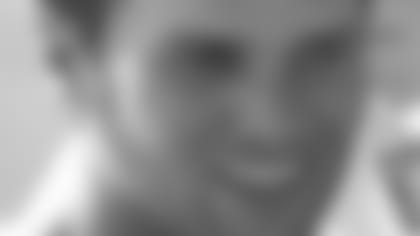 Brady also shared his thoughts on the new-look AFC East, the New York Jets in particular.
"The Jets have made a lot of moves. They are a tough team. Miami has made improvements. Buffalo has made improvements. Anytime you add a guy like Brett Farveto a team it definitely never hurts. When the Jets come up I am sure they will present plenty of their own challenges."
Finally, Brady was asked about his comfort level here in New England, the place where he's played his entire NFL career. In his response, Number 12 played to his audience and got a good laugh out of the assembled reporters and photographers.
"I love being here and I love being a part of this team. It is a great situation. I have a great head coach, great coaches, great ownership and it is a great place to be - great media. Doesn't get any better than this does it?
Who's Hot
DB/WR Ray Ventrone
He made several impressive catches throughout practice (see Play of the Day), while subbing in as a defensive back from time to time as well.
Who's Not
TE David Thomas
After a good practice on Tuesday, Thomas had a tough day Wednesday, dropping several easy passes against no coverage.
Play of the Day
Ventrone catch
During 11-on-11 play, QB Matt Cassel threw a short pass to the left sideline, about 10 yards downfield. Ventrone had to jump high to make the catch. As soon as he grabbed the ball, he was hit up top by DB Brandon Meriweather, and low by rookie LB Jerod Mayo. But Ventrone came down with the ball, much to the delight of the capacity crowd, which roared in approval.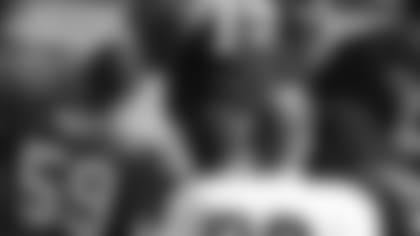 For every penalty, there is often a reward. A perfect example came at the end of Wednesday's practice. NT Vince Wilforkwas asked to catch a punt, with the caveat that he do so while holding two other footballs in his arms. Wilfork miraculously made the play.
As a bonus, head coach Bill Belichickgave the entire team the night off from meetings, film study, and other football-related duties.
"Vince has been our go-to-guy on that for a few years," Brady said afterwards. "Coach threw us a bone and it doesn't happen too often. We have nothing tonight so everybody gets to go home and sleep in a little bit. Everybody is very excited now."
DB Antwain Spannand DL Mike Wright, both of whom missed Tuesday's workout, were back in full pads on Wednesday.
Those not there, however, included QB Matt Gutierrez, WR Kelley Washington, CB Jason Webster, CBJonathan Wilhite, DB Lewis Sanders, RB LaMont Jordan, CB Mike Richardson, S Rodney Harrison, RB Kyle Eckel, G Stephen Neal, T Ryan O'Callaghan, T Oliver Ross, OL Russ Hochstein, T Matt Light, OL Barry Stokes, TE Stephen Spach, WR Sam Aiken, DL Le Kevin Smith, DL Richard Seymour, and LB Adalius Thomas.
During full squad scrimmaging, Brady connected with WR Randy Moss on a deep crossing pattern downfield. Shortly thereafter, he couldn't quite hook up with WR Chad Jackson, who appeared to run the wrong route as the ball sailed past him and he looked back for it a little late.
In goal line work, Brady again found Moss, this time for a touchdown. The scenario was fourth and goal from the 7. Moss was flanked wide, but cut across the back of the end zone, with CB Fernando Bryanttrailing in coverage. Brady saw his open man and fired a pass just underneath the crossbar. Moss leapt and caught the pass, then came down with both feet in bounds to complete the scoring play. LB Mike Vrabelwas also forced to take a lap for committing an on-field mistake on another play.
Later, in more 11-on-11 action, TE Marcus Pollardjumped offside and was forced to run a penalty lap. On the very next play, Moss and T Wesley Britt moved early. Both players immediately took off running around the field.
Newcomer Jeff Shoatenearly picked off Brady in the end zone. Brady's pass was intended for TE Benjamin Watson, who was covered by Meriweather. Shoate jumped in front of them but couldn't hold on to the ball.
Earlier, in 7-on-7 drills, rookie QB Kevin O'Connellgot several more reps than usual, perhaps due to the absence of fellow signal-caller Matt Gutierrez.