Working new receivers into the offense has become old hat for Tom Bradyand the Patriots.
In 2006, it was Reche Caldwelland Jabar Gaffney. The following year, Randy Moss, Wes Welker, and Donté Stallworthcame aboard. Veterans all.
This year, two new veterans join the staff – Joey Gallowayand Greg Lewis– but a pair of rookies – Julian Edlemanand Terrence Nunn – have been making some significant contributions as well.
Not only is it imperative for new receivers to learn their new offense, more importantly, perhaps, is the need for them to calibrate their timing with their quarterback. That process is not always smooth or quick. It can take months. In other cases (see Moss, Welker in '07) it can happen almost instantly.
So, what's the story this year with Brady and the new guys?
"That's a great question," Brady began when asked that on Tuesday. "It's something that is challenging because you always want to pick up where you left off, and the reality is, you never do. Because there are so many different elements to the team: coaches, players, different plays, strategies. This year is certainly no different."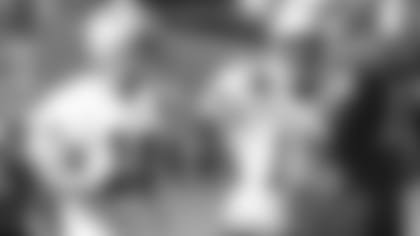 ]()In some ways, Brady pointed out, there is a need for some regression in what had been established the season before in order for a better foundation to be built for the upcoming year. That seems to have been the case, according to Brady, until recently.
"And now we're going into the game plan mode of sorting out what we're trying to do each week with the different opponents, and trying to get our guys in the best position," Brady explained.
"The learning now takes a different phase. You're not really in the mini-camp, training camp learning phase of, 'OK, this is the base offense.' Now you're going to strategy. Hopefully, we've been a strong enough foundation to make changes throughout the year and grow as a team while incorporating those new guys into what we're doing."
Brady believes he and his receivers, as a whole, have had a productive preseason thus far. Though he quickly added that they all (himself included) have plenty of work to do to be ready for that opener in Week 1. Friday's preseason game in Washington, Brady said, will be a telling test for his offense.
Given that there is so much to learn and so many new players to integrate into the offense, is this group of receivers ahead of, behind, or right on schedule with their development? Brady was reluctant to make that evaluation or to compare this year's corps to any other he's working with in recent years.
"It's hard to say because … everybody's different, every team is different, every year is different. It's unfair, I think, to put the expectations of previous teams on this team. This team is going to learn at its own pace. Its identity is going to be established in its own way based on what we end up being good at. The guys have been working hard, I know that. We've got some really veteran football players who've been working hard and who understand the commitment it's going to take.
"We're probably like any other team," Brady concluded. "Plenty of good things, plenty of bad things. We've gotta try to eliminate those bad things before we take the field for the opener.
Bruschi predicts playmaking from LBs
On the other side of the football, there are several new and young players trying to work their way into the lineup at linebacker. That means 14-year veteran Tedy Bruschihas been relegated to more of a secondary role at that position. He was asked about that fact in the locker room before Tuesday's practice, and whether or not it feels odd to him after having started most of his career in New England.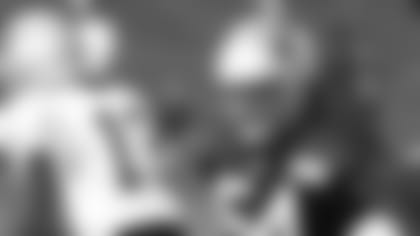 ]()"I've been with every unit in my career," he pointed out. "I mean, maybe it'd be different if I came in as a number one overall pick and that's what I'd been my entire career. But I came in having to work my way in. So, I know what it's like, whether you play every down, or just first and second down, or you play special teams … I know what all those roles are like, and I'm used to them, and that helps."
Bruschi went on to say that his approach to the game remains the same.
"Just be ready when your coach calls on you."
Finally, he gave his assessment of the progress of the linebackers as a unit to this point in the preseason.
"So far so good," Bruschi declared. "We're making progress from week to week. Right now, it's not September or October, so, you can't tell too much, but for the four weeks we've had in training camp, I think the fans can look forward to seeing linebackers making a lot of plays."
Tuesday locker room/practice notes
OL Russ Hochsteinwas seen dressing for practice during the media's locker room period Tuesday. However, he wasn't on the field for practice. Word came through external media sources shortly thereafter that Hochstein had been traded to Denver for a late-round draft pick. No official word from the Patriots as of 2 p.m. Eastern.
Good news, however, as LB Paris Lenonwas back on the field for the first time in weeks. Joining him were OL Dan Connollyand S Brandon McGowan, who missed Monday's outing, and rookie QB Brian Hoyer, who'd been out of commission since late in the Cincinnati game last Thursday.
On the down side, WR Wes Welker, DL Ron Brace, WR Ray Ventrone, and DB/LB Tank Williamswere not present for the first 20 minutes of practice.
Also missing from action were WR Julian Edelman, WR Brandon Tate(NFI list), CB Shawn Springs, RB Kevin Faulk, RB Sammy Morris, OL Mark LeVoir(PUP), DL Myron Pryor, and LB Shawn Crable.
CB Jonathan Wilhitecontinues to wear the red, no-contact jersey, but is otherwise in full pads.
For the second time this preseason, the Patriots put their rookies through some good, clean hazing. Again, the veterans and coaches soaked down the far left-hand corner of the practice field and forced the new guys to dive after a football while being hosed down. Actually, it might've been a good day for this, with temps in the mid-80s and a hot sun beating down on the players.