"I had a little trouble with the scissors."
The title character uttered those famous words after a costume mishap in the Halloween cartoon classic "It's the Great Pumpkin, Charlie Brown."
Tom Brady can relate, although it looks like nothing ever happened to him.
Brady was back at practice Tuesday, throwing the football as effortlessly as ever – no sign of or ill effects whatsoever from the minor laceration he gave his right thumb last week, just minutes before he was supposed to take the field for the preseason game against Chicago.
"Just a silly accident" was how the Patriots quarterback characterized it.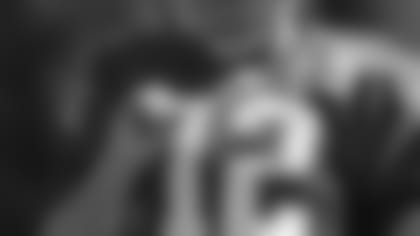 "Yeah, I was just ready to go, had [my uniform] on. I was just trying to get something out of my shoe and the scissors slipped... I let out probably a pretty loud word I wouldn't repeat in front of my kids. I couldn't believe it. I just went and got checked out. 
"It took a few days [to heal]. I wanted to go [play] and Coach [Bill Belichick] said it's probably best, for what I was going to go out and do, if we just take it easy. So that's what I ended up doing."
Brady actually left Gillette Stadium entirely that night, but insists he could have toughed it out had the game been a regular season or playoff affair.
Meanwhile, TB12 was excused from practice the past two days for what Belichick described as a personal matter for Brady. Those absences were apparently unrelated to the previous incident, but Brady did not elaborate upon his return Tuesday.
"I just had to take care of something," he maintained, "so it's good to be back with the team. I missed everybody, so just getting caught up on everything. It's a big week for us, going to Carolina and just kind of cramming a lot of things in today so I can be ready for practice, but I feel good."
The QB did not appear in the preseason opener versus New Orleans two weeks ago, again for personal reasons, but he sounds eager to take at least some snaps on Friday when the Patriots travel to Charlotte for an exhibition contest against the 2015 NFC Champion Panthers.
"Yeah, absolutely. I'd like to be out there every time I get a chance to play. You only get so many opportunities a year. I've only got so many opportunities left in my life, so I'd like to take advantage of any opportunity, any and all of them if possible. When you see your teammates out there in their uniforms and ready to go, you want to be out there with them.
"I wish I could have played [against Chicago]," he added. "I've been missing playing and I want to get out there with my teammates. I feel like that's what my job is and responsibility is to go out there and be with my team, so it was tough not to be out there."
Brady wouldn't commit, though, when asked if he's been told he'll play at all on Friday.
"I'm always prepared to go," he smiled, "so whenever my number is called I'll be ready.
"There's only one time I've ever missed for injury, and I wanted to go back and play that year, too [in 2008]. I think that's just, I've always felt like the team is counting on me to be out there, and I'm going to do everything I can to be out there playing. I wanted to go the other night, but I think Coach [Belichick] made a great decision."
(Roster) Cuts Continue
Walking papers continue to be issued to Patriots players in advance of next week's first mandatory round of roster reductions. Three more players were let go Tuesday, all of them veterans: running back Donald Brown (injury settlement), cornerback E.J. Biggers, and defensive lineman Frank Kearse.
Brown suffered an apparent hamstring injury early in training camp and hadn't appeared in either preseason contest.
"He hasn't been available for a while. Yeah, it's unfortunate," Belichick remarked before practice. "He worked hard; he's a really good kid. We just never really got the chance to see him."
It's possible the Patriots could trim their roster even further before next Tuesday's first deadline.
"We may release players before that cut down," Belichick acknowledged. "We could acquire a player, or two, or whatever if the situation was right. I really don't know what's going to happen. It's not like I have five roster moves waiting back there in the office that are about to happen. That's definitely not the case. But look, it could be in 10 minutes, I don't know, or it could not be."
Sheard Showed Up
According to a Boston Herald report, defensive end Jabaal Sheard is dealing with a sprained medial collateral ligament (MCL) in his right knee – an injury that could keep him out of game action for a bit longer. He sustained the injury during the preseason opener versus New Orleans, which puts Sheard's availability for the season opener at Arizona in some doubt, although he, too, was finally back at practice Tuesday.
Sheard hadn't been able to suit up since he incurred the injury in the preseason opener versus the Saints. The veteran was in full pads with the rest of his teammates, but retreated to the lower practice fields after team stretching period to focus on conditioning running and other rehabilitation exercises.
Practice Report
Brady wasn't the only Patriot returning to the practice field Tuesday. Safety Patrick Chung and tackle Cameron Fleming, both of whom were not on the field Monday, were seen taking part actively in position and group drills at the start of Tuesday's session.
Several other Patriots – DEs Rob Ninkovich (torn triceps muscle) and Shea McClellin, WRs Danny Amendola and rookie Malcolm Mitchell (left elbow), and guard Tre' Jackson – joined Sheard on the lower practice field for conditioning and rehabilitation work.
There was still no sign at all of tight end Rob Gronkowski (lower body), right tackle Sebastian Vollmer (hip), running back Dion Lewis (left knee), defensive tackle Alan Branch (reported team suspension), and guards Jonathan Cooper and Shaq Mason. Gronkowski, though, has been spotted each of the past few days strolling through the locker room. He even joked briefly with reporters today.