Stories about Tom Brady's rehab have flucutated more than the Dow Jones in recent months. Ever since the Patriots quarterback went down with a serious knee injury in the season opener, there has been speculation about his recovery and potential availability going forward. But little if any of that has come from the man himself – until today.
Appearing at a charity event arranged through the Patriots Charitable Foundation at the West End House Boys & Girls Club in Allston, Mass., where he donated 1,000 laptops to One Laptop per Child which will be distributed to 31 countries world wide, Brady reported that he's on schedule to return for the 2009 season.
"I'm feeling great. I'm feeling really good. Everything is progressing just as I expected," Brady said. "There is a lot of hard work that needs to take place, by myself, by my teammates, by our coaches, to get us back to where we want to be."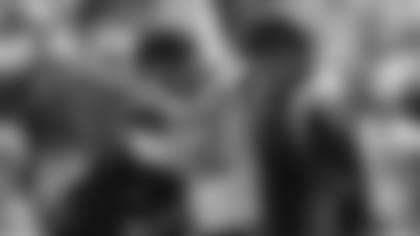 ]()Several reports with varying information have appeared over the past several weeks. During the latter portion of the season, several stories indicated Brady suffered an infection and thus had his rehab schedule affected. The quarterback himself confirmed those reports on his personal website, Tombrady.com.
Other reports indicated his return from the surgery to repair the ACL and MCL in his left knee wasn't going as well as planned and perhaps additional work would need to be done. When asked if there had been a setback, Brady only referenced the original problem with the infection.
"I think initially I said there was," Brady responded. "Since then (the infection), there has been nothing. Just working hard on my rehab. There is not much to say when you're not playing. I'm just trying to focus on what I need to focus on – get stronger, and mentally stronger, so I can go out and try to perform as best as I can next year."
Brady said he was throwing and working out in Foxborough but wouldn't speculate on his potential availablility for organized training activities, minicamps and training camp.
"You know, Bill never likes us to forecast anything," he said. "It's like me asking you guys 'Are you going to be doing your job in eight months?' Yeah, you certainly think so. There is no reason why I shouldn't.
"It's just a matter of getting to that time. I wish it was right around the corner. I wish it was here now. It's not, but the competitor in me has to sit back and wait and continue to work and try to get stronger. We have to build a foundation as a team. There have been a lot of changes. Along with guys who have had surgery and are improving, there are coaches there who have to learn our system. There are a lot of things that have to take place."
Brady added that he was doing "everything" he needed to do at this point in the offseason and wasn't limited. He even said was golfing. When asked hypothetically if he'd be ready to start training camp if it opened today, the quarterback said he would be willing but wasn't sure how the medical staff would feel about it.
"I'd be ready, but I don't know if my trainer would [feel that way]," Brady said. "I was out there working out yesterday with him, and he feels great, and I feel great. I was out there with Billy O'Brien, our quarterback coach, and we're doing our work. It's hard to say – I've never been through anything like this. But those things happen. You play long enough in this game, you get injured, you focus on your rehab and you move on. There are a lot of guys on this team who have surgery – or you don't have surgery but you're dinged up and need other types of rehab. You just go forward as best you can."