It's been more than a year and a half since Tom Bradylast played in a game that counted. But the Patriots quarterback claims he isn't treating Monday night's season-opener against the Buffalo Bills any differently.
"A lot of those first-game jitters are gone," he said Wednesday. "It's a regular season football game. It's going to be fun for all of us to get out there."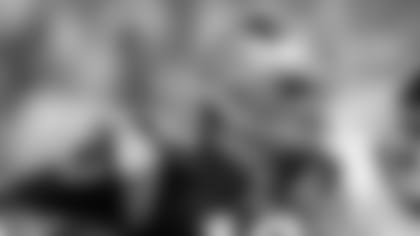 ]()Part of the reason for his cool attitude is that he's had plenty of opportunities to play this preseason.
"I'm very happy I was able to participate in the preseason this year," he continued. "That was really important, to be out there and play and have a feel for the team. A lot of those things that come up in a game don't come up in practice. All those games are important.
"I feel great about where we're at as a team. Personally, I'm excited like all the guys are excited. I've played a lot of games, so, it's not like it's the first game of my rookie season. I think there's just an excitement about the new season and seeing what kind of team we have, what kind of offense we have, what kind of character we have."
There's been no shortage of surprises over the past week with cuts and roster moves. Brady was asked about the fact that the Patriots kept just one backup quarterback (rookie Brian Hoyer) and 10 offensive linemen.
"I don't think about that at all," he insisted. "I don't have any control over what offensive linemen we keep or how many quarterbacks. The guys who are on the team deserve to be on the team. They've worked hard and have earned a spot. Coach Belichick obviously feels they can contribute in some form. Hopefully, ten guys don't play in this game on the offensive line, but at some point, we'll probably need all of them."
In the meantime, Brady is focused on the Week 1 match-up with Buffalo.
"All the players are excited, I can assure you of that. I think we've made the improvements we needed to make over the last month. But this is where the test comes. It's really a long journey. It's always exciting to play on Monday night, division rival, a team you have a lot of respect for. Hopefully we'll go out and play our best."
Wright place, Wright time
Mike Wright hasn't had a chance to speak directly with his former teammate, Richard Seymour, but Wright said Wednesday he wishes Seymour the best with his new team, the Oakland Raiders.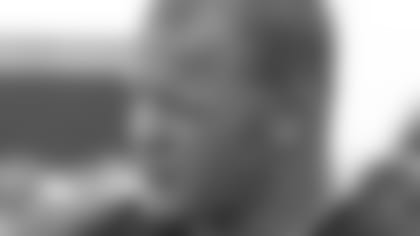 ]()At the same time, with the departure of Seymour come new opportunities for veterans like Wright.
"I always look at it as an opportunity when somebody goes down or somebody leaves and I get a chance to step in," Wright told a gathering of reporters near his locker.
Throughout his Patriots career, Wright has filled in at every position along the d-line, which is an advantage for him. This year's roster feature two rookies at Wright's position (three if you count practice squader Darryl Richard), yet he believes all the defensive linemen will be able to contribute wherever and whenever they're asked.
"Yeah, [versatility] is good for me. Just like everybody on the line, everyone has to be able to do everything across the board, regardless of who goes down, you're going to have to step in. I've got confidence in everybody. You have to on a team like this, when you're asked to do so many different things. Whoever's in there is going to be able to go.
"Yeah, I think everybody's ready to get out there and get going with the regular season."
Wednesday locker room/practice notes
Stepping into the Patriots locker room today felt like stepping back in time. In anticipation of the season opener, which also marks the first of four AFL legacy games this season, the players had their old-school helmets and uniforms hanging in their lockers. The team's white helmets featured two red stripes down the center, a grey facemask, and an old Pat Patriot logo on either side. The offense, which normally wears white in practice, had red jerseys, while the defense, which is typically clad in blue, had white practice shirts with blue numbers.
Attendance was difficult, at least on the offensive side of the ball, because those players didn't have numbers on their jerseys or helmets. We can say with relative certainty that, on defense, the missing players included safety Matthew Slater, cornerback Terrence Wheatley, and rookie defensive lineman Myron Pryor. On offense, however, the consensus was that there were eight players who were not spotted, but we've asked our friends in the Patriots PR department to check on their status. We expect to have an injury report later today to confirm the list.
On a lighter note (pun intended), left tackle Matt Light, who often sports various styles of beard throughout the season, came into the first week of the regular season with a handlebar mustache.