TELEVISION: This week's game will be broadcast by the Patriots Preseason Television Network and can be seen in every New England state, as well as Alaska and Hawaii. The preseason network's flagship station is WBZ-TV CBS in Boston. Bob Socci provides play-by-play and is joined by former Patriots quarterback Scott Zolak in the broadcast booth. Former Patriots linebacker Rob Ninkovich will provide sideline analysis along with WBZ-TV's Steve Burton. Patriots Football Weekly's beat writers Paul Perillo and Andy Hart will also provide insight and analysis.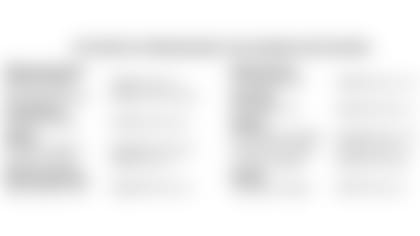 International live game streams:
RADIO: 98.5 FM, The Sports Hub, is the flagship station for the Patriots Radio Network. A complete listing of the network's 40 stations can be found **here**. Play-by-play broadcaster Dan Roche will call the action along with former Patriots linebacker Matt Chatham, who will provide color analysis. The games are produced by Marc Cappello.
DIGITAL: Patriots.com and the National Football League are once again giving fans the opportunity to follow every minute of NFL action this season. Scout the Patriots and the rest of the league like a pro with a full suite of enhanced audio and video services for your computer or mobile/tablet devices.
From Preseason to post-season, and pylon to pylon, NFL Game Pass delivers fans unprecedented access to every play of every game, all year long.
If you can't watch the game live, relive the game with full game replays in broadcast view. Or, to watch games like the pros, check out Coaches Film, which shows all 22 players on the field at once. Don't have time to watch the full game? Check out Condensed Games, where fans can watch an entire NFL game in around 45 minutes.
NFL Game Pass also provides access to:
• Live Hometown Audio- Listen to the localized radio feed of every game.
• NFL Films Archive- Relive some of the NFL's greatest moments or peek into training camp with previous seasons of NFL shows such as Hard Knocks, Sound FX, and A Football Life. Have fun binging!
• Situational Search- Seamlessly combine multiple search criteria to filter plays down to an exact in-game situation.
• Whether you're at home on your connected TV device, or you're on your PC, smartphone or tablet via NFL Mobile, you won't miss a snap.
Regardless of where you start first, there's something for every NFL fan.
PREGAME AND POSTGAME SHOWS:
Dunkin' Donuts Patriots Pre-Game Social
Join us two-hours before every Patriots game on the Patriots.com homepage for the Dunkin' Donuts Pre-Game Social online radio broadcast and fan chat. Host Rob 'Hardy' Poole is joined by Patriots Football Weekly's Paul Perillo and Andy Hart to preview all the action and get the fans take heading into each game. The broadcast is also available on the Patriots official apps for iOS and Android.
Immediately after the game host Rob 'Hardy' Poole from 98.5 The Sports Hub returns with PFW's Paul Perillo and Andy Hart to break down all the action. You'll hear live press conferences, exclusive player interviews and more. on the Patriots Postgame Show exclusively on Patriots.com Radio and the official apps for iOS and Android.
Kirsch Words In-Game Live Blog
Join us on the homepage of Patriots.com during the game as PFW's Fred Kirsch offers his live commentary on all the action. Plus, get live stats, score updates, highlights and more.