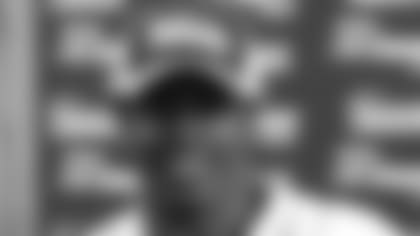 ]()In the high-priced world of professional sports, athletes are constantly faced with multi-million dollar decisions. Luckily for Troy Brown, he had some emotional support when it came time to make his next career move. Brown's 6-year-old son, Sir'mon, ultimately made his decision to return to New England for him.
"He just said, 'No daddy, I don't want you to go anywhere. I want you to play for the Patriots,'" Brown said with a smile during his afternoon press conference at Gillette Stadium. "I'm an emotional guy and that kind of stuff gets to me. Just hearing him saying that … those are the things that helped me decide."
Brown, who donned his white No. 80 practice jersey as he took the podium, laughed at an impromptu question before the session began wondering if he was coming from an offensive meeting or a defensive meeting. Brown simply pointed to his shirt and said, "white," which indicates offense.
The 33-year-old veteran officially returned to the Patriots for his 13th season when he agreed to a reported one-year deal, which was announced by the team Monday afternoon. Bill Belichick had mentioned the wideout several times during his many offseason speaking engagements, often citing him as the epitome of the Patriots famous team philosophy. That, coupled with the fact that Brown's locker had remained pretty much in tact save for a couple of pair of shoes he joked may have been swiped by Deion Branch, made his return predictable.
"In this era, it is very unusual for a player to remain with one team for as long as Troy's career as a Patriot," Belichick said in a statement released by the team. "Troy Brown is a special player and person and we are glad to have him back."
Brown confirmed various reports that had New Orleans strongly in the running for his services. He indicated the Saints offered more money and the chance to be the No. 3 receiver – neither of which are guarantees in New England. Still, his desire to remain in the only professional home he has known eventually won out.
"The Saints situation was better for me playing-wise," Brown said. "They wanted me to come in and basically give me the third receiver job. It was a situation where I had to think about where I was in my career, and what I was looking for. The Saints made it really hard for me. (Head Coach) Jim Haslett called me several times and the offensive coordinator (Mike Sheppard) called me a couple times.
"But in the end, my family was happier here, and that was a big decision. I talked to Tom [Brady] a couple of times and he wanted me back here. Just all the relationships I have around Boston, it was just something I wasn't willing to give up. This is basically like home for me. It's kind of hard to leave."
While Brown gave much of the credit to Sir'mon for helping choose between New Orleans and New England, he added his youngest son, SaanJay, to the mix, saying the 4-year-old "would want to jump on the bandwagon" and would be disappointed if he wasn't included in various stories.
For more on Brown's return, check out Wednesday's edition of "Patriots Video News" as well as the upcoming issue of Patriots Football Weekly, which is due to hit newsstands June 1.