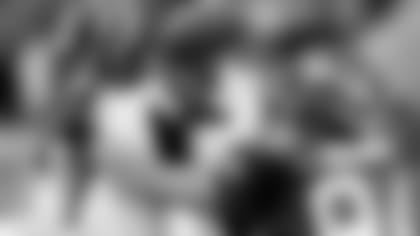 ]()Mike Vrabel has some competition. No, the Patriots playmaking outside linebacker doesn't figure to see any fewer defensive snaps in 2005 than he has in any of his previous four seasons in New England. But what about his offensive snaps at tight end? New fellow linebacker Chad Brown may have an interest in some of those.
"I've seen Patriots linebackers play tight end," Brown said this week from his Colorado home. "I think I could be a pretty good tight end."
He laughed as he said that, but the translation is basically that Brown's versatility will fit right in on a veteran linebacking corps loaded with it.
"It's an opportunity to use all my talents," Brown said when explaining why he signed with the Patriots. "I've played in a 3-4 and I've played in a 4-3. I've played end in the nickel and linebacker in the nickel. So in my conversation with Coach Belichick, I was definitely under the impression that I would get to play a few different spots and that's a role I'm comfortable in."
Brown, 34, might have been comfortable in some other NFL cities as well. After being released by the Seahawks, for whom he played eight seasons, he reached out to both the Broncos and Steelers to gauge their interest – Denver because it's near his Colorado home and Pittsburgh because it's where he started his career – before visiting New Orleans and New England. In the end, he was impressed with Bill Belichick and the stability within the Patriots organization.
"Sitting down and having a chance to speak to Coach Belichick for about and hour-and-a-half was all I needed," the 6-2, 245-pound Brown said. "Then going upstairs and talking to Scott [Pioli] and seeing those two on the same page saying exactly the same things and seeing the situation exactly the same … if the top of the organization is in agreement and headed in the same direction with everybody saying the same things, I think that lends itself to a successful organization and that was something I wanted to be a part of.
"The thing about the Patriots is that Bill Belichick called me," Brown added. "The fact that he was interested in me as a player and remembered me from his Cleveland days when I was in Pittsburgh, all those things were very flattering and let me know that he wasn't just trying to fill a slot. He was specifically interested in [me]."
Stability was something Brown lacked in Seattle where he went through four defensive coordinators during his first three seasons after signing as a free agent from Pittsburgh in 1997. All total, he said he's played for nine different defensive coordinators in 12 NFL seasons.
"In my years in Seattle, there were many attempts to fix the defense or solve the defensive problem or re-address the defense. As a player, it's really difficult to establish your skills when each year there is a different position coach and a different coordinator who thinks he knows what you do best. Some years in Seattle, a rookie would ask me a question and I'd say, 'Hey man, this is new to me too. I wish I could help you. I can tell you about last year's defense, but this one's all new to me.' So I look forward to walking in a room where only the new guys need to catch up, not everybody."
Brown, who has 78 career sacks to go with more than 1,000 tackles, figures to start off playing primarily inside in the Pats 3-4 front, although he said that Belichick did not specify any one position in their discussion. He did miss nine games last season after breaking his leg before returning and finishing the season on a high note. He reports a clean bill of health as he prepares to kick off his Patriots career.
"I feel fantastic," he said. "I actually feel fresher than I did at this point last offseason and I'm definitely stronger and in better shape than I was at this point last offseason because of my time off during the season. I'm truly ready to go."
It's easy to speculate that Brown's addition along with the move to sign Monty Beisel indicate that Tedy Bruschi will not play in 2005. That, of course, is not yet known. Bruschi has yet to make any statement regarding his health or his playing status for 2005 or beyond. It's likely that he doesn't yet know if he will be on the field this season. So while the Patriots are likely preparing for life without their star playmaking linebacker, the moves to sign Beisel and Brown do not rule out Bruschi's return.
Brown played his college football at Colorado where his career intersected Ted Johnson's. He was a second round pick of the Steelers back in 1993 and played four seasons in Pittsburgh's before signing with Seattle as a free agent. He will now likely play alongside Johnson in a rotation that also figures to include Beisel. Willie McGinest, Mike Vrabel and Rosevelt Colvin will stay in the rotation at outside linebacker.