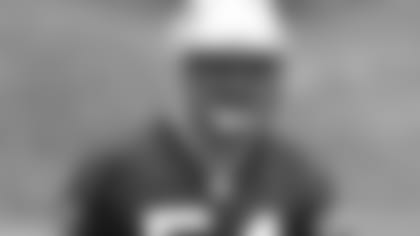 ]()Every offseason, especially in recent years, it's the same routine for Tedy Bruschi.
The Pats linebacker spends time with his family and mulls over whether or not to return to the NFL. Now in his 14th pro season, his reason for returning this year was quite simple.
"I want to keep playing," he stated matter-of-factly. "You think about it a little more once you get up in years, but it's still about loving the game and having fun doing it.
"I love being a part of this team and helping contribute any way I can to help them win because winning to me is what it's all about. Winning feels good. As many games as I can help this team win, that's my goal."
After missing last week's practice due to personal reasons, Bruschi was back on the football field for Tuesday's session here at Gillette Stadium. His presence is a welcome sight for many of his younger teammates, especially on the defensive side of the ball.
"Tedy's a great guy. He's definitely the leader on this team. He leads by example," observed defensive lineman Richard Seymour. "He's always a fun guy to have out on the field. When you see him in the front of the huddle, it's a feeling of peace and of confidence."
This year will be a bit different for Bruschi, however, as he'll be without friends and former teammates like Mike Vrabel, Larry Izzo, and perhaps Rodney Harrison, who's expected to announce his future plans this week.
"The stretch lines are a lot different. There's a lot less laughter," Bruschi acknowledged when asked about those aforementioned players. "It's changed, and you get used to it and you move on.
"Do I look around at these strange faces and say, 'What am I doing here?'" he continued with a laugh. "No, but it makes you think about things, you know. You're not going to play forever, and most players don't play for the same team forever. I've been fortunate to be here all my years. I look forward to staying here."
Bruschi added that he's looking forward as well to the continued development of the Patriots many younger linebackers.
"I see the development of Pierre Woods. You guys are seeing him out there. He's getting better. From his first day here to where he is now, he's a much better player and he's got to improve even more. Jerod Mayo? I think we all know the year he had last year. So, we've got some promising young players … Gary Guyton, also a good player. We have a lot of young linebackers who could contribute this year."
Seymour talked at length with reporters after practice, but was somewhat reluctant to discuss in detail his future with the team. It's been widely reported that he's in the final year of his current contract, but Seymour wouldn't say whether he's been in talks with the Patriots front office about an extension.
"I never talk about my personal situations publicly. But, it's a fun situation to be in. I really feel that way, especially when you can go out and play the game at a high level," he noted.
Would he be willing to return to New England?
"Oh, absolutely," he replied instantly. "You always have a chance to win [here]. Winning is important. Guys that come here say it's a college-like atmosphere. We're always well-coached, we have family guys, not a lot of riff-raff. It's just a fun environment to be in.
"But it has to be mutual and it takes two to tango," he added. "We'll let that [contract] situation play out, but all I can do is control what I can control."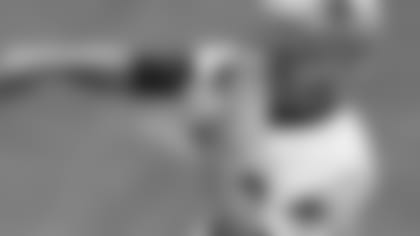 … With Bruschi and OL Al Johnsonjoining the squad, a total of 78 players took part in Tuesday's OTA – 44 on offense, 34 on defense; 13 players were absent, including WRs Tyree Barnes, Shun White, and Brandon Tate; DB Brandon Meriweather, RB Sammy Morris, CB Mike Richardson, WR/DB Ray Ventrone, LBs Jerod Mayoand Tyrone McKenzie, OL Mark LeVoir, and DLs Vince Wilfork, Ty Warren, and Jarvis Green.
… At the start of practice, punters Chris Hansonand the re-signed Tom Malonetook turns booming kicks with snappers Nathan Hodeland Jake Ingram. Malone seems to have worked on his mechanics, as his punts were much longer and more consistent than in previous outings. Hanson struggled to find a groove early, but eventually got into a good rhythm. Hodel and Ingram have both been getting the job done at long snapper. Their battle will be a fierce one come training camp.
… Later in punt coverage, WRs Wes Welkerand Joey Gallowayand RB Kevin Faulkalternated returns. On the very first kick, Welker caught the ball with his left hand while holding a second ball in his right. The next time around, Welker cradled two footballs in his right arm while making the catch with his left.
… In 11-on-11 play, rookie cornerback Darius Butlermade a nice adjustment on an underthrown ball by QB Tom Brady(who had otherwise looked very sharp compared to last week). The pass was a floater intended for WR Randy Moss, but Butler saw that it was falling short, so he abandoned Moss, who hadn't yet turned his head, and came down with the INT.
… During 7-on-7 work, TE Tyson DeVreemade another great catch, as he had done a week ago. This time, with two defenders in front of DeVree around the goal line, backup QB Kevin O'Connell fired a bullet over the heads of the defense. The 6-6 DeVree had to leap and extend his arms fully to make the grab in the end zone.
… Pats owner Robert Kraftmade an appearance on the field during the second half of Tuesday's session. He remained on the sideline for the duration of practice.