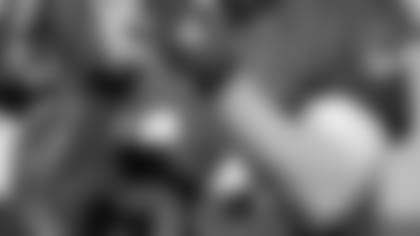 ]()There was excitement in the air. There was a little extra bounce in everyone's step. Guys were laughing and joking around. Pro Bowl linebacker and defensive leader Tedy Bruschi was returning and the mood at Gillette Stadium had changed. You could feel it.
"Its great news," defensive end Jarvis Green said. "He's been here a long time and done a lot of great things. It would be a plus for any team for a guy like that to come back."
You would be hard-pressed to find a player who disagreed with Green. The Patriots defense has really struggled so far this season. They haven't been able to pressure the quarterback, there have been too many breakdowns in the secondary and teams have been able to run right up the middle on the Patriots defense. The most alarming thing going into the bye week is the Patriots have only forced three turnovers in six games. With Bruschi's return, the team is hoping that will change.
"He has made his fair share of big plays here," linebacker Mike Vrabel said. "Game-winning and game-changing plays. So when you look at it that way, we are getting a guy who can come in and make those kind of plays and help us."
When asked how he expected Bruschi to perform in his first game back, Vrabel joked, "Probably 10-12 tackles and maybe half a sack. Seriously, Tedy is a great football player and he is going to help us get better. His presence alone is going to help us."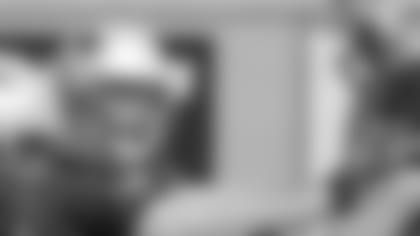 ]()Having Bruschi back in the middle of the Patriots defense is certainly a plus but he is by no means a cure-all. The Patriots have other problems on defense besides middle linebacker. Bruschi told the media on the day of his return that he is a middle linebacker and all he can do is come in and play that position to the best of his ability. The other 10 players on defense still need to do their job for the defense to be successful, something outside linebacker Rosevelt Colvin was quick to point out.
"I think Tedy is a very unique player," Colvin said. "But Tedy can't play all 11 positions. You need 10 other guys out there doing their job. If you have nine guys doing the right thing and two guys doing the wrong thing, a good offense will expose that."
Bruschi, Vrabel and Willie McGinest are a close group that has been through a lot together. Both veterans were excited to see their teammate coming back to do what he loves: play football.
"He is a big part of our linebacking crew," McGinest said. "We are just excited to have him back and have him out there playing football again, doing something he loves. I know what he brings to this team and I know what he brings to this defense and what being back means to him. He'll be back doing the same things he always has."
Vrabel was equally excited to see his fellow linebacker back in action. "I think it's awesome," he said. "I think it's great to have him back. For him to come to this decision and be with this football team really means a lot."
Neither Bruschi nor Bill Belichick would comment on whether or not he would be available for the Patriots next game against the Buffalo Bills. Both said they are going to take things day by day and make a decision when the time is right.
Another question surrounding Bruschi is if he will be able to come back and do the things he did before his stroke. It was only eight months ago he needed help walking out of the hospital. According to Vrabel and McGinest, they fully expect the hard-nosed linebacker to be the same old Tedy Bruschi once the ball is snapped.
"I think Tedy has kept himself in great shape," Vrabel said. "Just listening to what he's had to say about it, it's not something that he just decided. This is something that I'm sure has been thought about and has been planned. He'll be ready to go."
"He'll be all right," McGinest added. "Tedy is Tedy. He's going to bring his energy and his excitement and his playmaking ability. That's not going to change. We expect that from him and that's what he brings to the table."
The return of Bruschi provides hope for a defense desperately searching for answers going into their bye week. Whether or not Bruschi's return is enough to turnaround one of the worst defenses, statistically, in the NFL remains to be seen. One thing for sure is everyone on the Patriots is thrilled to have Bruschi back on the field to help the team defend their Super Bowl title.
One only needs to hear the comments made by his coach to understand what Bruschi means to the Patriots.
"It's good to have him back," Belichick said. "He has been a significant part of our team's success. I love Tedy Bruschi. I love him."
Patriots make roster movesThe Patriots re-signed receiver Andre Davis and defensive back Hank Poteat. The team also placed safety Guss Scott on injured reserve and released linebacker Wesly Mallard.
Davis was initially acquired by the Patriots in a trade with the Cleveland Browns back in August. The team released Davis on Sept. 28 but re-signed on Wednesday. While in Cleveland, Davis started 19 of 39 games and recorded 93 receptions for 1,412 yards and 13 touchdowns in three seasons.
The Patriots originally signed Poteat as a free agent on Jan. 10, 2005. The cornerback played in three playoff games for the Patriots last season. Poteat has played 42 regular-season games for the Pittsburgh Steelers and Tampa Bay Buccaneers.
NotesThe Patriots have won their last eight games coming off a bye week, including the playoffs…Tom Brady is on pace to throw for 4,856 yards this season…Deion Branch ranks second in the AFC with 37 receptions…The Patriots are averaging 377.8 yards of total offense per game so far this year. The franchise record over a full season is 372.8 yards, established in 1972.