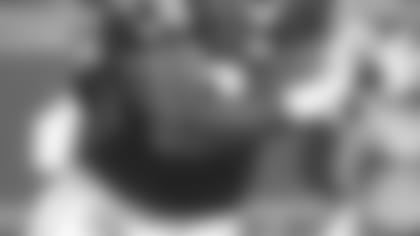 ]()On the first day of the 2004 NFL Draft, Benjamin Watson waited anxiously for the most important phone call of his life. As his nervous family and friends gathered around to provide moral support, there was one person in attendance who knew exactly what he was going through.
When the phone rang at the end of the first round, Watson answered, and as Patriots head coach Bill Belichick welcomed the 32nd overall pick to the National Football League, Watson's former University of Georgia teammate Randy McMichael stood beside him and smiled.
Two years earlier, with Watson in attendance, McMichael received a similar call at his own draft party when the Miami Dolphins selected him in the fourth round of 2002 Draft.
"I really felt that I needed to be there with Benjamin because he was with me on my draft day," said McMichael. "I just wanted to be there with him to enjoy that moment."
Although the Patriots and Dolphins are AFC East rivals, McMichael was happy that he would be going head-to-head with Watson for years to come.
"I was so excited that I was going to get the chance to see him play twice a year and watch him develop into a great player," McMichael said.
The respect Watson and McMichael share runs very deep. After deciding to transfer from Duke University after his freshman season, Watson specifically targeted the University of Georgia because of their talented upperclassman tight end.
"I wanted to go somewhere that I could learn from the best," Watson said. "I remember when I was at Duke watching Randy on television, and then I would go out to practice the next day and try to imitate his moves."
As soon as Watson arrived at Georgia, McMichael greeted his new teammate with open arms.
"He took me in,"Watson recalled. "He showed me how to play the position." Over time, the duo developed a great friendship that continued to grow even after the Dolphins drafted McMichael in 2002.
"Benjamin and I just had this tight bond at the University of Georgia," McMichael said. "I felt like he was my brother, a little brother who I have to look out for sometimes."
Watson, the oldest of six children, says McMichael has become the older sibling that he lacked growing up.
"Randy is kind of the big brother that I never had," Watson said. "With him I know that I always have someone in my corner."
Watson, who initially declared for the NFL Draft after his junior season, gives McMichael credit for helping him change his mind and decide to stay at Georgia for his senior season.
"Benjamin talked to me a lot about what he should do, and I just told him to follow his heart," McMichael said. "I think he made a great decision to go back for his senior year, and he was rewarded for it by the New England Patriots."
When McMichael left the Bulldogs for the NFL in 2002, Watson was able to become a mentor to the next young Georgia tight end, much as McMichael had done for him.
Leonard Pope, who was a third round draft pick of the Arizona Cardinals in the 2006 NFL Draft, was an underclassman when Watson took the reigns as the Bulldogs' standout tight end.
Watson quickly took Pope under his wing, and along with McMichael, the three became a tight-knit fraternity of former and present Georgia tight ends.
"I feel like it is my position to tell him things that other people wouldn't tell him," Watson said of Pope. "Kind of how your best friend or brother can tell you something that others can't - some constructive criticism.
"I tell him to watch what he does with his money, and be careful with the people that he hangs out with."
Despite the fact that they are all now on separate teams in different areas of the country, the trio follows each other's games closely. Watson, McMichael and Pope speak at least once or twice a week, but football isn't the only subject of their conversations. Instead, they talk about life, give advice and share ideas.
"It's kind of like a fraternity, like a brotherhood with us,"Watson said.
At McMichael's wedding,Watson served as an usher. Then last summer, when Watson was married, he had McMichael, Pope and current Bulldogs tight end Martrez Milner serve as ushers in his ceremony.
The former Georgia players also have the tradition of gathering on draft day as yet another Georgia tight end is drafted into the NFL.
When the Cardinals selected Pope earlier this year,Watson was on hand, while McMichael, who was unable to physically attend, was "there in spirit" as he spent hours on the phone with Pope.
The trio plan to be at Milner's draft party this coming April, as the current Georgia senior has surfaced on many NFL teams' radars and could be a first-day selection.
"We'll definitely find a way to be there and support 'Trez," McMichael said. "The thing about draft day is that it is such a big day but it's an unpredictable day; so what you really want is people around you that love you because sometimes things are going to go your way and sometimes they won't."
"I told 'Trez, 'I'm saving a spot on the wall for you, so you better not let us down,'" said Watson, who has McMichael's and Pope's jerseys hanging on the wall next to his own in his house.
The skills that Watson and McMichael developed at Georgia will be on full display today as the Dolphins battle the Patriots. With a big divisional match-up at the forefront, will Watson and McMichael put aside their friendship for a week?
"Nah," said McMichael. "We just talk about how we can be better tight ends and not what we are going to do in the game."
Watson said that there would be some competitive banter but that it would be in good spirit.
"We're going to go at it," he said. "Randy and I are going to talk junk about who is going to be the best tight end that day, but we're really still pulling for each other to succeed."
This article orginally appeared in the Patriots Gameday publication on October 8, 2006.