The 2006 season has been one of reunions in the Patriots locker room. First, Rodney Harrison was reunited with former San Diego Chargers teammate Junior Seau, then Asante Samuel became reacquainted with former Central Florida teammate Doug Gabriel. Now Reche Caldwell and Jabar Gaffney have joined the group of players who have become teammates again.
In early October, Caldwell welcomed his former University of Florida teammate, Gaffney, to New England when the Patriots signed the free agent wide receiver. Caldwell, who joined the Patriots in the offseason, wasn't surprised when the team made the move.
"Jabar called me the day that he had a workout up here, and I knew the Patriots were going to sign him as soon as I heard that," Caldwell said. "He is a really good receiver and a really good guy, and I knew that the coaches would see that."
As soon as Gaffney officially joined the Patriots, the duo quickly picked up where they had left off five years ago in Gainesville.
"In college we were really good friends," Caldwell said. "We worked really well together in practice and in the games. It's good to have him back. It's good to play around a familiar face. He tells me things to work on, and I tell him things as well. In college, there was competition to see who can go out there and play the best and that has really brought the best out of us."
The friendly competition between the two that was a driving force in Florida continues today.
"Ever since my first day on campus, we clicked and have been friends ever since," Gaffney explained. "We push each other out there. He's on the other side and I know that he's going to get open, and I need to do the same thing on my side. We trust each other to do the best that we can out on the field."
Because of their familiarity with each other, Gaffney is able to see things in Caldwell that others cannot, and that has helped Reche fix minor problems.
"I might have done something a certain way back then but now I'm doing it differently," Caldwell said. "He'll point that out so that I can make an adjustment."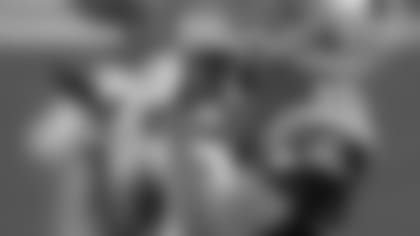 Since the start of training camp, there has been a great deal of talk around Foxborough about quarterback Tom Brady developing chemistry with his receivers. Gaffney explained that receivers have to build chemistry with each other as well. He said that the familiarity that he shares with Caldwell has made that development of chemistry almost instantaneous.
"I know that he is going to do what he has to do to get open," he said. "If we have a crossing pattern where we have to be at a certain point on the field, I have full confidence that he is going to be where he needs to be, and he feels the same about me.We're going to make that play work."
The duo's tight relationship off the field has also helped to make Gaffney's adjustment to New England seamless. "We used to talk at least once a week after we were drafted," Caldwell explained. "We always kept in touch. We called to see how we played after every game. We were always watching each other, and I'm happy to have him back."
After tremendous final seasons with the Gators, both receivers were drafted in the second round of the 2002 NFL Draft, with Gaffney going 33rd overall to the Houston Texans and Caldwell being selected 48th overall by the Chargers.
"We called each other throughout the draft," Gaffney said. "Soon after my name was picked I saw his, and I told him, 'We both made it, now let's go out there and do it.'"
While both experienced success with their former teams - Gaffney recorded 2,009 career yards with Houston and Caldwell had 950 yards with San Diego - they agreed that they have yet to reach their full potential and hope to do so together as Patriots.
After leaving the Texans in free agency, Gaffney was signed by the Philadelphia Eagles but was released prior to the start of the season. Surprisingly, the NFL veteran spent the first few weeks of the season without a team before finally getting the call from the Patriots. He was both relieved and thrilled that New England was his destination.
"This was the place that I wanted to come to," Gaffney said. "The whole time that I was sitting out I was talking to my agent about whether the Patriots needed another receiver. The time finally came and he called me and said, 'You're going to be a Patriot.' It was two reliefs in one. I'm playing again, and I get to play in the system that I wanted to."
Along with rejoining Caldwell, Gaffney had plenty of reasons to be happy to land in New England.
"The offensive system, Coach Belichick and Tom Brady," he rattled off. "It's a receiver's dream to be in a system like this, to play for a coach like this, and to play with one of the best quarterbacks ever."
Together again, the former Gator receiving stars have quickly picked up where they left off in Gainesville. Caldwell has become one of Tom Brady's favorite targets. He's totaled 12 receptions for 160 yards and two touchdowns over the last two games, including a 54-yard touchdown catch last week against the Green Bay Packers that is the Patriots longest play from scrimmage this season.
"I'm starting to feel a lot more comfortable, a lot more acclimated to things," Caldwell said. "I've been starting to figure out what Tom is looking for, how he wants us to run our routes."
On the other side of the formation, Gaffney has begun to see his playing time increase as his chemistry with Brady grows. Two weeks ago against the New York Jets, he hauled in three passes for 65 yards, including a dazzling one-handed grab while sliding on the wet grass. He believes that his experience with the Texans has helped.
"I've been able to adjust rather quickly because we ran a similar system in Houston," he explained. "There's a couple of words here and there that are different, but the concept is pretty much the same. So that helped me learn the offense pretty fast. Since I've been here we've only been getting better as a group. We're going to explode here soon."
Although Brady is starting to feel more comfortable with the pair, perhaps nobody in the NFL knows the duo better than Chicago Bears quarterback Rex Grossman, who played with Caldwell and Gaffney for three seasons at Florida.
At Florida, Caldwell and Gaffney helped Grossman become one of the most prolific passers in Gators history.
"We had a great thing going when we were all together in Florida," Grossman said. "We kind of came in together and had a really good feel and timing, and they just did an amazing job of getting separation and making big plays for me."
In 2001, the trio's final season together in Gainesville, Grossman had his best collegiate season. He threw for 3,896 yards, an all-time Florida record, and was the Heisman trophy runner-up and Associated Press National Player of the Year.
Gaffney and Caldwell, his top targets, each amassed over 1,000 yards receiving that season with 1,191 yards and 1,059 yards, respectively. The totals were good for fourth and eighth place all-time in Gators history, and earned them both a nod as semifinalists for the Biletnikoff Award, with Gaffney finishing as runner-up.
Sunday's game against the Bears marked the first time that the three players have played in the same game since the Gators' 56-23 win over the University of Maryland in the 2002 Orange Bowl. Almost five years later, Grossman still appreciates the talent that each receiver brings to the table.
"Reche was a real explosive guy off the line," he recalled. "He'd get up on the cushion of the cornerbacks quickly and get them into their back pedal, which opened up things underneath, and he would also make big plays down the field.
"Jabar was really smooth in his route running, so it was a lot easier to time your throws. Everything was the same speed, never jerky, and he knew how to set up defenders. He knew how to separate from them and he had great hands."
Although he is enjoying his best season as a professional with the Bears jumping out to a 9-2 start, Grossman still finds time to follow the duo.
"Every Sunday afternoon I check out their stats to see how they're doing," he said. "They're both really, really good receivers, and Tom Brady will make them even better."