Jakobi Meyers has quickly become one of Cam Newton's go-to receivers, and there are few things more valuable than the trust between a quarterback and his weapons. Though only a few months into Newton's tenure with the Patriots, he and Meyers had a person jumpstart dating back years.
Before Meyers was an undrafted free agent quarterback-turned-receiver, before Newton found himself in a New England Patriots uniform and well before Newton was slinging 12 passes for 169 yards to Meyers like he did on Monday night against the Jets, Meyers was a high school player, and Newton was his coach.
Through the Cam Newton Foundation, Newton coaches and mentors high school football players in Georgia, coming together for 7v7 tournaments, and Meyers is among many NFL hopefuls to come through the program when he was a student at Arabia Mountain High School in Stonecrest, Ga.
For a young quarterback growing up outside of Atlanta, a run-in with Newton is a dream, never mind a chance to be mentored by someone considered to be a local hero, pouring his heart back into the area that built him.
"Where I'm from, we all looked up to Cam. It was like a super hero, honestly," Meyers told Steve Burton on Patriots All Access. "It was a surreal moment to meet someone me and my friends looked up to and now that I play with him, it's just life is funny you know."
To be mentored by him is something Meyers would never forget. With hundreds of kids coming through the program every year, Newton would be excused if he didn't remember meeting Meyers years ago, but that was most certainly not the case.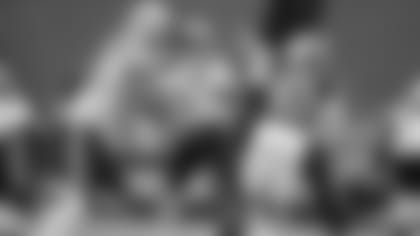 Newton keeps tabs on the players who come through the Cam Newton Foundation 7v7, and in the first few days of being in the Patriots locker room, he went up to Meyers and showed him a picture from the season, Meyers said.
"I'm surprised because he does it still. He's met a bunch of kids that's come through his program. He's helped out a bunch of kids," Meyers said. "The fact that he still remembered that is pretty cool."
Seeing him go from a 16-year-old 7v7 all-star quarterback to a receiver in the NFL has been gratifying for Newton as someone investing in his community and, of course, as a Patriot.
"For him to be morphing into the player that he is today, it's just hard work paying off for him," Newton said after Monday's win.
That player is one that is reliable for Newton.
"Jakobi going to North Carolina State as a quarterback, for him to be able to throw as far and as hard as he used to throw, and for him to transfer to the receiver position, I knew that he would have success," Newton said. "Playing the quarterback position makes you intellectually sound, cerebral by default because you know what the quarterback is looking for. He's such an easy target to throw to, as you can kind of tell. He just finds a way to get open."
This kind of production on the field for a young receiver is proof of hard work and dedication to his craft paying off, Newton said.
All of the things that had to fall into place to make this connection possible make the reality that much sweeter. For Newton to land in New England after an offseason of waiting for his number to be called and for Meyers to persevere through a position change, going undrafted and securing a spot on the 53-man roster, it is a full circle moment.
And Newton said this is only the beginning.
"Jakobi is a person I obviously took under my wing a long time ago," Newton said. "For us to have the same type of connection is just impactful for many reasons ... For it to happen the way it's happened, we're just getting started, I believe. We have to keep working together to get better and that's what we're going to do."