Overcast skies and a steady rain did little to dampen the enthusiasm of either the Patriots or the thousands of fans who showed up to welcome the team to their 2010 version of training camp.
Full pads were in order and the hitting started early as nearly the entire 80-man squad took to the practice fields behind Gillette Stadium. In a New England summer marked by a series of heat waves, the Patriots got their 2001 season off to a cool start.
"The players' prayers were answered," head coach Bill Belichickjoked to reporters prior to the start. "Hopefully we'll get some heat going forward."
As the Patriots transition from the no-pads practices of the spring to the full-tilt atmosphere of the summer, the theme of the workouts, at least initially, changes from a general learning focus to an emphasis on individual performances.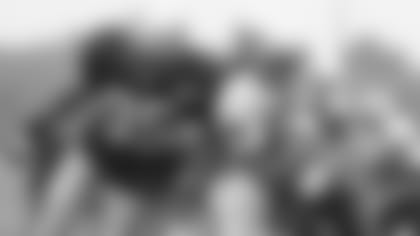 ]()"As in most camps, the early part of camp is devoted to fundamentals. We work a lot on teamwork in the spring, different blitz situations and just a lot of team work – running game, passing game, third down, red area," Belichick explained.
"Now is the time where each player individually really needs to build a good base on his individual techniques – his footwork, his hand placement, his leverage, doing all the little things. And if that base is built well in training camp, historically I've seen that that will usually carry over for the bulk of the year. It's just hard to find time to do those individual technique drills later in the season when you have fewer practices and you're more working on game planning and things like that."
This year will offer a different dynamic as well when the Patriots partner with the New Orleans Saints and Atlanta Falcons for joint practices in August in advance of their preseason games with New England. That is expected to elevate the level of competition in what is normally the pressure-packed environment of camp.
"There is definitely an element of that, absolutely," said Belichick. "I also think that it gives you a different look at their plays that they run that we don't run. There are looks that New Orleans and Atlanta will give us that we will see in the preseason games, but we'll also have a chance to practice against them and I think that is healthy, too.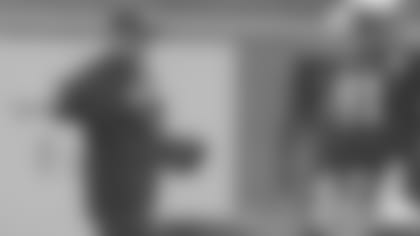 ]()"They have different players than we do so the matchups are different. You get to evaluate your players against not just your own players, but against other players at a high level and see how you [match up]. It's not always just ability; it's how a certain player matches up against a player or type of player. I think that's valuable, too."
With three and a half decades of NFL experience, Belichick has seen more than his share of training camps and feels it is imperative to have a good one in order to have a successful season.
"I certainly can't remember a good season I have ever been a part of that wasn't also part of a productive training camp and preseason. I think those things go hand in hand."
Weather: Rainy, humid, 80s**
Who's Hot: Rob Ninkovich **Saw significant action at left outside linebacker in the initial practice.
*Who's Not: Derrick Burgess
*The veteran was an unexplained no-show in the morning.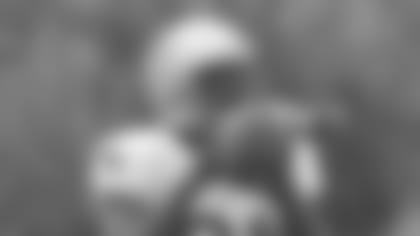 ]()Play of the Day: Brady to Moss fake end-around deep ball
*After faking a handoff to a back and an end-around to a receiver, QB Tom Bradylooked deep down the middle of the field to WR Randy Moss, who was covered by safety James Sanders. Brady's throw, from about midfield, was a bit off target to the right, but Moss separated from Sanders and made a soft, fingertip catch before tip-toeing out of bounds inside the 5-yard line. The play brought loud cheers and applause from the assembled fans.
In other attendance news, to no one's surprise, guard Logan Mankinswas not on the field. "All of the players that are here are under contract and Logan is not under contract," was all Belichick would say about the situation.
Meanwhile, wide receivers Darnell Jenkins, Wes Welker, and Sam Aiken, along with defensive lineman Ron Brace, were not in pads, but were on the field working with the Patriots training staff in rehab-type activities.
Kickoff return was a focus on a couple of occasions during the first practice. Three pairings took turns returning the ball: Brandon Tate, with Matthew Slateras his up-man; Julian Edelmanwith Sammy Morrisas the up-man; Taylor Priceand Devin McCourty, who alternated between returning and serving as the up-man.
Nose tackle Vince Wilforktook a lap at one point for some sort of indiscretion on the field, and later, rookie QB Zac Robinsonand o-lineman Ryan Wendellwent for a jog after fumbling a snap.
McCourty, the team's first-round pick this year, saw some reps at left corner opposite Leigh Boddenduring team defense versus offense series. A lot of rotational groupings were seen in the rest of the secondary and at defensive line.
Rookie Dane Fletchersaw action at inside linebacker, often alongside fellow rookie Brandon Spikes.
During red zone team D vs. O work, Tate couldn't quite haul in a slightly overthrown pass from Brady. After a play-action fake near the goal line, Brady looked to his left and saw a wide open Tate streaking across the end zone. Brady fired, but Tate had to dive for the ball. He got both hands on it, but it fell to the ground.
In the same series, Wilfork shot into the backfield and appeared to cause fumble, though the slippery conditions could've been partially to blame as well.
All-Pro kicker Stephen Gostkowskilooked in mid-season form on kickoffs, booming almost all of them into the end zone. He also went 6-for-7 on field goal attempts, missing his last kick, a 44-yarder than sailed just wide left from the right hash.