During one particular practice shortly after training camp started, Team PFW was discussing who might be voted co-captains for the 2011 Patriots, aside from the expected: Tom Brady, Vince Wilfork, Jerod Mayo.
A couple of names we tossed out among ourselves were Logan Mankins, Devin McCourty, and Patrick Chung. As late as yesterday, we'd convinced ourselves that Chung was a lock.
Turns out, that was the only prediction we got wrong. Brady, Wilfork, Mayo, Mankins, and McCourty were elected by their teammates to represent the squad as captains, with one surprising new addition – Matthew Slater.
McCourty, like Mayo before him, has earned the highest gesture of respect from his teammates in just his second year. He contends, however, that the role won't change his approach.
"It's a great honor. Being on the team and when the players vote that you're deserving of that honor, it's an accomplishment. I'm honored that my teammates would vote me [a captain] and I'm just taking it in stride," McCourty told reporters, admitting he was surprised by the vote.
"Yeah, but when your teammates show how much they believe in you and show they're behind you as a leader, I think it's important for me to continue to do what I've been doing," he stressed.
Having been a collegiate captain during his time at Rutgers, the cornerback has that experience to refer to with his added title in New England.
"Being a leader," McCourty continued, "is kind of like being a leader [at any level], just being yourself, going out there, working, performing, and trying to encourage other guys to do the same."
The taciturn McCourty, like most of the players in leadership roles on this team, prefers to let his actions speak for themselves, rather than doing much actual talking himself. Same goes for Slater, who inherits the special teams captainship previously held by such under-the-radar players as Larry Izzo and Sam Aiken.
Izzo, in fact, embraced the role to such an extent that players often viewed him as an extension of the coaching staff on the roster. He would organize meetings and oversee his kicking and coverage units with a focus usually reserved for coaches. Izzo is now one, an assistant special teams coach with the New York Giants, and Slater hopes to duplicate what Izzo did during his years in New England.
"Definitely, I've got to get on, knowing everyone's responsibility and trying to help everybody out. I take that to heart a little bit more," Slater admitted. "I played with Larry my rookie year and I saw the type of example he was. So, I'll try to be the best example I can for everybody."
At the same time, like McCourty, Slater – now in his fourth NFL season – will seek to balance leadership with humility.
"I'm going to approach it the same way I always have," he explained. "I've always tried to be a guy that goes out there and works hard, I don't take things for granted, I'd like to think. I'm going to just try to be an encourager now and be there for the young guys and realize I can still learn from the other guys. I'm no better than anyone else, no different than anyone else. Just want to go out there and help this team however I can."
As an example of that everyman style, Slater need look no further than Mayo, who's not just a co-captain, but also the defensive signal-caller for New England. He understands, as he told reporters today, that being a leader involves sharing the credit when things go well, and taking the blame when they don't.
"If there's a busted call out there, a busted play, it's probably my fault," said Mayo. "Making sure everyone's on the same page, that's my job. Hopefully, I'll get it done."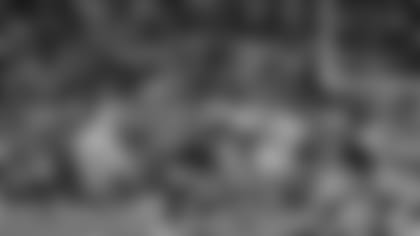 Albert Haynesworth entertained reporters at his locker today, and while much of what he said was similar in theme to statements he's made over the past month – happy to be here, glad to be out of Washington, can't wait to attack the quarterback – one phrase in particular stood out.
"It's time for me, the sleeping giant, to awake and get back out there on the field and play football again."
He was then asked to elaborate on the "sleeping giant" remark.
"I read what you guys wrote," the mammoth defensive lineman went on, "nothing personal, but I didn't do much in D.C. The scheme didn't fit me and that stuff. Now I can go out there and play get back to what I used to do."
Being on the scout team at this time last year, he noted, made for an uncomfortable working environment for Haynesworth. No such concerns here and now, however.
Haynesworth also raved about the newly announced captains for this year's Patriots.
"I think it's great. The last two years [in Washington], it was a little different. The captains were almost above the team. Here, with Mayo and Vince, you can talk to the guys. It's not something you couldn't do in D.C., but here, it's really like a family in the locker room. Everyone is for you. No matter what happens, if a guy does something or whatever, it doesn't matter, they're all behind him. They're not going to pass judgment or anything like that. It's all about everybody being for you, everybody having your back."