Sporting a black, Patriots Marathon Team pullover, Nick Caserio spoke softly and genuinely.
"Before we get started on the football front, just a prayer and a thought to the families of the victims and those directly affected by the events of last week," he said, in reference to the bombing attacks at Boston's iconic road race one week ago today.
"I think all of us were impacted indirectly, with some more directly than others. Thoughts and prayers I think are still with everybody as we're recovering, and I think a debt of gratitude is certainly in order for the law enforcement officials of Boston, specifically of Watertown, for their swift efforts of last week in their painstaking efforts to reach a resolution, [which] enabled us to kind of get back to some degree of normalcy.
"It's a slow process, I think we're all working through it, but without their efforts, we probably wouldn't even be standing here today having this press conference. Definitely a debt of gratitude and appreciation is in order for them. I think it's been pretty neat to see the city of Boston respond to the events. This is a strong city, it's a hard-nose city, it's a tough city, and the one thing about I think the people of Boston, we're going to fight and we're going to battle and some of the efforts of people last week – the first to respond – were pretty heroic on that front. Sitting down here at Gillette Stadium, you probably can't really understand the true impact that it had on people that were there live, but that speaks to the city of Boston and what we're about."
Difficult as it may be, the task of moving on must commence. For Caserio and the Patriots front office, that means focusing on Thursday's start to the 2013 NFL Draft.
One reporter in attendance asked, point-blank, for Caserio to identify the top three needs on his "wish list" going into the annual player selection meeting. Not surprisingly, Caserio didn't blink in his response.
"Our wish list is to improve our team," he responded immediately, adding that, as they always do, the Patriots will look to choose players they think will be able to help the club win games.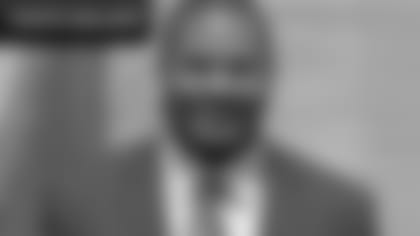 ](/node/45931)After stating that obvious point, Caserio shared some of his thoughts on the draft class as a whole. He singled out the defensive backs as a particular position of strength this year.
"There's a lot of good productive players, both the corners and the safety position," he remarked. "One of the things that is probably unique about that position is you've seen more players who have actually played multiple positions. Some have played safety. Some have played corner. Some have played the nickel position, like the Matt Elam kid [from the University of Florida]. So, there's versatile players in the defensive backfield. They're not necessarily confined to one particular spot, which that probably speaks to the evolution.
"You're looking for guys that are versatile, can play multiple spots, and some of those players have played in more passing-oriented divisions and conferences, the SEC with some of the spread offenses and those types of things. I think there's some depth. I think there's some versatility at that position.
"The offensive line is a good group," Caserio continued, "and there are a fair amount of receivers in that group as well. I would say every year we talk about the same thing. There are going to be more players at certain positions relative to others. That's just the way it goes. You don't necessarily evaluate the players any differently than you do on a year-to-year basis."
Caserio indicated that most of the team's scouting and preparation work has been done at this late stage, but he did not rule out making any last-minute visits to prospects on whom the Patriots might need some outstanding information. It's something they've done in the past, he noted when asked specifically about that subject. Left tackle Nate Solder, for instance, was visited and worked out by o-line coach Dante Scarnecchia the week of the draft two years ago. New England then chose Solder with the 17th overall pick in the first round.
This year may be a bit different for the Patriots in terms of acquiring picks, as they head into Thursday with just five selections (one in each of the first three rounds, and two in the seventh). In recent years past, they've had as many as a dozen with which to work and make trades with other teams.
"If we end up with five [picks], we'll make five," stated Caserio. If so, he acknowledged that the team must do extra work in locating suitable rookie free agents with whom to stock the team's roster. NFL teams can have as many as 90 players heading into training camp.
The first round begins Thursday night at 8, with New England currently slotted to pick in the 29th spot.