Super Bowl XL was a very different experience for the Patriots Cheerleaders (especially for the veterans of the team who have been spoiled into thinking that a trip to the Super Bowl is simply the end to every season!). As much as we would have loved to have been cheering in Detroit on Super Bowl Sunday, we felt very fortunate to have been invited to experience something just as exciting.
Early Super Bowl Sunday morning, Ashleigh, Brittany, Crystal, Rachael, Tracy and I met up with Patriots Alumni, Russ Francis and Max Lane at Logan Airport to head out on our trip. We were off to Virginia to meet up with the men and women aboard the U.S.S. George Washington, a US Navy aircraft carrier.
After a quick briefing at Norfolk Naval Base, we were ready for our C.O.D. (Carrier On-board Delivery) flight. A C.O.D. is a small military plane that lands and takes off from the flight deck of an aircraft carrier. The pilot has to catch the "tailhook" of the plane on a wire that runs along the deck, making the plane go from about 150mph to 0mph in only 3 seconds. It was a very exciting entrance for all of us to say the least.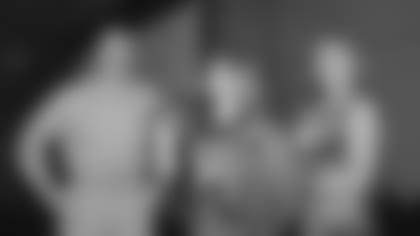 Once inside the ship, Captain White, Executive Officer Whalen, Command Master Chief Rudd and many others gave us a very warm welcome. We were taken up to the tower, where Captain White took the time to give us some insight into the lives of the men and women in the U.S. Navy, as well as how things are run aboard the U.S.S. George Washington. We were all extremely impressed and had tons of questions for him, but before long it was time to get ready for our show.
The show took place in the hangar, right before kickoff. We performed 12 dance routines for the sailors, along with lots of audience participation, give-aways and surprises mixed in. The guys that we brought onstage with us were very entertaining and very good sports. I especially enjoyed the air guitar performance to Queen's Bohemian Rhapsody. After the show, Russ, Max and the five of us did an autograph signing, giving us the chance to meet one-on-one with many of the sailors.
Before we left the ship, we visited many more men and women at work and had the chance to learn more about what they do. They even took us out onto the flight deck while the planes were taking off and landing all around us. It was absolutely amazing!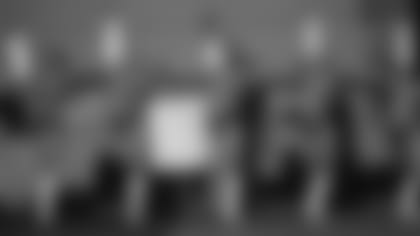 All too soon, it was time to head home. We said goodbye to our friends aboard the U.S.S. George Washington and boarded the C.O.D once again. This time we were "catapulted" from the ship, going from 0mph to 150mph in only a few seconds.
Although it was a quick trip, we all felt honored to have been invited aboard with the opportunity to perform for and give something back to the sailors who do so much for all of us. We walked away with an even greater appreciation of what the men and women in the United States military do in their daily lives. We may not have been cheering on the sidelines at Super Bowl XL, but we participated in something perhaps even more meaningful. I know I speak for all of us when I say we are very grateful for the experience.