FOXBOROUGH, Mass. –** Saturday, Dec. 21, was a day filled with cheers, smiles and surprises for six-year-old Riley Fessenden and her Beverly cheerleading squad as the girls enjoyed a memorable visit to Gillette Stadium.
Riley, who is battling a rare form of nasal cancer, spent the day with her Beverly Panthers-Titans teammates and the New England Patriots Cheerleaders as special guests of the Kraft family after the girls raised more than $17,000 for the Cheer for Dana-Farber fundraising program that supports adult and pediatric cancer care and research.
"We are so honored to have earned this opportunity," said Beverly Panthers-Titans cheerleading coach Kelli Roesener. "Cheer for Dana-Farber was a cause very near and dear to us, as one of our own little cheerleaders is battling a rare form of cancer."
The concept of the Cheer for Dana-Farber fundraising program, held Sept. 2 through Nov. 28, was created by cheerleading coaches Maureen Sullivan and Tamara Hayes as a way to help support patient care and research while teaching young cheerleaders the importance of giving back through their passion for cheerleading.
That passion was on display Saturday as laughter filled the unseasonably warm air around Gillette Stadium. Riley and her 16 teammates beamed with excitement as they were escorted onto the Gillette Stadium field by Patriots Cheerleaders and participated in several cheer activities, including group formations of the letters "B" for Beverly and "R" for Riley near midfield.
As her cheerleading team continued to interact with the Patriots Cheerleaders, Riley and her family took a special trip inside the stadium's media workroom, where Patriots head coach Bill Belichick and quarterback Tom Brady hold their weekly press conferences.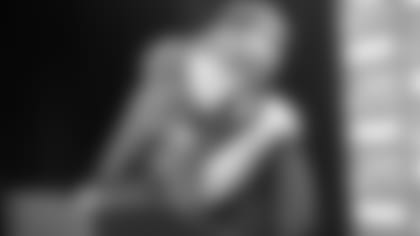 Riley stood at the podium, posing for photos and holding a mock press conference with her mother, Kamie, by her side. Riley told the audience her first trip to Gillette Stadium was to see a Taylor Swift concert and that she was enjoying her special day with the Patriots Cheerleaders.
When asked who her favorite Patriots player was, Riley replied, "Tom Brady," to which the Patriots legendary signal caller entered the room to surprise the six-year-old and her family.
"This is a special day for me," Brady said as he hugged a smiling Riley. "It's great to meet you."
Brady presented Riley with a gift bag before signing a football and the "B" on her Beverly cheerleading uniform – a moment Riley's family reveled in.
"That was awesome!" said Riley's father, Todd.
The gift bag featured a customized Patriots jersey with Riley's name on the back, Patriots pom poms and Patriots cheerleader apparel.
Following the surprise visit from Brady, Riley rejoined her teammates on the field before participating in the Patriots' special cheer clinic with other top fundraising teams from Hull, Wachusett, Wakefield and Rhode Island.
"We are impressed by all the hard work and dedication these cheerleaders have demonstrated," said Suzanne Fountain, assistant vice president of development at Dana-Farber. "They have been truly inspirational and appreciated, and introduced us to a new generation of donors."
For the Beverly Panthers-Titans, the experience was one they will never forget.
"The added bonus of being invited to a cheer clinic with the Patriots Cheerleaders is something our cheerleaders will remember for the rest of their lives and I know that they will remember that little people can do big things and how they made a difference for families affected by cancer," said Roesener.