With all due respect to Bill Belichick'scoaching abilities it's too bad Marie Curie isn't around these days, because based on many of the comments coming out of Foxborough the Patriots could use a chemistry lesson heading into 2010.
From returning veterans and budding young players to New England's owner himself, one of the seemingly overwhelming topics of discussion this offseason has been the need for increased leadership and improved team chemistry.
Asked at April's NFL meetings about his team's chemistry in 2009, Robert Kraftreflected upon New England's embarrassing wild card loss to the Ravens in his quite candid response.
"I just speak for myself. I think the chemistry of the team, the locker room, a lot of games are won and lost before you hit the field," Kraft said. "To come out and start a game the way we played a playoff game in our stadium, that should never happen. It was really one of the most frustrating moments I've had since owning the franchise.
"You talk about sudden death. That was like in the first five minutes. I don't ever remember us being in a game and having things go that way and us appearing to be so non-competitive in the 16 years I've owned the team. I can assure you I've heard from some fans, but I felt exactly what they felt. It was such an empty feeling."
He may be speaking only for himself, but Kraft's words clearly carry a good bit of weight. New England had to host a January wild card playoff game in part due to a lack of playmaking ability, a lack of key plays at key times and the inability to close out games in the second half, especially on the road. All would seem to indicate an underlying lack of something, maybe that something is the type of character that comes with teams that have strong internal chemistry and leadership.
The fact that there was a void in the locker room last season probably should not have been a surprise for a team that parted ways with key veterans, mostly on defense, including Tedy Bruschi, Rodney Harrison, Richard Seymourand Mike Vrabel. For years New England's success on the field had a lot to do with the theory that if one guy went down with an injury, another guy stepped in. That theory didn't seem to hold true in the locker room in 2009.
"We lost a lot of leaders on our team the year before last, and some real good ones. Some of the best leaders I've been a part of, but at the same time, it was [time] for a lot of guys on our team to step into that role of being leaders," Kevin Faulkacknowledged. "A lot of veteran guys that we have on our team now, their leadership roles weren't what they were accustomed to."
"The leaders we had (before 2009) were older guys and they're not here anymore, but now you start to see younger guys becoming leaders," Vince Wilforksaid shortly after signing his five-year, $40-million extension. "We have guys in this locker room that know what it takes to win and you've just got to trust it. We as players and as leaders on the team, we have to ask more of ourselves and we have to ask more out of our players, point blank."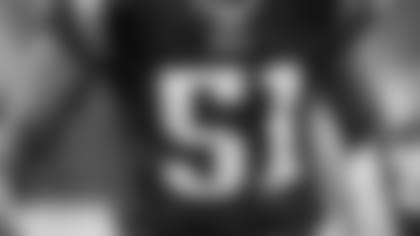 ]()Two guys who'll seemingly have more asked of them in terms of leadership are Wilfork and fellow returning defensive captain Jerod Mayo. Theoretically Wilfork now has the stability of a long-term contract while Mayo enters his third season with more experience and leadership confidence under his belt.
"I think he represents the future kind of leadership we want on the team," Kraft said of his Pro Bowl nose tackle.
Mayo sounds ready to fill out his portion of the equation as well.
"I think I can definitely step my game up as far as being a vocal leader on this team," said the former Defensive Rookie of the Year. "Last year, I still was a second-year player. I still tried to lead by example, but this year I think losing guys like Junior [Seau] and Tedy Bruschi, even though that was a couple of years ago, I think it was a void as far as having that vocal guy on this team in general.
"I think this year is the year when guys can really step up and say what they have to say. It's a young team as a whole and the young guys will listen."
While Mayo works this offseason with his teammates to get stronger, faster and better physically throughout the offseason program, he'll also be working to hone vocal leadership skills that he admits don't necessarily come naturally.
"It's a thin line between phony rah-rah speeches and genuine speeches that guys like Junior can do easily," Mayo said. "I have to find that line and hopefully get that point across."
Wilfork's point seems pretty simple — you're either aligned with him in getting New England back to playing true Patriots football — or you're not.
"We're going to have to start in the offseason training. Everybody has to be accountable," Wilfork said. "When you are on the field you have to give it 100 percent. You've got to weed out the bad seeds, point blank. If you can't give me what I'm giving you on the field, I don't need you on the field with me. That's how you win. You've got to build trust. Show me that I can count on you. I have no problem, if a guy's not giving me that, I have no problem telling that guy that I don't need him on the field and I have no problem telling Bill that I don't want him on the field.
"If something is wrong, we have to address it. We can't let it go on. We have to address it and get it better and people have to realize that we're trying to get somewhere. It's nothing personal. If you don't want to win, you don't have to be here, point blank. So if you want to win, this is how we're going to have to do it. You've got to be the believer and you've got to go forward and you might have to do a little something extra."
The first step toward fixing a problem is admitting you have one. The Patriots have clearly surpassed that mark on the way to recovering from a lack of chemistry and leadership that hindered the 2009 team. Now is the long team-building process toward ensuring that the issue doesn't pop up again this coming fall.
"The level of leadership, the level of consistency and the level of trust, we have to raise it because we have to start this thing up the right way," Wilfork stressed. "I think we can all get off on a good start if we can establish that level of trust from the get go and that starts with competing in the offseason. I think last year we just got beat sometimes because we weren't competitive enough, point blank. That's going to change."