Pop quiz: What do Joe Panos, Rich Tylski, Brenden Stai, and now Robert Gallery have in common?
Answer: All were offensive linemen in the NFL who suddenly retired in training camp as members of the New England Patriots.
Gallery's surprise decision, announced by the team Saturday evening, leaves even thinner an offensive line that has been somewhat of a revolving door this summer. The 6-7, 320-pound guard was thought to be a valuable insurance policy both at that position and tackle, given his immense size and eight years of NFL experience. The former number two overall pick in the 2004 draft, however, informed head coach Bill Belichick that he wouldn't be able to make it any further into Year 9.
"I talked to Robert several times in the last few days. He made that decision, I respect it," Belichick told reporters in pre-practice comments Sunday. "He's a good player; he had a good career. I'm sorry it didn't work out this year but I understand it and both of us will move on. He worked hard while he was here; did everything we asked him to do."
The head coach took the opportunity to find the silver lining in the dark cloud currently hovering over his offensive line, which is still without the services of starters Logan Mankins, Sebastian Vollmer (both rehabbing injuries) and Brian Waters (has yet to report to camp).
"As we've talked about before, unfortunately if one player goes out then it provides an opportunity for somebody else and that's what it will be – opportunities for other players."
But offensive line isn't the only area hemorrhaging right now in New England. Both fullbacks – Spencer Larsen and Tony Fiammetta – have missed the past few practices, and in the latter's case, we now know why.
The veteran Fiammetta, who signed as a free agent this spring, has temporarily left the team for personal reasons. According to ESPNBoston.com, Fiammetta abruptly left to deal with a family crisis and hopes to return to the team next season.
To fill the two open spots on the roster creating by Gallery and Fiammetta, New England temporarily added another fullback, veteran Kareem Huggins (played two seasons in Tampa, 2009-10, but was out of football last season), but no sooner had the ink dried on his contract than the team cut him.
"It obviously never really got off the ground there. Before we put him on the field, we didn't feel like we could put him on the field," Belichick attempted to explain.
The Patriots also signed journeyman defensive back Derrick Martin, who sported jersey number 36 at Sunday's practice.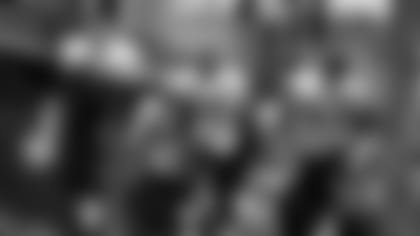 With left guard Logan Mankins still recuperating from offseason knee surgery (and Gallery no longer a factor), fifth-year offensive lineman Donald Thomas has been seeing a lot of action at that spot. And acquitting himself rather well in the process.
Thomas revealed that he's been relying on his more established teammate for help during this camp.
"I talk to Logan every day. I get tidbits from him and pointers from him. I'll ask him 'Did I do this the right way?' and he'll tell me straight up. He'll tell me if I did it the right way or the way he would do it. I try to implement that and I've always listened to older guys and who better to listen to then Logan Mankins? He's a great football player and I just aspire to be great like him one day."
It also looks like Thomas, who appeared in 10 games last season after joining the team in November, is the latest o-lineman who's developing nicely under long-time position coach Dante Scarnecchia.
"It's crazy. I mean he's been coaching since before I was born, before all of us were born and probably 20 years before that," the good-natured Thomas noted. "So that amount of football he's seen, you know what he's telling you is right.
"He has great resolve and he never gets rattled no matter what happens out there. If somebody goes down, or there's a new lineup, he has complete faith in all of us and I think that's what really keeps us calm. He has that much faith in us and we have a lot of faith in each other and we can go out there and just play ball between the hashes."
Center Dan Koppen missed nearly all of 2011 with an ankle injury suffered in the season opener at Miami. He hasn't had a great start to this year's camp, but the fact that he's back competing on the field is a victory in itself, he believes.
"I think it's still coming back to me in some ways," he admitted about his lackluster start to 2012, "but I feel great and I'm just trying to get out here and work hard and get better as a player. I'm trying to help the team in whatever way I can. It's just been fun to be back out here."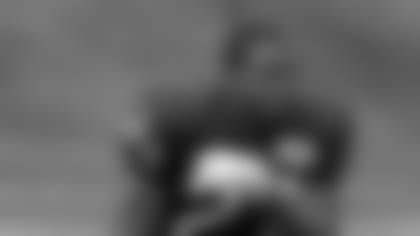 Where there's a Wilson, there's a way
Rookie safety Tavon Wilson drew praise from his head coach earlier in the week. Although Wilson hasn't come up with many eye-popping plays (he did have a nice end zone interception of Brian Hoyer on Wednesday), neither has he made any glaring mistakes, it seems.
"I just try to come out here and be the best player I can be and get better every day, just try and contribute to my team the best way I can," Wilson said. "You know, I can't really worry about no one else. You've just got to attack the playbook just like you attack the field. You've got to be in your book as much as you can, like all the time, so you can be the best player you can be and you can be comfortable out there."
The rookie says he's been seeking out advice from any and every veteran he can.
"I feel like all of them have pretty much helped me out a lot with adjusting out here. They've just been giving me a lot of tips about how to go about my day and how to adjust to this new lifestyle. You know I've just been taking it all in and being a sponge to those guys. I'm just very grateful for those guys helping me out."
Buy: Steve Gregory – Hasn't made many noteworthy big plays, but the big free agent signing has consistently lined up alongside Patrick Chung at safety, as advertised.  
Sell: Ron Brace – The fourth-year d-lineman showed up at Sunday's practice in just shorts and a t-shirt. A player potentially on the roster bubble, Brace can't afford to miss many workouts.
Play of the Day: Dowling INT – During an 11-on-11 team period, QB Brian Hoyer executed a nice play-action fake, looked left, then fired a long bomb down the sideline, intended for tight end Aaron Hernandez, who'd beaten the coverage by a step. The pass was just underthrown and slightly wobbly toward the end of its arc, giving cornerback Ras-I Dowling the opportunity to make up ground and out-fight Hernandez for the ball.
...Tough day for anyone wearing jersey number 74. Defensive lineman Kyle Love was poked in the eye accidentally during a one-on-one pass rush drill. He received treatment on the field, then on the sideline, but eventually had to leave for the locker room with a member of the medical staff. On the offensive side, o-lineman Darrion Weems also left practice early. He appeared to be limping as a trainer escorted him to the locker room. First-year tackle Kyle Hix also needed to be helped off the field with an apparent left shoulder injury.
...Some good news to report, attendance-wise: rookie receiver Jeremy Ebert donned a practice jersey and helmet for the first time since camp opened. And two players who'd been wearing red (no-contact) jerseys -- safety James Ihedigbo and wide receiver Matthew Slater -- were back in their customary blue and white ones, respectively.
For more details about today's practice, please visit the PFW blog.