Stepping to a microphone at the Hall at Patriot Place presented by Raytheon – a building in which he'll clearly be honored for his contributions as Patriots player at some point down the road – Kevin Faulk officially put the close to his 13-year NFL career Tuesday morning in front of many former teammates, coaches and fans.
It was an announcement that the guy who epitomized Bill Belichick's "Do your job" philosophy in New England, never thought he'd be making.
But at the age of 36 and after a career that included endless big plays, team records, five AFC titles and three Super Bowl rings, Faulk was forced to face the reality of NFL mortality.
Patriots owner Robert Kraft kicked off the ceremony by admitting that he never thought that Faulk – who was drafted in the second round by the Pete Carrol/Bobby Grier regime in 1999 – would be able to last as long as he did with as critical a role for the team as he had.
Kraft said that players of "modest height" like the 5-8 Faulk just don't last 13 seasons in the tough world of professional football, but that's exactly what the former LSU star did.
Kraft also thanked Faulk for his many contributions to the Patriots, both on and off the field, over his more than a decade in New England. The owner said that Faulk taught a generation of fans was the Patriots brand of football was all about and that he was, "always team first."
After Kraft spoke, a video played highlighting some of the many great plays from Faulk's clutch career. Former teammates Tom Brady and Vince Wilfork offered their memories of No. 33 in between the video clips.
"No one was more clutch than Kevin," Brady said, summarizing his sincere praise.
After the video presentation, Belichick stepped to the forefront to remember his time with Faulk that dated back to the coach's first season in New England in 2000. He admitted the pair had to feel each other out a bit in those early years. He also aknowledged that with 2012 being his first team in New England that didn't include Faulk on it, there has been another adjustment period for him as a coach.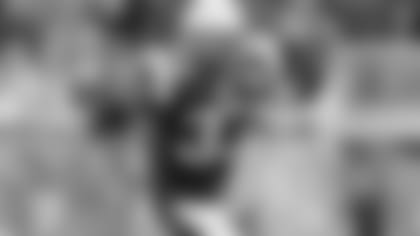 Belichick relayed that one of his fondest memories of Faulk was in his abilities as a team leader. Said that came to the forfront in 2008, when Brady was lost for the season and before Matt Cassel was able to evolve into the leader of the offense as the quarterback.
Overall Belichick called Faulk the "ultimate team player" and compared him to Troy Brown, who was in attendance, in that regard, referring to the duo as the "gold standard" in that area.
When Faulk finally took the microphone, one of his first gestures was to personally thank the many former teammates and coaches in attendance. He also thanked the many people over the years who made his career possible in New England, from the trainers and massage staff right through Gillette Stadium food service workers.
After being compared by Belichick to Brown, Faulk personally thanked his fellow living New England legend by talking about how much he looked up to No. 80 over his career.
Faulk also admitted to having trouble getting a feel for Belichick over the years as a coach. He joked that when you make it to the NFL, "You think you know everything. Nah!" He said that Belichick and Ernie Adams taught him that lesson with regularity over the years.
Though he breezed through most of his remarks, Faulk got chocked up and shed some tears when he delved into his family, many of whom were seated in the front row. That was particularly true when he spoke of his mother, who passed away in 2004. Said she was "the one person who's the reason I'm here."
At the end of Faulk's impressive, emotional and at times humorous speech, he pulled from his pocket his two AFC title rings and trio of Super Bowl bling.
After a few photo opportunities with Belichick and Kraft, the coach got back on the microphone to say that of all the records that Faulk established over the years the most impressive was his "60-something" game balls, which only come after a Patriots win.
It wasn't always perfect for Faulk over the years in New England as he grew into a playmaker much the way the team grew into the dominant franchise in the NFL. In fact, during a question-and-answer segment after the ceremony, Faulk admitted that he knew nothing about New England when he was drafted and that, "when I first stepped on the property, I wanted to go back to Louisiana."
The Patriots organization has come a long way in the last decade-plus on and off the field, and Faulk was a big part of that. He'll forever be remembered as a big-time clutch playmaker in a small package, one whose leadership off the field was as important as his contributions on it.
As of today Faulk is officially a former Patriot. He may be gone, but he and his contributions will not soon be forgotten.