For the first time since undergoing season-ending surgery on his fractured left hip, linebacker Rosevelt Colvin spoke with the media on Tuesday.
Colvin and his agent, Kennard McGuire, participated in a conference call and indicated that the Patriots prized free agent signing has every expectation of making a full recovery and returning to the field next season.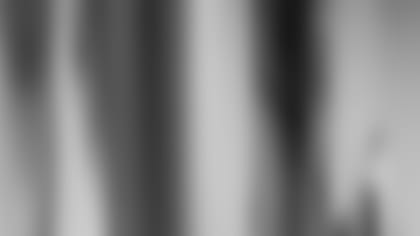 ]()
            "After meeting with the staff, one of the things we did not want was there to be any type of timeframe out there," McGuire said. "We all know if they said this is a three-week injury and the guy's not back in three weeks the red flags are up. We're just looking forward to the fact that Rosevelt is going to make a full recovery."  

Colvin was injured while recovering a Donovan McNabb fumble in Philadelphia during the Patriots 31-10 victory in Week Two. But even 10 days later, Colvin was unclear exactly how it took place.
"I came around on a pass rush and Ted [Washington] knocked the ball out of [McNabb's] hand and I went down to pick it up," Colvin said. "That's when I felt the discomfort. After that, I walked off the field but obviously something wasn't feeling [right]. I believe it was when I bent down to pick up the ball but I don't really know for sure."
The surgery took place at Massachusetts General Hospital in Boston on Friday and the Patriots placed him on injured reserve on Monday. There was some uncertainty last week over Colvin's long-term prognosis but Maguire explained there were a number of tests taken before a course of action was realized.
"As you all spoke with Bill early on he continued to tell you that he was really not sure what was going to happen," McGuire said. "We wanted to make sure everyone realized [the surgery] was exploratory in the beginning and once they did that they witnessed the fracture and it was taken care of. That's all that was done."
There had been concern expressed in some reports that the injury was similar to one former Raiders standout Bo Jackson suffered several years ago where a loss of blood flow in the hip area led to a serious condition that eventually led to replacement surgery and the end of his promising career. McGuire said that nothing of that nature took place in Colvin's case.