INDIANAPOLIS -- As the projected top tight end in the 2016 NFL Draft class and a possible first-round pick, it's unlikely that Arkansas junior-entry Hunter Henry is realistically on the Patriots radar this spring.
But Henry does have a couple ties to New England, most notably a friendship with Patriots 2015 sixth-round pick AJ Derby. Derby converted from quarterback to tight end for the Razorbacks before his rookie season in the NFL was cut short during training camp due to injury. Derby will compete for a possible depth role in New England this year.
Henry, the Mackey Award winner as college football's best tight end last fall, says he's been in contact with Derby recently as he goes through the pre-draft process a year after his former teammate did.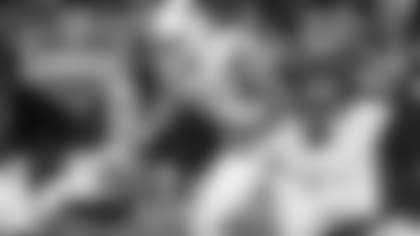 "I talked to him a couple weeks ago. We shoot texts back and forth," Henry said. "We're pretty good friends. He had an unfortunate injury this past year. We shot back and forth, just talking about this whole experience here, talking about all the things to come. He's been a big help to me."
Another New England connection is that the last Razorbacks tight end to win the Mackey Award was D.J. Williams in 2010. Williams was a fifth-round pick of the Packers in 2011 and spent a portion of 2013 with the Patriots, playing in a pair of games.
While Williams was an undersized pure pass catcher, Henry is a more traditional, all-around prospect at the tight end position.
"That was a long time ago. D.J. (Williams) was a great player. I'm not going to take that away from him. He was a tremendous, tremendous player, but I think I provide something a little bit different, especially in the blocking game," Henry said. "And then coming from a true pro-style (offense). Coach (Bret Bielema) has produced a lot of tight ends. I feel like I've been in a system that really has helped me and will help me translate to the next level because I know coach B's background; he has guys in the league still. I've trusted his process the whole time. I feel like I'm ready."